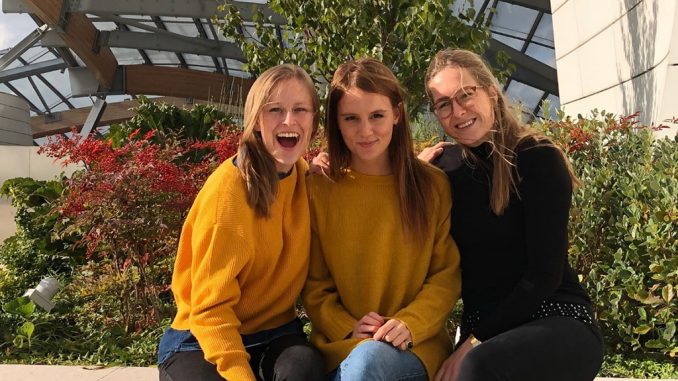 Xenia Ophelia Heggemann (right on the picture above), Master International Business student at MBS, spent her semester abroad at SKEMA Business School in La Défense/Paris. Here, she talks about her experiences.
Choosing the Right Location for the Semester Abroad
Choosing the right location for the semester abroad was maybe more challenging for me than deciding to apply for Munich Business School. During my research process on different schools and countries, I came across a quite memorable statement by Michael Porter, which summed up all my feelings I had during that time pretty well: "Strategy is about making choices, trade-offs; it's about deliberately choosing to be different." There I was – trying to make a decision that made a difference. One of millions of students on the globe who had to make a decision on where to spend the next semester. One of millions of students on the globe who will start their career next year. One of millions of students who will shape the world of tomorrow.
I decided to approach this question in a structured way. I told myself that I firstly had to become aware of the status quo. Secondly, I had to search for white-spots that made me stand out.
For step 1, I tried to find out what seemed "normal" to me: as a student of Munich Business School, intercultural exchange is commonplace. Speaking English all day and being surrounded by students from all over the world is normal. As a member of Generation Y, interconnectedness is the basis of everyday life. Connecting on- and offline continuously is normal. As a German, being European is normal. Living in peace and having the freedom of movement in Europe is normal, i.e., spending the semester in Europe is normal.
Step 2 then meant finding out what is extraordinary: foreign countries (the more exotic, the more interesting), challenging languages, diverse cultures and religions. Argentina or Brazil? Hong Kong or China? Russia or India? All of those countries sounded great to me (and still do).
Summing up those two steps, the best choices for my semester abroad regarding culture and location should have been on other continents quite far away from Europe.
Strangely enough, I struggled with this way of thinking because all those recent nationalist movements in European politics made me feel more European than ever. Was it really normal to have multiple nations on a continent, united in a nation-like, democratic entity?
My reasoning told me it was time to go back again one step and explore Europe more deeply before bearing down on another continent again.
This meant that going to Europe for the semester abroad was different. And which city in Europe is more extraordinary than Paris – the capital of Germany's strongest partner within the European Union?
English in France? Of course!
Of course, we always walk through life having certain stereotypes in mind. They make our everyday-life easier. So I went to France having the following stereotypes:
My first stereotype was "French don´t speak English". I can only refer to my experiences in Paris, but French do speak English. Even though the accent might be prevalent, they communicate with you in English; and if it is not English, a lot of French people know Spanish and German. Undoubtedly, this is not an excuse not to learn the beautiful language of the Frenchmen.
The second stereotype is strongly linked to the first one. "French people are not very friendly towards foreigners." I found that this stereotype can be absolutely denied from my side. If you give a smile to a Parisian on the street, a warm "Bonjour Mademoiselle!" will follow certainly. Hence, I can say that if you "make the first step", people are very welcoming and helpful.
What really stroke me was the topic of education in France. I always had in mind that French people have a very high level of education (due to the rich history of philosophers etc.). However, during the studies and a lot of fruitful conversations, I found out that many French complain about their educational system. Good education and the entrance to a "Grande École" for a student significantly cohere with the income-level of his/her parents. This made me feel even more grateful for having almost unlimited opportunities for (high-quality) education in Germany.
A different, but very peculiar stereotype connected with Paris was that "Parisians are vain." And I can do nothing but agree to this cliché: from the bottom to the top, Parisians are chic. Not surprisingly, Paris is famous for its high fashion, cosmetics, beauty products, and luxury consumer goods. You can either like or dislike this attribute of the people here – personally, I like it a lot. It just matches with the impressive culture, buildings, and the bon vivant.
The last stereotype I had is that "French people are a bit chaotic." Unfortunately, I must admit that things definitely work different than in Germany. Administrative issues last even longer and involve high degrees of paperwork. Sometimes I perceive people to be overcomplicated in their behavior and processes from reserving a table in some trendy restaurants (in some locations, people are willing to wait up to 1.5 hours in line to get a table for breakfast or dinner) to structuring lectures.
Considering all of the above, Paris is a perfect place for liberal, open-minded, and culturally literate people who enjoy arts, history, food, and music.
SKEMA Business School and me
Having dealt with all the stereotypes, it is time to talk about SKEMA Business School "La Défense".
Generally, the French Grande École has six campuses: Three in France, one in Suzhou (China), one in Raleigh (USA) and another one in Belo Horizonte (Brazil), which makes it a global school. I studied on the smallest campus in France, La Défense, which is located in the western outskirts of Paris.
Being a student of the best German university of applied sciences, my benchmark for graduate education is comparably high. As a result, I experienced a lot of differences between SKEMA and MBS, but of course, also some (but less) similarities.
Starting with the differences, I would like to highlight five topics, i.e., size, organization, students, communication, and content.
With 7,500 students, SKEMA is much bigger than MBS. Although all those students are spread throughout the six different campuses, the size makes a notable difference in education as well as organization. Class-sizes range from min. 40 persons to 300, which makes talking to teachers in private after class almost impossible.
The organization of the courses is done very differently than at MBS, too. Schedules are often changed, which (in my case) led to some overlaps in courses. Compared to MBS, it is also not so easy to get a quick solution for some administrative issues.
Another big difference lies within the level of professional experience of the students. Most students in the Master's degree are very young because they start their "Grande École" after two years of "Prépa", thanks to the French system of higher education. This implies that most of them have only little to no professional experience.
Communication substantially differs from the one used at MBS. Regarding the degree program, the main channel of communication is through a group on Facebook. Students, administrative staff, as well as teachers post their matters on Facebook and sometimes even interact through comments or polls. Whilst this is a very modern and interactive way of communication, I feel it is somehow strange to get some really delicate and relevant information via Facebook rather than email. Nevertheless, their LMS called "K2" on the other hand is excellent. It offers an access to a ton of e-papers, e-books, and the learning material for the courses.
Ultimately, lecture content makes a huge difference. While I am used to studying theory, models, and frameworks for business problems back in Germany, teachers here focus on a pragmatic and rather superficial solution of such business issues. It is definitely a question of taste; in my case, I definitely prefer MBS's approach.
Similarities with Munich Business School are the internationality of students, open-mindedness, and the grading.
My Expectations and Experiences
It is now time to switch from the everyday life in Paris and at SKEMA to reflect upon the gap between my expectations and experiences.
Living in Paris is just as imagined: full of beauty that can be explored every day, a vibrant capital that never sleeps, and interesting people and places.
For the school life, I chose courses from the degree program "International Business Development and Marketing", which is considered an M2-course, i.e., advanced marketing knowledge. It is quite interesting for students who have not heard about marketing issues in their Bachelor studies too much.
I also hoped to learn French really fast, supported by language courses at SKEMA. In my view, 1.5 hrs once a week is just not enough to learn it as fast as possible. This is why I booked private hours of French to leave Paris with more than just a short "Au revoir!".
Taking all of those aspects into consideration, I think that I made a difference through this semester abroad: my free time was mostly used for cultural activities, i.e., exploring French history and art, doing sports, and trying to read the French newspaper. I am sure that I gained a sound knowledge on French business and society. And I left Paris with a tear in my eyes, a heart full of marvelous memories of the city and people who made the time here so precious. Therefore, I am sure I made the perfect choice for my semester abroad.