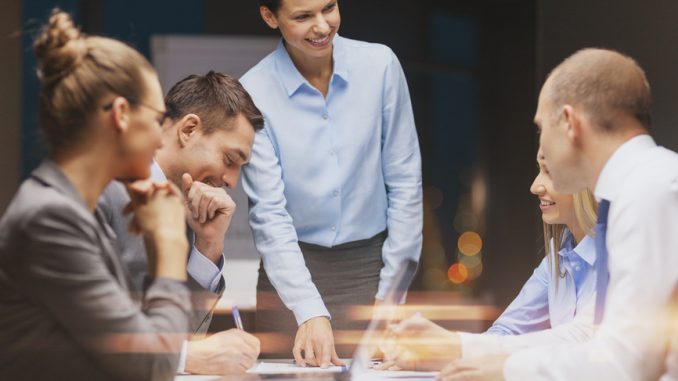 Management and leadership competences are helpful, but no longer sufficient by any means. Business coaching competence is the benchmark for successful leadership, because it is an approach that allows employees' potential to unfold to the fullest.
Successful leaders are expected to accomplish lofty goals excellently, within a given time, and a budget.
This can only be achieved by optimally used resources and the right employees. In Germany, however, employee performance is lagging over 80% behind their requirements (source: Gallup survey 2013).
Until present, leaders focused on process optimization by way of management tools and on human resource management by leadership knowhow.
A leader, however, is not yet successful if employees are only competent, i.e. they do the right things, which have been predefined by the leader anyway, and if they work efficiently, i.e. they complete their tasks correctly, well and quickly. A leader is indeed successful, if employees sustainably and habitually produce excellent performance and results, have fun at work, and are willing to go the extra mile on the grounds of their personal commitment – and they stay healthy nevertheless.
How is it possible to develop the potential of one's employees – on all hierarchy levels? How can a leader make stars out of average employees?
This can be done by Business Coaching as a leadership competence.
Business Coaching is a consistent advancement and enhancement of the concept of Situational Leadership according to Hersey and Blanchard.
Whereas Hersey and Blanchard explained "WHAT" a leader has to do – Business Coaching now shows HOW he/she can do it.
Business Coaching provide leaders with well-described procedures, approaches and methods, enabling them to optimize communication, promote cooperation and thus encourage employees to produce top performance. This was affirmed by Michael Schneider (former business manager of a large MDax enterprise): "My active career is drawing to a close – but with Business Coaching, I could have avoided quite a couple of learning loops. You gain a different perspective on your daily business, because you learn to reflect your own behavior and the behavior of others."
 What are the features of a leader with Business Coaching Competence?
Realistic and challenging development of visions
Reflection and self-reflection
Change of perspective
Sustainable and personalized goal setting
Awareness
Asking questions instead of giving instructions and expert's advice
Results of Business Coaching for leaders
Business Coaching allows the leader to outline the framework conditions under which employees can thrive. Thereby, he/she takes on the function of
a catalyst rather than the driving force
a re-adjuster of cooperation instead of a permanent process developer
a strategist rather than an operative co-designer
Manfred Fleckenstein (director of a finance sector company) reports about his experiences with Business Coaching: "My leadership philosophy is, that a leader cannot feel responsible for everything his/her employees are doing. That would put him/her under too much pressure. You have to set up a framework and create the conditions under which your employees can thrive. This works wonderfully with Business Coaching."
Results of Business Coaching for employees
Business Coaching help the leader to lift the employee to the highest level of Maslow's hierarchy of needs:
Supported self-optimization
Ownership of personal development
Responsibility for the work process design
Better and faster output of results
More fun at work enhances the above results
Business Coaching thus helps employees to become happier, perform better and consequently make the company more competitive.
In Germany in particular, where the technological head start is diminishing, employees will determine a company's success in the future to an even larger extent.
Business Coaching, as a leadership competence ensures excellent long-term positioning of leaders and companies alike.
Under its Executive Program, MBS offers a certified Business Coach training course which will start again on March 20, 2015, with an exclusive circle of participants.
The certified training course "Business Coach MBS" is the only training course worldwide that is accredited by a university and certified by several national and international professional coaching associations (EMCC, DBVC, QRC, dvct).