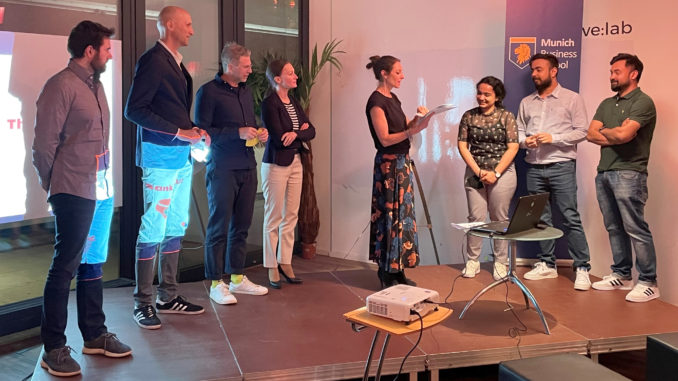 In late April, Munich Business School hosted the first-ever MBS Impact Pitch Night, in which teams of students from the bachelor's, master's and MBA programs presented their sustainable business ideas to an expert jury.
---
The topic of entrepreneurship plays an essential role at Munich Business School, running like a golden thread through all MBS programs – from the bachelor's program in International Business to the master's programs in International Business and Innovation and Entrepreneurship, through to the MBA General Management. MBS teaching staff strive to convey a sustainable approach to the topic to students in line with the university's belief that only start-ups and business ideas that offer genuine value to society and fulfill certain sustainability targets will achieve long-term success. In an effort to familiarize students with a real pitch situation in front of potential investors and showcase some business ideas developed on the various programs to a wider audience, the university hosted the first MBS Impact Pitch Night in late April on the initiative of MBS Professor Dr. Anne Tryba. The most promising concepts from entrepreneurship modules on the bachelor's, master's and MBA programs had been pre-selected, with a total of six student teams taking to the stage at MBS Impact Pitch Night. Each team had five minutes to pitch their idea to the audience and, in particular, to a jury of experienced company founders and investors. Following their pitch, the students had the opportunity to justify their proposals in a further five minutes of questions and comments from jury members Nina Albert (Porfolio Advisor at PINOVA Capital GmbH), Michel Geolier (CEO and founder of Betterfront), Markus Barnikel (General Partner at Eisbach Partners and multiple founder) and Patrick Löffler (Founder and Managing Director of givve) – all MBS alumni.
Here's an overview of the teams:
Lifeness
Bachelor's students Aileen Kaufmann, Maximilian Wiebrock, Chiara Butorac, Luna Schneider, Laetitia Christ und Anna-Maria Siedler hope to revolutionize the sports market with their app, Lifeness, and create an online platform that combines all sports services and facilities across an entire city – from gyms and leisure centers to outdoor offerings. Their aim is to improve residents' health and fitness as well as urban infrastructure by encouraging app users to travel to sports facilities on public transport.
Share Foodery
Share Foodery is a demo restaurant that enables emerging restaurateurs to trial their gastronomic concept for four weeks. This restaurant-sharing concept is the brainchild of bachelor's students Adrian Frauendorfer, Vincent Gisy, Justus Schütte and Maximilian Bengler, and aims to reduce the high risks involved in launching new businesses in the catering and hospitality sector. At the same time, local consumers benefit from greater variety.
V-Travel
In V-Travel, Qihan Zhao, Yiyun Shen and Chin-Hsuan Hsu from the bachelor's program in International Business combine their passion for travel with a customized social media career. As an incubation company, V-Travel provides a platform and network for all stakeholders in the travel and lifestyle sector – from (aspiring) influencers to photographers, videographers and local businesses like hotels and restaurants.
Priex
Priex, the business idea of Iwan Bitschin and Kathryn Wagner from the master's program in Innovation and Entrepreneurship, is a sort of multi-generational house, offering both affordable housing for older generations and high-quality daycare facility for the youngest in society. It responds to the childcare crisis currently affecting many families, especially those in urban areas. The two components are linked by an intergenerational program that also strives to enhance the physical and mental well-being of both generations.