Master Innovation and Entrepreneurship (M.A.)
Would you like to form a company and acquire the fundamental basics needed for a successful start-up? If so, then the MBS program Master Innovation and Entrepreneurship is your first step towards a successful business. This program will provide you with advanced economic knowledge, it will allow you to develop entrepreneurial thinking as well as equip you with the most important skills and tools to put your innovative ideas into practice as you form your start-up.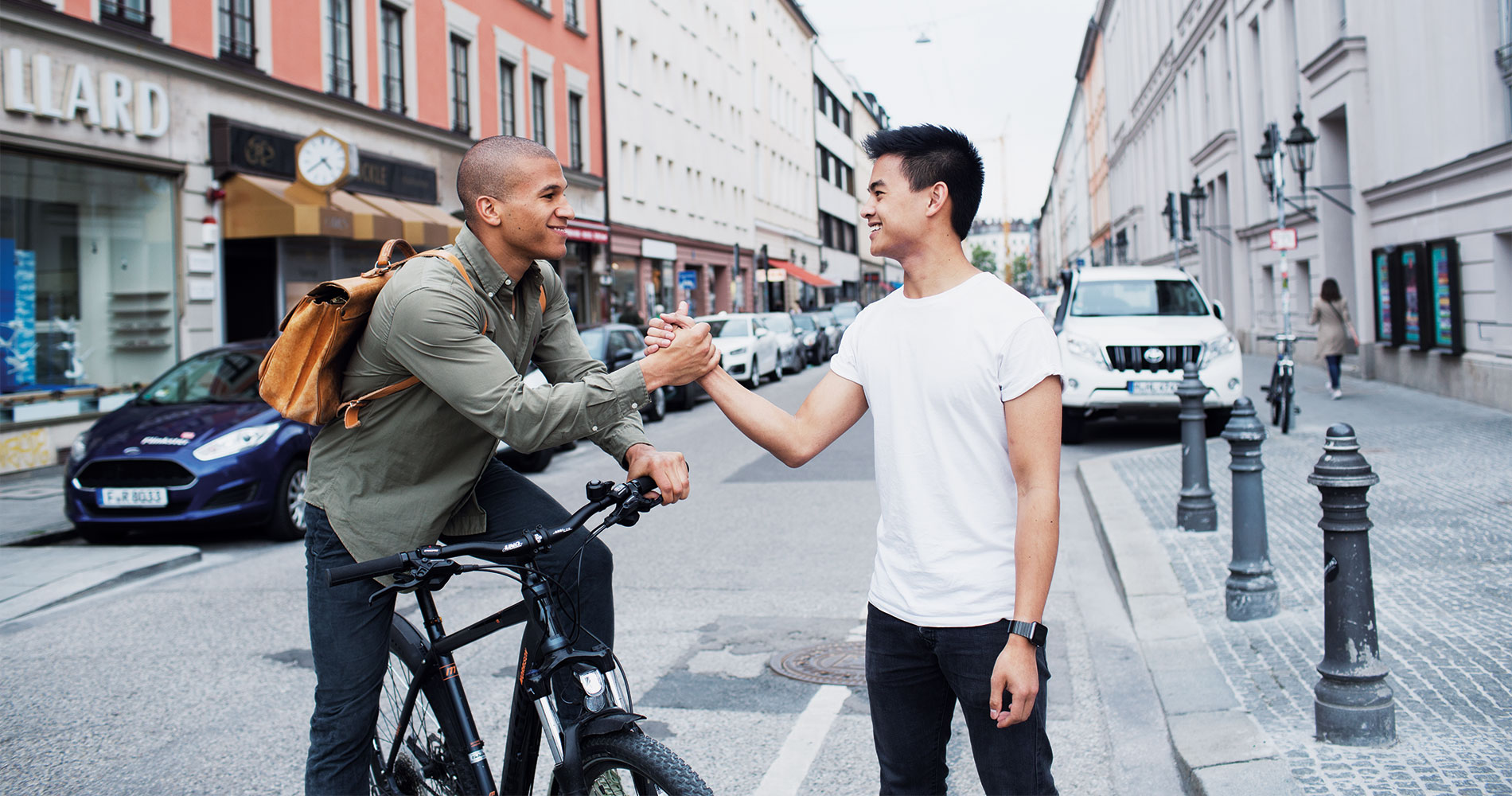 Key Facts
Master Innovation and Entrepreneurship

Duration Single Degree
18 months
Duration Dual Degree
24 months
Final Degree
Master of Arts (M.A.)
Your Master's degree at Munich Business School
The holistic, interdisciplinary approach of the Master Innovation and Entrepreneurship study program for prospective entrepreneurs helps you to gain a comprehensive overview of current developments. You will also have the chance to see the process of forming a company from the different angles required.

Our
Master Study Program in Numbers

7
Business Concentrations
60
International Partner Universities
4:1
Student to Faculty Ratio
100%
Business Hotspot Munich
57 %
International Students
Core Modules
The Core Modules of the Master Innovation and Entrepreneurship focus on general business administration which is necessary for forming a company. You will be able to understand economic relationships in a multicultural globalised world. This will enable you to consider and correctly interpret different relevant social and cultural aspects in your future entrepreneurial decisions.
This study programme promotes critical examination of current topics and discussions. You will also acquire practical methods and models that will be helpful when founding your start-up. The Core Modules of the Master Innovation and Entrepreneurship are structured in an interdisciplinary way to foster entrepreneurial behavior and broaden your perspective.
Thus, you will exchange experience with MBS students of other Master programs as you work side by side on different projects. You will expand your range of experience and your toolbox by different approaches and perspectives in the areas of sport business or international marketing.
Focus Modules
While gaining broad economic knowledge in the Core Modules, in the Focus Modules you will massively expand your basics for founding a start-up. Here, you will acquire the necessary know-how to successfully start your business. Among the main topics in this area of your Master Innovation and Entrepreneurship are recent innovation strategies, processes and methods of ideation and prototyping. In addition, you will obtain extensive skills and knowledge for forming and scaling your business in order to perfectly prepare you for a successful career as entrepreneur or innovations manager in a (international) company.
Electives
Taking Electives will round off your profile. They will also give you the possibility to give your Master Innovation and Entrepreneurship an individual touch. Language courses, project management courses or offers like "Success Factor Happiness" are for you to choose from.

Your Master Innovation and Entrepreneurship will not be confined to theory: During your studies, you will apply your newly gained knowledge to practically oriented business projects. On behalf of a company and as part of a small team, you will work on your Innovation and Entrepreneurship Project for two months. Like this, your entrepreneurial skills are already challenged and promoted during your studies.
As a team, draft an idea of a start-up and implement it. Define an innovative project and carry it out. At the end you will give your results to the company that assigned the project to you. Such practice projects make the difference in your Entrepreneurship studies and strengthen your managerial skills.
Internationality
Studying at Munich Business School is an international experience, because internationality is not only taught but also lived. This is why studying abroad is an integral part of our programs. MBS maintains partnership relationships with over 60 universities worldwide and is continuously expanding its international network. The cooperations range from classic programs such as ERASMUS+ and exchange programs to over 20 dual-degree agreements with partners in Europe, Asia, Australia, and the USA.
The Fast Path to Your Own Start-up
You cannot wait to form your company or start your career as innovation manager? You want to put your idea into practice as fast as possible? As a student of the Master Innovation and Entrepreneurship you have the opportunity to suspend your semester abroad at one of MBS' international partner universities. During this time, you can keep developing the idea of your start-up and already start your own business before completing your Master Innovation and Entrepreneurship. To reach this goal you will receive continuous coaching and extensive support by our MBS lecturers - right until your idea or product is ready to be launched.

In order to qualify for the Master Innovation and Entrepreneurship study program, you must fulfill academic, linguistic, and to some extent professional requirements.
You may submit your application documents at any time. Since the places are limited, we advise you to apply for your desired study start as early as possible.
Academic Requirements
The main requirement for admission to the Master Innovation and Entrepreneurship study program is a successful Bachelor's degree. Applicants with a degree in Business Studies/Management/Economics are entitled to apply for the program directly, applicants without a degree in economics can qualify for the program by completing the Pre Master Program. Upon request, we will gladly verify your documents in advance. Please contact your Program Advisor.
Language Requirements
English Proficiency
Applicants must proof their English language skills by passing one of the following language tests:
TOEFL ibt: minimum 85 (min. 22 in writing and min. 20 in all other bands; MBS TOEFL Institution Code: 5772)
IELTS: minimum level of 6.5 – Academic Module
ELS English for Academic Purposes: Advanced Level 112
Test results can only be accepted if achieved within the last two years. If you are unable to obtain your test results before handing in your MBS application, please inform us about your planned test date.
The English proficiency test can be waived by the following candidates:
Applicants having completed their schooling in English (i.e., High School Diploma, IB)
Applicants having completed their first academic degree in English
Step 1: Written Application
When submitting your online application, please provide the following mandatory documents:
Letter of Motivation (1-2 pages)
Résumé/CV
Copies of your graduation certificates* and/or current university transcripts*
You may also upload the following additional documents:
recent photo of yourself (professional, in color with bright background)
Copy of the school leaving certificate (e.g., Highschool Diploma, IB, Abitur)*
Proof of English language proficiency (TOEFL, IELTS or ELS)
Reference letters (if available)
Scholarship application (statement of 1-2 pages)
*Please provide the original documents or certified copies when you gain admission and matriculate to the program.
Alternatively, you can also submit your written application.
Step 2: Admission
Selected candidates will be invited to a personal interview at MBS or via Skype (30 – 45 min).
As soon as you are an admitted student, you have the opportunity to get to know MBS even better – before making your final decision whether to join Munich Business School.
Our study advisors will of course be available for all kinds of potential questions and personal consultations.
Step 3: Study Contract
Once you have successfully completed the application process, Munich Business School will provide you with an acceptance letter as well as two copies of your study contract. Please sign one copy and return it within two weeks to secure your spot in the program. The other copy needs to be kept for your own records.
The acceptance to the study program requires an enrollment fee of 690 Euro (EU/EFTA) respectively 1,490 Euro (non-EU) and a deposit of 1,000 Euro due upon signing the study contract. The deposit will be deducted from your first tuition fee installment.
Step 4: Student Visa
If you are a non-EU national, you are required to apply for a student visa in order start your studies in Germany. To obtain a visa invitation letter from Munich Business School, which is necessary to apply for the visa, please add a copy of your passport details page when handing in your signed study contract.
The tuition fee is payable in three semester installments à 8,000 Euro or 18 monthly installments. The first rate is due upon the beginning of your studies and is be paid via bank transfer or PayPal.
Books, travel costs and accommodation not included in the overall tuition fee.
The non-refundable processing fee is due upon application, the one-time enrollment fee is due upon signing of the study contract. Both is be paid via bank transfer or PayPal.
International students have the option of visiting the summer school of the Zagreb School of Economics and Management (ZSEM) in Croatia after their second semester. In addition, they can join an intensive course in German as well as career and application training for the German job market (time frame: June to August). Additional costs can incur for the semester abroad, depending on the partner university of your choice and depending on your choice to complete a dual degree.
Munich Business School offers attractive scholarship programs. Detailed information can be found here.

Overall Tuition Fee
24,000 Euro
Application Processing Fee
60 Euro
One-time Enrollment Fee
690 Euro
One-time Enrollment Fee for international students
1,490 Euro
News