Master Innovation and Entrepreneurship (M.A.)
Would you like to form a company and acquire the fundamental basics needed for a successful start-up? Or would you like to advance forward-looking fields after your Master and be a driving force for innovation as well as entrepreneurial thinking and action? If so, then the MBS program Master Innovation and Entrepreneurship is your first step towards success. This program will provide you with advanced economic knowledge, it will allow you to develop entrepreneurial thinking as well as equip you with the most important skills and tools to put your innovative ideas into practice - in a company as well as when starting your own business.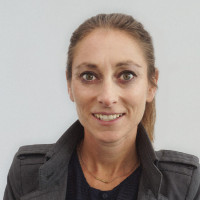 "Innovative ideas and entrepreneurial thinking and acting are especially important in times of great challenges. Successful new products and business models often arise out of necessity - whether to secure sales, give employees a perspective or contribute directly to solving global problems. This requires people who tackle things and make lasting changes. The Master's degree in Innovation and Entrepreneurship prepares our students well for this."
Prof. Dr. Anne Tryba
Academic Director Master Innovation and Entrepreneurship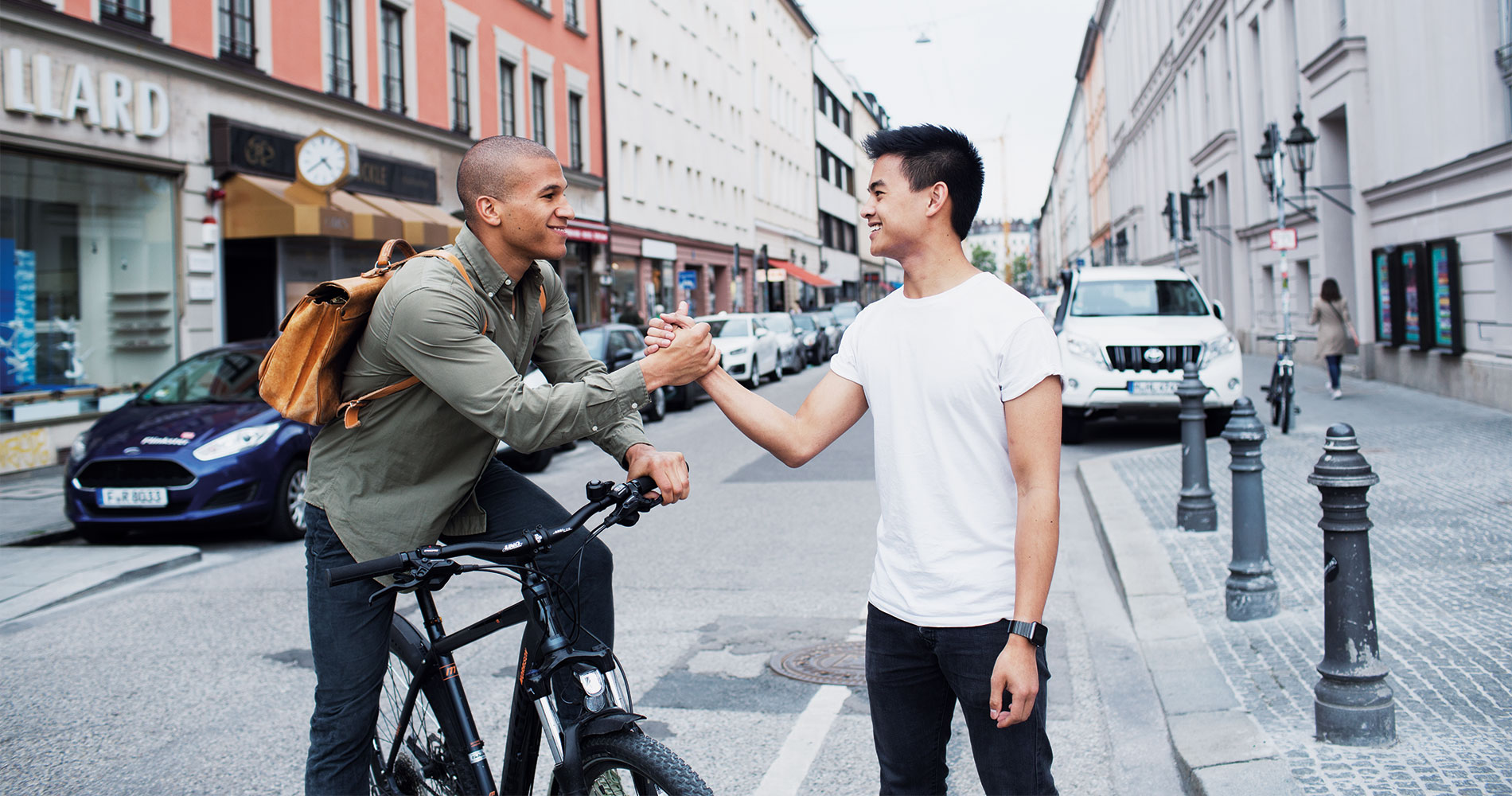 Key Facts
Master Innovation and Entrepreneurship

Duration Single Degree
18 months
Duration Dual Degree
24 months
Scholarships
10% to 50% reduction on semester 1 and 2
Final Degree
Master of Arts (M.A.)
Your Master's degree at Munich Business School
The holistic, interdisciplinary approach of the Master Innovation and Entrepreneurship study program for prospective Innovation Manager or entrepreneurs helps you to gain a comprehensive overview of current developments. In addition, you will take on different perspectives and receive answers to the central questions already during the three-semester course: How do you create a business plan? How do you build and test a prototype? And how do you convince stakeholders of your own idea?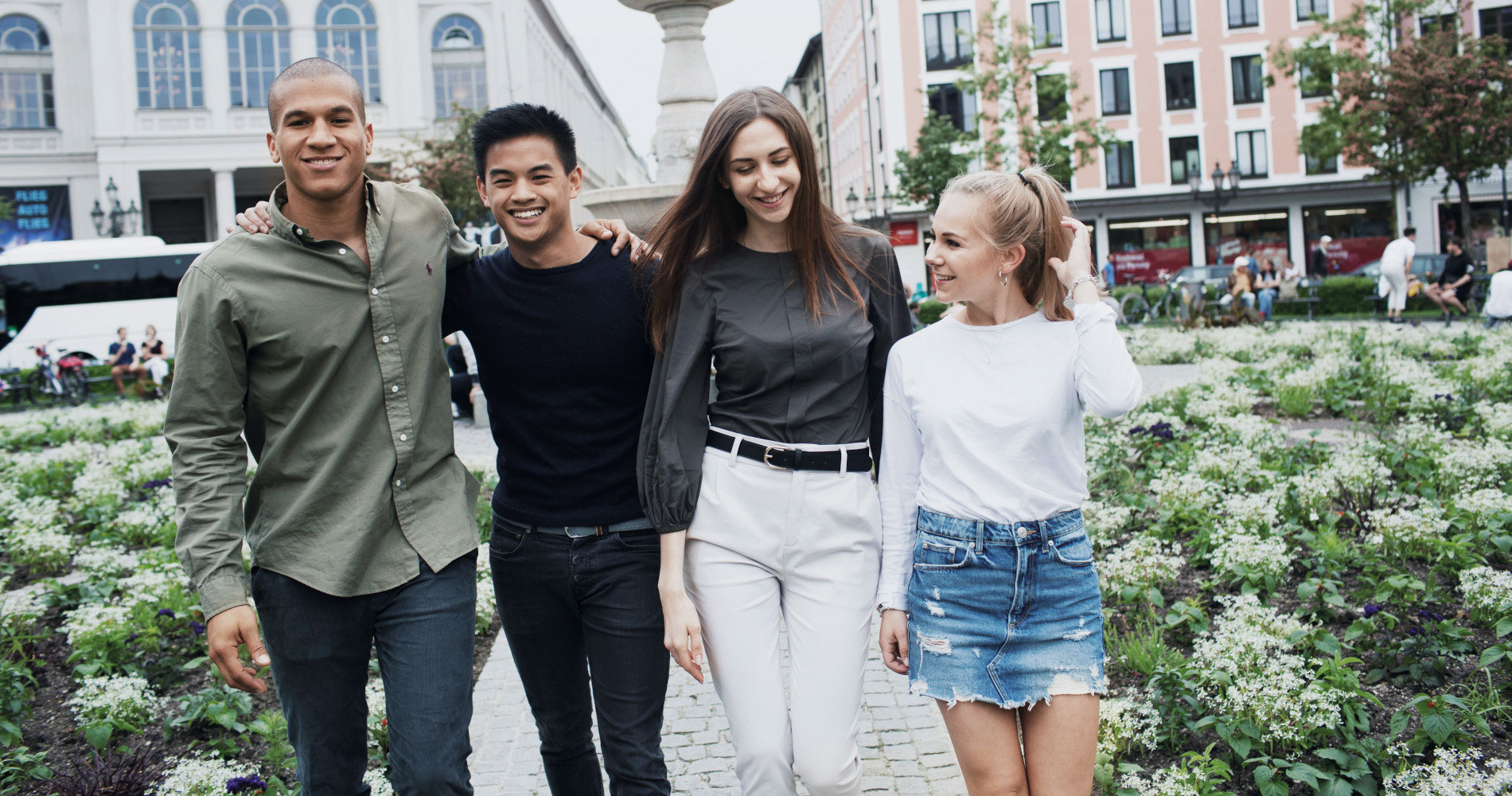 60
International Partner Universities
4:1
Student to Faculty Ratio
100%
Business Hotspot Munich
57 %
International Students
Program-specific Modules
The Programme-specific Modules of the Master Innovation and Entrepreneurship prepare you optimally for your successful career in your own start-up or start-up ecosystem, in a family business, in consulting or in the innovation department of a company: You will learn to develop your own business ideas, draw up business plans and to set up, manage and scale a start-up. In addition, you will acquire comprehensive knowledge of how to successfully identify, manage and implement innovations that enable you to operate successfully in an international context. We encourage your entrepreneurial thinking and acting so that you can contribute creatively and sustainably to finding solutions for today's problems!
Other special features of the program include a close integration of current research results and practical work in small, individually supervised groups, joint projects with start-ups and innovative companies, strong networking with the local start-up and innovation scene, and learning future-oriented skills such as prototyping, UX testing or pitching.
Business Project
An integral part of the Master's program in Innovation and Entrepreneurship is the Business Project. On behalf of a real company, you will work together with your fellow students on a concrete, practice-relevant issue and will be able to apply and prove your skills in practice.
Core Modules
The Core Modules on the master's program convey knowledge and skills on general topic areas of business. Courses on international management, business communication, responsible management, and your international focus – which you are free to choose – will give you an understanding of economic interrelations in a globalized and multicultural world.
You will also learn to correctly interpret social and cultural aspects and include such factors in your business decisions. The course will encourage you to engage and critically analyze a range of topics, helping you to get to grips with practical methodologies and models.
The Core Modules take an interdisciplinary approach, which will help to expand your entrepreneurial vision. You will therefore work on joint projects with students from other master's programs, exchanging views and ideas. Discovering approaches and viewpoints from the fields of Sports Business, International Business, and Innovation and Entrepreneurship will expose you to a wider range of experiences and equip you with new and different tools.
Electives
You round off your profile by completing the Electives, your personal elective courses. Here you have the opportunity to enrich your Master Innovation and Entrepreneurship with an individual component. You can choose from a varied pool of events and, for example, take courses on Social Entrepreneurship, Technology Trends or "Success Factor Happiness" or work on an individual research project.

It's not just a theory. During the Business Project in the Master Innovation and Entrepreneurship program, you will work on a concrete, practice-relevant project over a period of two semesters on behalf of and together with a start-up, a company from the start-up ecosystem (e.g. Investor, Accelerator) or the innovation department of an established company (e.g. group, family business) in a team. This will give you a better understanding of the internal processes and structures of the start-up/company and at the same time give you the opportunity to apply and prove your acquired skills in practice. Concrete projects are, for example, the development of an international market entry strategy for a mobility start-up or the analysis of the effects of disruptive innovations for a private equity company.
Your 3rd Semester
For your third semester in the Master Innovation and Entrepreneurship you have three different options. You set the focus yourself: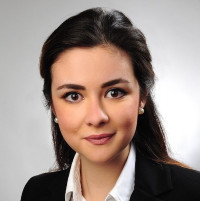 "The start-up project showed me how it feels to be an entrepreneur, which challenges you face and what kind of personal rewards you gain through this experience. The project taught me that there are many factors that are decisive for the success of your idea: the right timing, knowing customers' needs, leveraging the ecosystem and building networks, a realistic approach, meeting legal requirements, a clear vision, and a bit of luck."
Polina Giricheva
Student Master Innovation and Entrepreneurship
Internationality
Studying at Munich Business School is an international experience, because internationality is not only taught but also lived. This is why studying abroad is an integral part of our programs. MBS maintains partnerships with over 60 universities worldwide and is continuously expanding its international network. The cooperations range from classic programs such as ERASMUS+ and exchange programs to over 20 dual-degree agreements with partners in Europe, Asia, Australia, and the USA.
What will I do after my studies? Which doors are open to me? In which professions do graduates of the Master Innovation and Entrepreneurship actually work? For an overview of the diverse career opportunities offered by the Master Innovation and Entrepreneurship, we present possible job profiles here.
Founder of an own start-up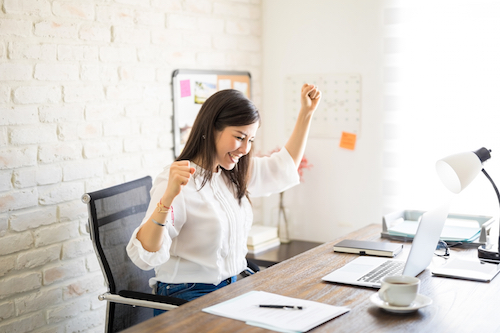 What's the job?
You start your own start-up, either alone or in a team, and build it up from the initial business idea to a marketable product. In addition to product development, you will also be responsible for recruiting and managing employees, building networks and partnerships, securing financing and guaranteeing long-term growth.
The following course contents in the Master's program will prepare you for this:
Entrepreneurial Strategies
Ideation, Pitching & Prototyping
Business Modelling & Planning
Resource Aquisition
Scaling Start-ups
Social & Sustainable Entrepreneurship
Employee in an (international) company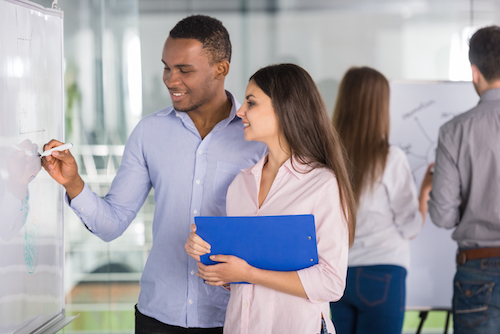 What's the job?
Even in already established companies, students of the Master Innovation and Entrepreneurship are in demand. In the fields of Corporate Innovation, Corporate Entrepreneurship, Strategy or Business Development, you will act as an innovation driver, identify and develop new products and business ideas, establish an innovation culture or initiate cooperation with innovative start-ups. In this way, you will ensure the future viability of the Group.
The following course contents in the Master's program will prepare you for this:
Corporate Entrepreneurship
Open Innovation
Innovation & New Product Development Strategies
Managing and Deploying Innovation Projects
Innovation Branding, Marketing & Sales
Employee in a start-up or start-up ecosystem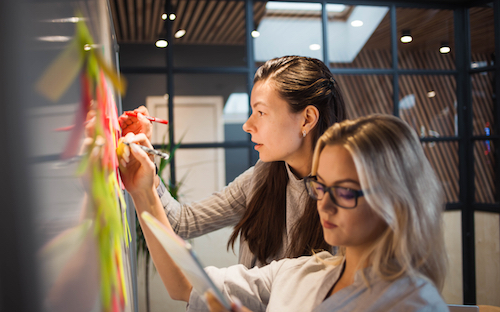 What's the job?
You don't want to start your own start-up, but still want to be active in the start-up scene? Join an existing start-up and make an important contribution to establishing it in the market, to grow more strongly and to expand internationally. Or work in an incubator/accelerator and support start-ups in implementing their ideas, scaling up, acquiring the necessary resources and establishing contacts with investors, customers and partners. Or, as an investor, evaluate up-and-coming start-ups and help to secure their financing (private equity, venture capital).
The following course contents in the Master's program will prepare you for this:
Entrepreneurial Support Systems, Teams & Networks
Growth & Exit Strategies
Design Thinking & Lean Start-up
Entrepreneurial Finance
Protecting Innovation and Intellectual Property
Entry/Takeover of Family Business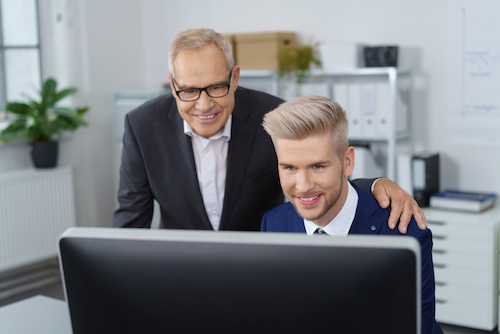 What's the job?
You have grown up with the family business of your parents or other relatives and are now planning to join the company. For a sustainable and successful takeover, it is important to know the operative business and the areas of the company and at the same time to have an eye on the challenges of the future. With the necessary overview and foresight, you will recognize innovations, drive change projects forward and introduce them into existing structures. In this way, you will ensure the future viability of the Group in the next generation and ensure that your family business can continue to provide innovative impetus.
The following course contents in the Master's program will prepare you for this:
Firm Capabilities and Approaches Facilitating Innovation and New Product Development
Growth and Turnaround Strategies
Organizing for Innovation
Evaluating and Choosing Innovation Projects
Succession and Exit Planning
Consultant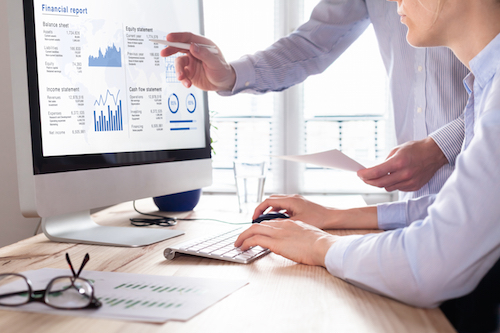 What's the job?
As a consultant in strategy and innovation consulting, you will advise companies and start-ups on various questions and problems. You know what needs to be considered when founding and developing a start-up, understand how companies need to change, are familiar with current technological trends and drive innovative processes, changes and decisions. For the job as a consultant, an entrepreneurial spirit is particularly required: you are innovative, curious, creative and always looking for new approaches and solutions.
The following course contents in the Master's program will prepare you for this:
Entrepreneurial Mindset and Decision-Making
Technology Trends
Collaboration Strategies & Customer/User Interaction
Fundamentals of Digital Marketing Mix
Innovation and Entrepreneurship in International Contexts

In order to qualify for the Master Innovation and Entrepreneurship study program, you must fulfill academic, linguistic, and to some extent professional requirements.
You may submit your application documents at any time. Since the places are limited, we advise you to apply for your desired study start as early as possible.
Academic Requirements
The main requirement for admission to the Master Innovation and Entrepreneurship study program is a successful Bachelor's degree (180 ECTS or more). Applicants with a degree in Business Studies/Management/Economics are entitled to apply for the program directly, applicants without a degree in economics can qualify for the program by completing the Pre Master Program. Upon request, we will gladly verify your documents in advance. Please contact your Program Advisor.
Language Requirements
English Proficiency
Applicants must proof their English language skills by passing one of the following language tests:
TOEFL ibt: minimum 85 (min. 22 in writing and min. 20 in all other bands; MBS TOEFL Institution Code: 5772)
IELTS: minimum level of 6.5 – Academic Module
ELS English for Academic Purposes: Advanced Level 112
Test results can only be accepted if achieved within the last two years. If you are unable to obtain your test results before handing in your MBS application, please inform us about your planned test date.
The English proficiency test can be waived by the following candidates:
Applicants having completed their schooling in English (i.e., High School Diploma, IB)
Applicants having completed their first academic degree in English
Step 1: Written Application
When submitting your online application, please provide the following mandatory documents:
Letter of Motivation (1-2 pages)
Résumé/CV
Copies of your graduation certificates* and/or current university transcripts*
You may also upload the following additional documents:
recent photo of yourself (professional, in color with bright background)
Copy of the school leaving certificate (e.g., Highschool Diploma, IB, Abitur)*
Proof of English language proficiency (TOEFL, IELTS or ELS)
Reference letters (if available)
Scholarship application (statement of 1-2 pages)
*Please provide the original documents or certified copies when you gain admission and matriculate to the program.
Alternatively, you can also submit your written application.
Step 2: Admission
Qualified applicants will be invited for a personal interview on site in Munich or online via Microsoft Teams (approx. 30 - 45 minutes). The interview may include the processing of a case study.
As soon as you are an admitted student, you have the opportunity to get to know MBS even better – before making your final decision whether to join Munich Business School.
Our study advisors will of course be available for all kinds of potential questions and personal consultations.
Step 3: Study Contract
Once you have successfully completed the application process, Munich Business School will provide you with an acceptance letter as well as two copies of your study contract. Please sign one copy and return it within two weeks to secure your spot in the program. The other copy needs to be kept for your own records.
The acceptance to the study program requires an enrollment fee of 690 Euro (EU/EFTA) respectively 1,490 Euro (non-EU) and a deposit of 1,000 Euro due upon signing the study contract. The deposit will be deducted from your first tuition fee installment.
Step 4: Student Visa
If you are a non-EU national, you are required to apply for a student visa in order start your studies in Germany. To obtain a visa invitation letter from Munich Business School, which is necessary to apply for the visa, please add a copy of your passport details page when handing in your signed study contract.
Scholarships
Munich Business School offers attractive scholarships. These are 10 - 50% for the 1st and 2nd Master semester. Students who show particular commitment can continue to receive support after the second semester. The program is also aimed at Pre-Master students.
The application for one of the scholarships is made together with the application for a study place. Further information can be found under "Scholarships and financing".
The tuition fee is payable in three semester installments à 8,000 Euro or 18 monthly installments. The first rate is due upon the beginning of your studies and is be paid via bank transfer or PayPal.
Books, travel costs and accommodation not included in the overall tuition fee.
The non-refundable processing fee is due upon application, the one-time enrollment fee is due upon signing of the study contract. Both is be paid via bank transfer or PayPal.
Additional costs can incur for the semester abroad, depending on the partner university of your choice and depending on your choice to complete a dual degree.
Munich Business School offers attractive scholarships. Detailed information can be found here.

Tuition Fees Master Programs
Overall Tuition Fee
24,000 Euro
Application Processing Fee
60 Euro
One-time Enrollment Fee (EU/EFTA)
690 Euro
One-time Enrollment Fee for international students
1,490 Euro

Other
Panel Discussion: Customer Experience and New Mobility
Take part in our virtual panel…
Learn more
News