Master International Business (M.A.)
The world is your home and you want to pursue an international career? Then your Master International Business degree will provide you with an ideal foundation. You have acquired the most important basic economic knowledge in your Bachelor business studies. With the Master International Business, you will deepen your previous knowledge of business administration. The international orientation of the program allows you to sharpen your profile through the diverse concentrations and practice-related content, thus preparing you optimally for specialist and management tasks in international business.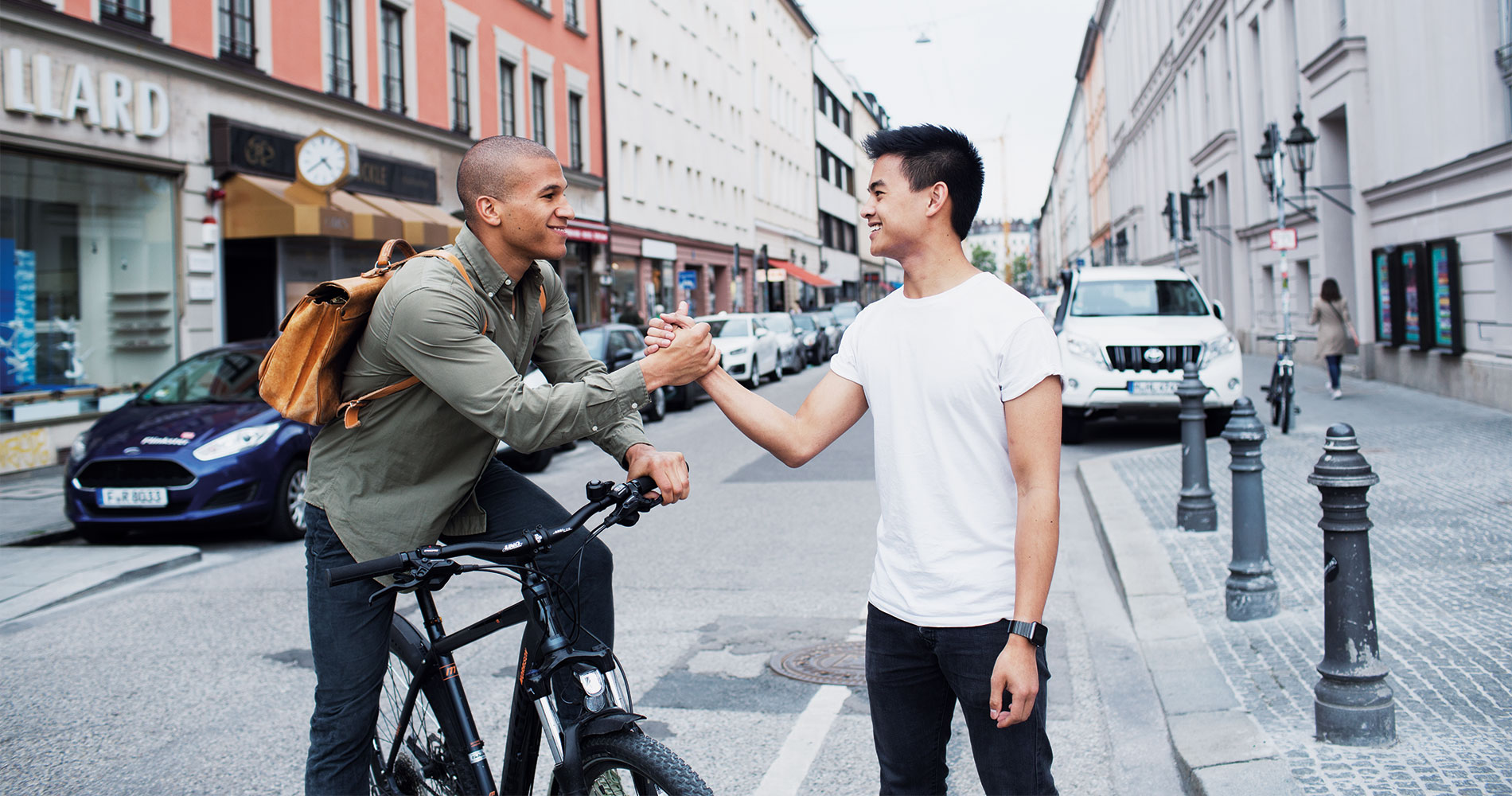 Key Facts
Master International Business

Language
German/English or English
Duration Single Degree
18 months
Duration Dual Degree
24 months
Scholarships
10% to 50% reduction on semester 1 and 2
Final Degree
Master of Arts (M.A.)
Your Master's degree at Munich Business School
The Master International Business at Munich Business School is a postgraduate economic science program aimed at qualified and motivated Bachelor graduates all over the world. In addition to teaching complex global interrelationships and sound business know-how, the focus is on the promotion and development of self- and leadership skills.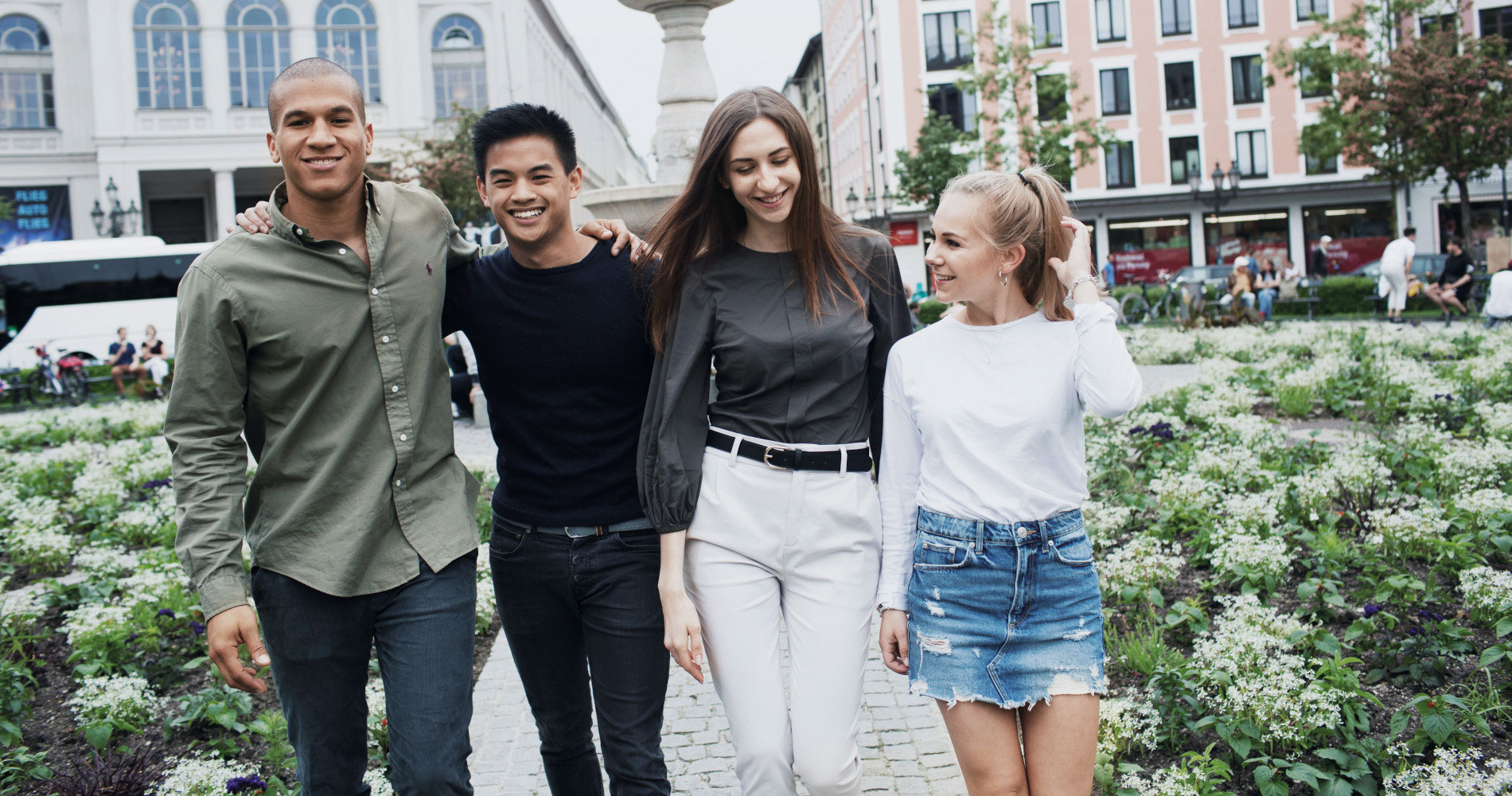 Our
Master Study Program in Numbers

7
Business Concentrations
60
International Partner Universities
4:1
Student to Faculty Ratio
100%
Business Hotspot Munich
57 %
International Students
Program-specific Modules
The program specific modules of the Masters in International Business prepare you optimally for your career in international business. In order to ensure sufficient practical relevance during your studies, the Master's program offers specific focal points in addition to general business administration and courses in international marketing and international finance. In the first and second semesters, you will choose two of five or seven Business Concentrations, respectively, and in this way give your studies an individual aspect. Here you can choose from topics such as Digital Business Management, International Marketing or Corporate Strategy & Innovation. The core courses enable you to deepen your skills and prepare yourself specifically for your professional career.
Business Project
An integral part of the Master's program in International Business is the Business Project. On behalf of a real company, you will work together with your fellow students on a concrete, practice-relevant issue and will be able to apply and prove your skills in practice. The various projects are as diverse as the companies themselves.
Core Modules
In the Core Modules of the Master Programs you will acquire general business management knowledge. In courses on international management, business communication, responsible leadership and your freely chosen international focus, you will gain an understanding of economic interrelationships in a multicultural and globalized world and learn to consider and correctly interpret social and cultural aspects in your future business decisions. The promotion of a critical approach to various topics is just as important as learning practical methods and models.
In order to be able to act entrepreneurially with foresight, the Core Modules have an interdisciplinary structure. You will work on joint projects with students from the other Master's programs and exchange ideas and experiences, thereby broadening your range of experience and your toolbox with approaches and perspectives in the fields of Sports Business, International Business or Innovation and Entrepreneurship, for example.
Electives
By completing the Electives, your personal elective courses, you round off your profile and set further individual accents. You can choose from a varied pool of events and, for example, take courses on International Business Law, Communication Management or "Success Factor Happiness" or work on an individual research project.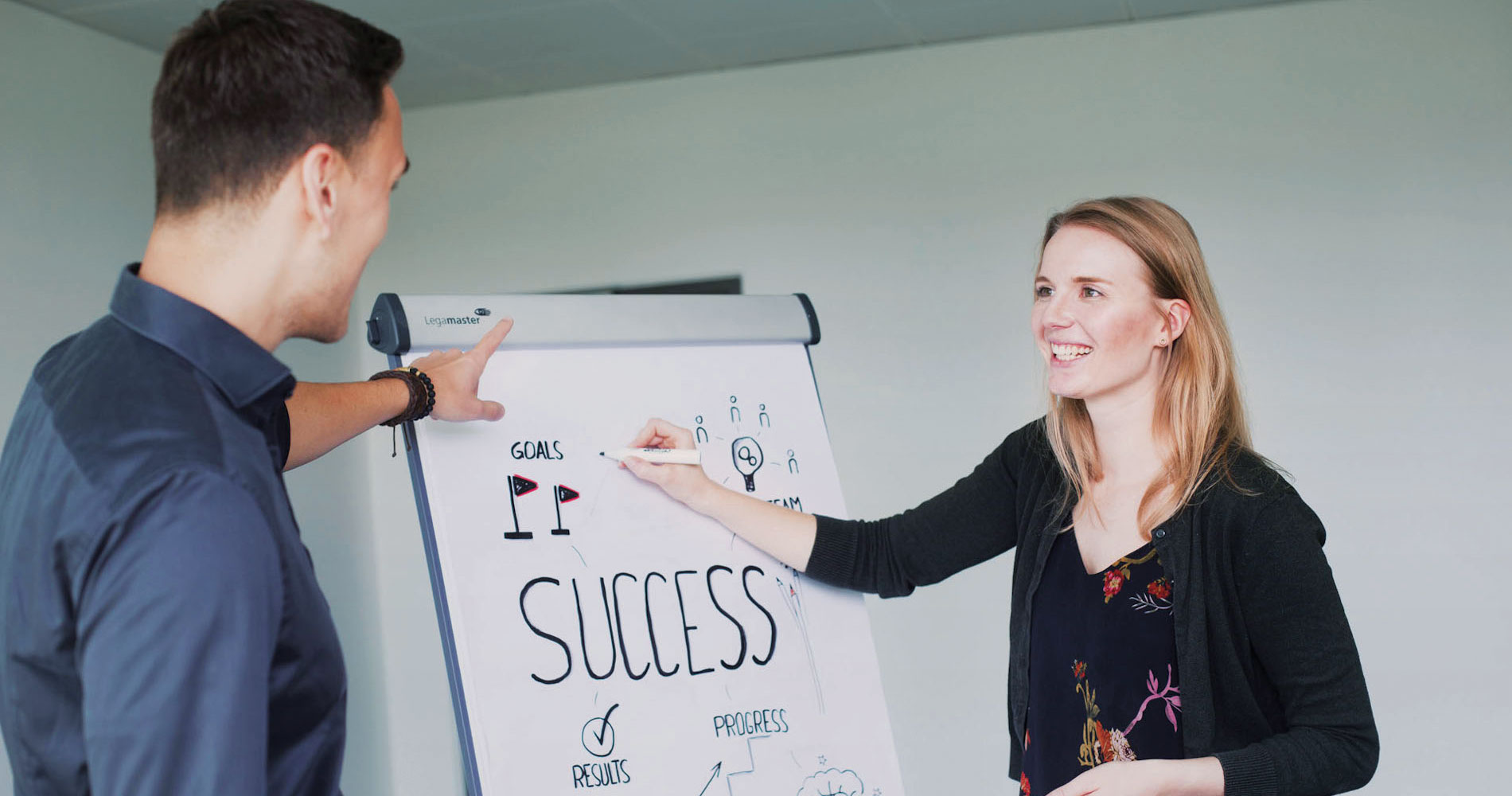 Concentrations
2 out of 7

With the Master International Business you can choose two concentrations.
Besides the imparting of general business knowledge, MBS also offers specific concentrations in order to guarantee sufficient practical relevance of your studies. Starting with the second semester, you have the opportunity to focus on two out of seven selected business concentrations. In this way, you get the opportunity to improve your individual competencies and prepare your future career.
International Marketing
Content
As one of the classic business areas of activity, marketing deals with a company's distributive trade. With the business concentration International Marketing, in addition to the necessary methods and tools, the overall and internationally based approaches in the sense of market oriented business management are communicated using hands-on problems from the industry.
Teaching and Learning Methods
Interactive lectures, goup works, and case studies
Topics are intensively discussed and reflected in international context
Potential Future Business Area
Product manager, marketing or sales manager, associate in the marketing and sales of the business, associate at a management consulting firm or the activity of an independent marketing consultant
International Finance
Content
In an ever more globalized financial world, international companies and financial institutions are increasingly searching for qualified employees who can contribute their knowledge in the fields of controlling, corporate finance, and asset management. The goal of this business concentration is therefore to familiarize you with the methods, tools, and instruments of the financial world of the 21st century und and to optimally prepare you for tasks and managerial functions in the financial field.
Teaching and Learning Methods
Interactive lectures focusing on discussion and exercises
Practice in small groups, group workshops, and case studies
Guest lectures from the industry
Potential Future Business Areas
Specialist and management in controlling, financial management, internal audit with companies in all fields; occupations as auditor and audit manager with accounting firms, consultant and project lead with management consulting firms or as a specialist with tax counsellors; after a few years of work experience, you may take the exam as tax adviser and/or chartered accountant.
Luxury Management
Content
Successful managing and marketing of products and services in the luxury segment requires a proper understanding of the corresponding markets in general, the customers, and the challenges that the luxury industry is facing. Historical and sociological issues provide access to the topic of luxury just as well as observations from the fields of philosophy, economy, ecology, and psychology.
Having completed the courses in the concentration Luxury Management, you will have a thorough understanding of the most relevant strategic (marketing) challenges in the luxury industry. Furthermore, you will have generated experiences how to address the challenges and how to manage and market luxury brands as well as to build a network to companies/managers within the industry.
Teaching and Learning Methods
Seminar-type lectures, case studies and presentations
Guest lecturers from the industry
On-site company visits
Potential Future Business Areas
All divisions in a company dealing with the development and marketing of luxury goods and premium products.
Global Family Business and Wealth Management
Content
International Family Firms is training the next generation of entrepreneurs for national and international multi-generational family businesses. Through this concentration, MBS wants to support all those who want to assume responsibility in corporate succession now. Family businesses often face complex challenges between the conflicting priorities of family and business, technological progress, and international competition. The International Family Firms concentration provides soon-to-be entrepreneurs with the necessary tools in order to lead their family business into a successful future.
Teaching and Learning Methods
Interactive lectures and group discussions
Case studies and workshops
Guest lecturers from the industry
Potential Future Business Areas
Management positions in family firms, company succession, development of family wealth.
Corporate Strategy & Innovation
Content
In interactive lectures, you will gain insights into the key concepts of innovation and change management within companies. You will build methodical knowledge and soft skills and acquire the tools and instruments for planning and influencing innovation processes.
Teaching and Learning Methods
Interactive lectures and group discussions
Case studies and workshops
Guest lecturers from the industry
Potential Future Business Areas
Strategic planner in research & development; interface/project manager at marketing and R&D departments; product manager; innovation and/or change manager.
International Entrepreneurship
Content
The business concentration International Entrepreneurship prepares you for the complete array of topics regarding the formation of a new company and bringing an innovation to market. The scope extends from finding an initial idea and the development of the business model through looking for investors and pitching the concept to founding and building a new company.
Teaching and Learning Methods
Seminar-type lectures and group work
Hands-on prototyping workshops and case study workshops for testing market work
Supervisory coaching of the founding teams
Presentations
Potential Future Business Areas
Management positions in a start-up company; company owner; self-employment.
Digital Business Management
Content
Over the last years, digital business models have affected the economy and competition in a major way. Companies that yesterday did not even exist are dominating the international markets today already. Meanwhile, established companies that have been relying on traditional economical activities will have to keep up with this trend and digitize their processes.
The business concentration Digital Business Management perfectly prepares you to the requirements of the digital business economy. During the course, experienced experts from science as well as from corporate practice impart fundamental knowledge on digital business models and the backgrounds of highly topical key technologies. In addition, you learn how to actively organize digital change management processes in companies. In doing so, you acquire suitable strategies, tools and soft skills to succeed in the international digital economy – as executive or business founder.
Teaching and Learning Methods
Potential Future Business Areas
Management positions in the digital economy; change management for digital transformation; business foundation in the digital economy; consultancy for digital business/digital business transformation; process management in IT projects.

In the Business Project, which lasts two semesters, you work with other students on specific projects on behalf of a company. These live cases are as varied as the companies that provide them: A start-up needs a market entry strategy for a new target country, the hidden champion from the Bavarian region needs ideas for a brand awareness campaign. Within the framework of this project, you will apply and deepen your acquired business knowledge in a small group. All groups receive coaching from an MBS professor throughout the entire project duration. It is not uncommon for business projects to result in concrete and directly on-site, first job opportunities for the respective student groups, because the region around Munich is one of the strongest economic regions in Germany – just one of the many advantages of studying business administration in Munich.
Internationality
Studying at Munich Business School is an international experience, because internationality is not only taught but also lived. This is why studying abroad is an integral part of our programs. MBS maintains partnerships with over 60 universities worldwide and is continuously expanding its international network. The cooperations range from classic programs such as ERASMUS+ and exchange programs to over 20 dual-degree agreements with partners in Europe, Asia, Australia, and the USA.

In order to qualify for the Master International Business study program, you must fulfill academic, linguistic, and to some extent professional requirements.
You may submit your application documents at any time. Since the places are limited, we advise you to apply for your desired study start as early as possible.
Academic Requirements
The main requirement for admission to the Master International Business study program is a successful Bachelor's degree (180 ECTS oder mehr). Applicants with a degree in Business Studies/Management/Economics are entitled to apply for the program directly, applicants without a degree in economics can qualify for the program by completing the Pre Master Program. Upon request, we will gladly verify your documents in advance. Please contact your Program Advisor.
Language Requirements
English Proficiency
Applicants must proof their English language skills by passing one of the following language tests:
TOEFL ibt: minimum 85 (min. 22 in writing and min. 20 in all other bands; MBS TOEFL Institution Code: 5772)
IELTS: minimum level of 6.5 – Academic Module
ELS English for Academic Purposes: Advanced Level 112
Test results can only be accepted if achieved within the last two years. If you are unable to obtain your test results before handing in your MBS application, please inform us about your planned test date.
The English proficiency test can be waived by the following candidates:
Applicants having completed their schooling in English (i.e., High School Diploma, IB)
Applicants having completed their first academic degree in English
German Proficiency
The Bilingual Track focuses on students speaking German at native speaker level. For international students Level C1 of GER (Gemeinsamer Europäischer Referenzrahmen) is recommended.
For the English Track no German skills are required.
Step 1: Written Application
When submitting your online application, please provide the following mandatory documents:
Letter of Motivation (1-2 pages)
Résumé/CV
Copies of your graduation certificates* and/or current university transcripts*
You may also upload the following additional documents:
recent photo of yourself (professional, in color with bright background)
Copy of the school leaving certificate (e.g., Highschool Diploma, IB, Abitur)*
Proof of English language proficiency (TOEFL, IELTS or ELS)
Reference letters (if available)
Scholarship application (statement of 1-2 pages)
*Please provide the original documents or certified copies when you gain admission and matriculate to the program.
Online Application Master International Business
Alternatively, you can also submit your written application.
Step 2: Admission
Qualified applicants will be invited for a personal interview on site in Munich or online via Microsoft Teams (approx. 30 - 45 minutes). The interview may include the processing of a case study.
As soon as you are an admitted student, you have the opportunity to get to know MBS even better – before making your final decision whether to join Munich Business School.
Our study advisors will of course be available for all kinds of potential questions and personal consultations.
Step 3: Study Contract
Once you have successfully completed the application process, Munich Business School will provide you with an acceptance letter as well as two copies of your study contract. Please sign one copy and return it within two weeks to secure your spot in the program. The other copy needs to be kept for your own records.
The acceptance to the study program requires an enrollment fee of 690 Euro (EU/EFTA) respectively 1,490 Euro (non-EU) and a deposit of 1,000 Euro due upon signing the study contract. The deposit will be deducted from your first tuition fee installment.
Step 4: Student Visa
If you are a non-EU national, you are required to apply for a student visa in order start your studies in Germany. To obtain a visa invitation letter from Munich Business School, which is necessary to apply for the visa, please add a copy of your passport details page when handing in your signed study contract.
Scholarships
Munich Business School offers attractive scholarships. These are 10 - 50% for the 1st and 2nd Master semester. Students who show particular commitment can continue to receive support after the second semester. The program is also aimed at Pre-Master students.
The application for one of the scholarships is made together with the application for a study place. Further information can be found under "Scholarships and financing".
The tuition fee is payable in three semester installments à 8,000 Euro or 18 monthly installments. The first rate is due upon the beginning of your studies and is be paid via bank transfer or PayPal.
Books, travel costs and accommodation not included in the overall tuition fee.
The non-refundable processing fee is due upon application, the one-time enrollment fee is due upon signing of the study contract. Both is be paid via bank transfer or PayPal.
Additional costs can incur for the semester abroad, depending on the partner university of your choice and depending on your choice to complete a dual degree.
Munich Business School offers attractive scholarships. Detailed information can be found here.

Tuition Fees Master Programs
Overall Tuition Fee
24,000 Euro
Application Processing Fee
60 Euro
One-time Enrollment Fee (EU/EFTA)
690 Euro
One-time Enrollment Fee for international students
1,490 Euro
Master International Business Alumni
What do our Master International Business Alumni actually do after their studies at MBS? To answer this question, MBS regularly conducts the MBS Alumni Survey. Our graduates:

Other
Panel Discussion: Customer Experience and New Mobility
Take part in our virtual panel…
Learn more