MBS@School
Munich Business School offers schools a wide range of opportunities to introduce students to the topics of choice of study and career, as well as international business and management. The portfolio ranges from lectures for P- and W-Seminar groups, participation in study fairs to student presentations. The event can take place online, at your location or at MBS.

Experience has shown that personal contact with universities and students is a valuable orientation aid for high school graduates. Teachers also benefit from direct cooperation with professors and gain insights into current topics and research projects in the academic world. Therefore, come to us and make use of the knowledge of our experienced experts on topics such as project management, academic work, career planning and enable your groups of students to have a personal exchange with students! We look forward to getting to know you.

TECHNICAL LECTURE OR WORKSHOP?
YOU DETERMINE THE TOPIC

Project Management
Ideal for pupils who are at the beginning of their P-Seminar and want to make their project successful.

Academic work
Ideal for groups who want to prepare for their seminar work in the W-Seminar.

My Start-up: Founding successfully
Ideal for courses that take part in business plan competitions or deepen their knowledge of business and law when starting up a company.

What do I do after graduating from high school?
Ideal for upper secondary schools that would like to take up further impulses in addition to the classic career orientation.

Successfully apply for studies and apprenticeship
Training and application tips for written documents and assessment with our MBS Career Center Team.

You have your own topics?
Talk to us - we will develop an individual course according to your wishes and ideas.
LECTURES FOR YOUR UPPER SCHOOL
Would you like to give your high school students interesting insights into the lecture content of an international business school in P- and W-Seminars? Would you like to enrich certain (economic) topics with a technical lecture or a discussion? We, the Munich Business School, offer you the possibility of a course at your school, online or you can visit us on our campus in Munich-Laim. Topic, date and schedule will be arranged individually.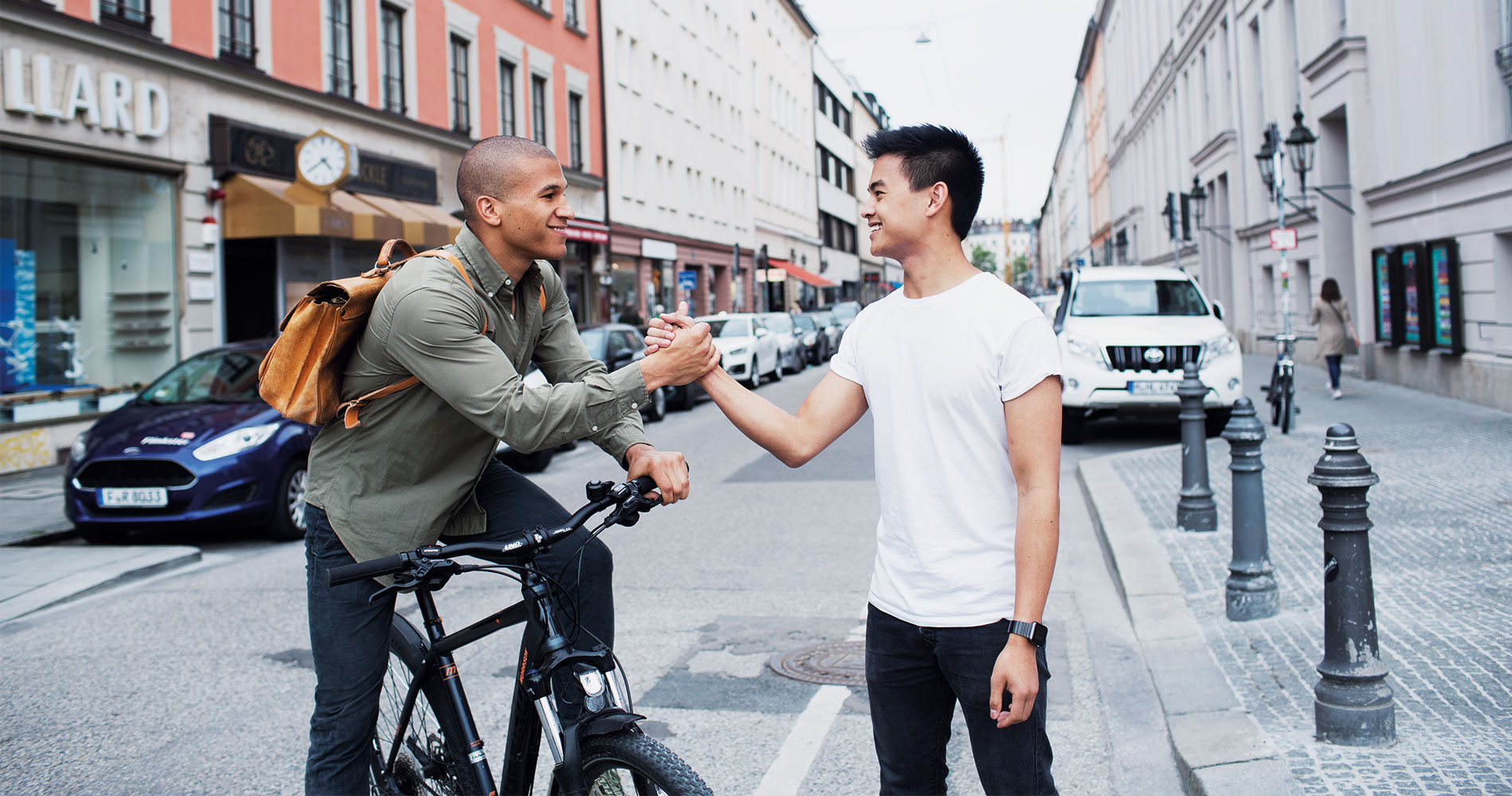 Offer
Free lectures and presentations
Date
All year round possible
Period
1,5 hours (2 school lessons)
Group size
From 25 persons
Location
At your school, at MBS or online via MS Teams
WORKSHOPS FOR THE CHOICE OF STUDIES AND PROFESSION
"What do I do after graduating from school?", "How do I successfully apply for studies and training?" or "How do I convince in a job interview?" We take up these questions in workshops and translate them into exercises and practical examples. MBS professors from the areas of HR and Human Ressources Management as well as the MBS Career Center Team are happy to share their current knowledge with your pupils.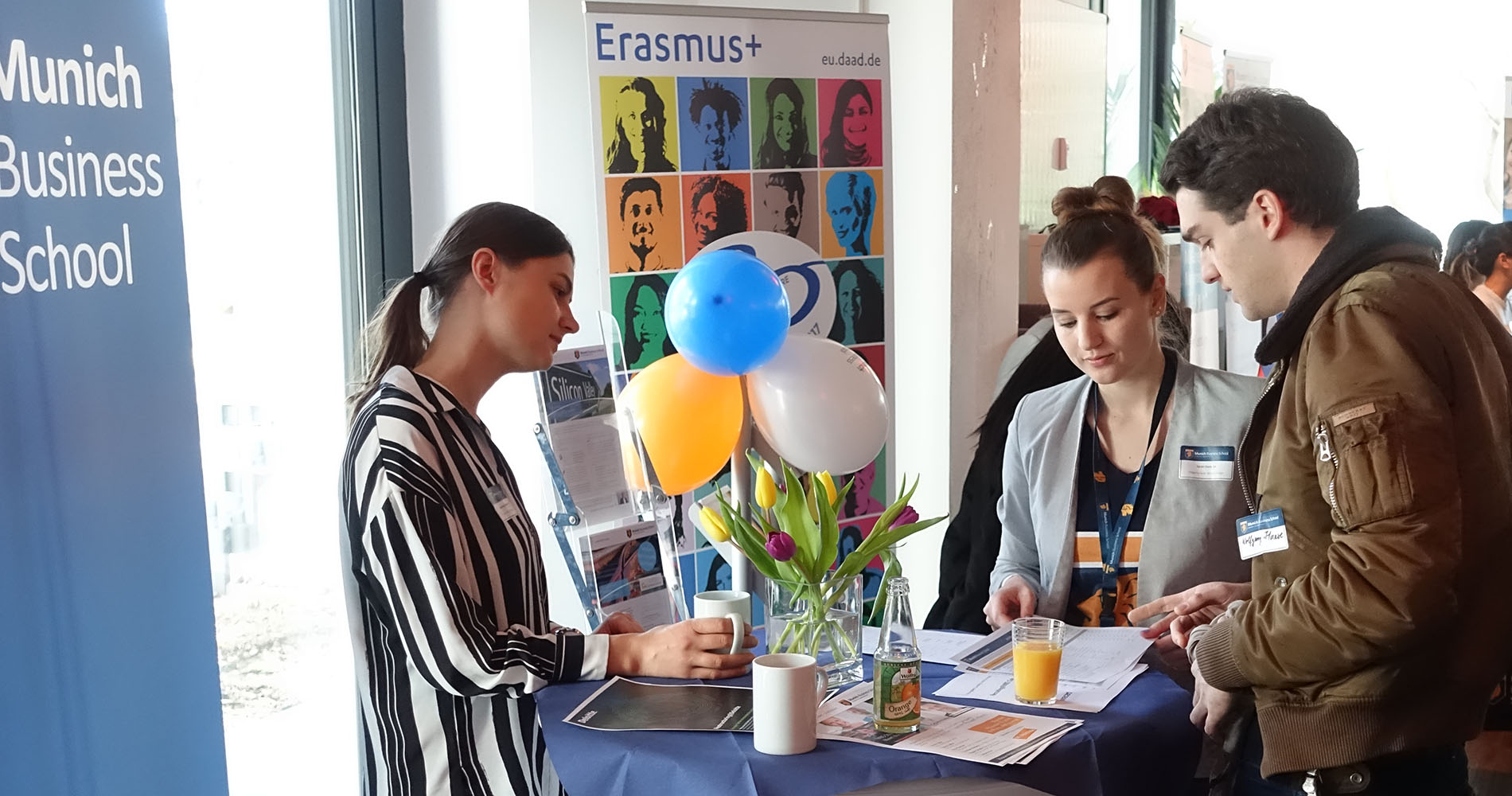 Are you planning an internal university information day or a trade fair at your school? Munich Business School would be happy to be part of it! Our study advisors will come to your school together with students of the Bachelor International Business to present the university's study programs. Your pupils can get into conversation with us and clarify questions about the study programs and the university.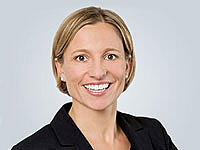 Academic Director Bachelor International Business (Semester 1-3)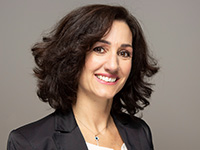 Certified Business Trainer Coach & Change Management Consultant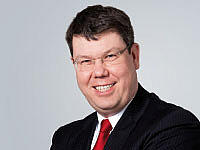 Academic Director Bachelor International Business (Semester 4-6)
Schools about MBS
"Our conclusion: The topics of Project Management and Academic Work were presented by the competent speaker in a clear, understandable and pleasant way."
OStRin Gabi Sattler Scheufele, Chiemgau-Gymnasium, Traunstein
"You have really inspired us teachers and pupils. We would like to continue to receive your support for our career orientation. Our pupils are now full of zest for action and are very much looking forward to the project work after the professional input".
OStRin Rosemarie Eschner, Gymnasium Neubiberg
"Thank you wonderfully for welcoming our group of student women leaders to the Female Business Breakfast. They had such a positive experience and I look forward to seeing their group develop and bloom in the context of our school. Impressive. Thanks again for supporting these young, dynamic females!"
Emma Jane Morris, CAS & Service Learning Coordinator, Bavarian International School, Haimhausen
"Many thanks to your team. We thought it was great and will gladly come back for more offers".
OStRin Kirsten Mallmann, Erasmus-Grasser-Gymnasium, Munich
"Munich Business School has been present at our annual study information day for many years. We are pleased to have exhibitors that provide our students with such competent insights into courses of study and thus contribute to study and career orientation."
OStRin Bettina Heimpel, Robert-Bosch-Fachoberschule Wirtschaft Munich