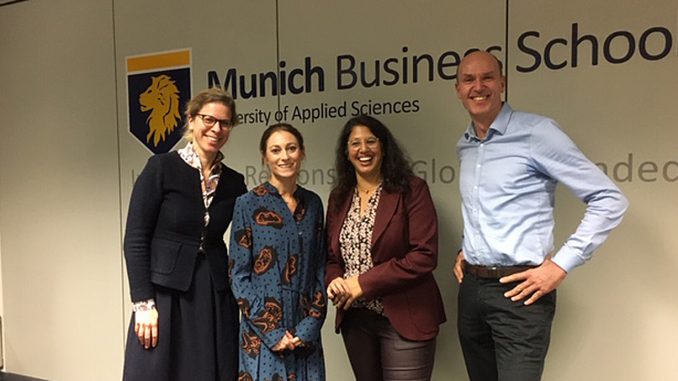 At the invitation of MBS lecturers Prof. Dr. Anne Tryba and Prof. Dr. Heiko Seif, Ms. Gautam-Nigge, Head of SAP Next-Gen Innovation Network Munich, visited Munich Business School to share her comprehensive insights and experiences on "Driving Corporate Innovation in the New World of Ecosystems".
Ms. Gautam-Nigge has worked in a start-up herself before joining SAP and hence provided the students with a very precise picture on the challenges and needs of both sides. In her presentation, she first shared how new disruptive business models, growing digitization, and the democratization of technologies change the requirements and context of innovation and thus increase the importance of speed, people, and the right strategy.
Further, she provided specific insights into how SAP engages in corporate innovation, discussed various models of collaboration between start-ups and corporates, and gave some helpful strategic advice from the perspective of both, start-ups and corporates.
We concluded the session with a lively discussion and an insightful Q&A session.
Many thanks to Deepa Gautam–Nigge for her visit to MBS and for her interesting insights!