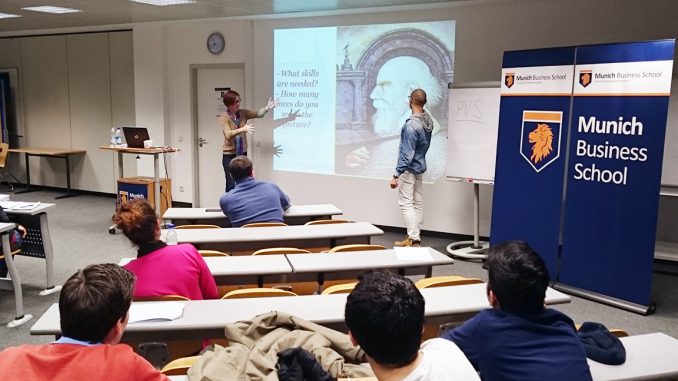 Dr. Virginia Bodolica, Professor at MBS partner university American University of Sharjah, talked about the "Challenges and Opportunities for Entrepreneurs in Emerging Markets: Entrepreneurial Success Stories from the United Arab Emirates (UAE)". The presentation was part of the Master International Week of the Master International Business program.
The UAE is a fascinating Middle Eastern nation that has rapidly evolved from a trading society heavily reliant on the pearl-diving industry into a booming economy with modern facilities and state-of-the-art technology. The country is home to many internationally recognized brands (e.g., Emirates, Jumeira, Emaar) and world-class attractions (e.g., Burj Al Arab – the only 7-star hotel in the world, Dubai Mall – the biggest shopping center ever built, Palm Jumeirah – a palm tree-shaped artificial island, and Burj Khalifa – the tallest man-made structure to date). Multiple peculiarities of the economic, political, social, cultural, and regulatory environment in the UAE have induced many male and female citizens and expatriates to launch their own business ventures; but also create a separate set of challenges.
The main purpose of the session was to discuss issues related to entrepreneurial undertakings of businesspeople in the UAE with the purpose of contributing to the development of context-dependent knowledge of entrepreneurship. Participants were immersed in different stories of local and foreign (male and female) entrepreneurs in the UAE to uncover and critically assess the different stages of the entrepreneurial process in a unique cultural and regulatory setting.