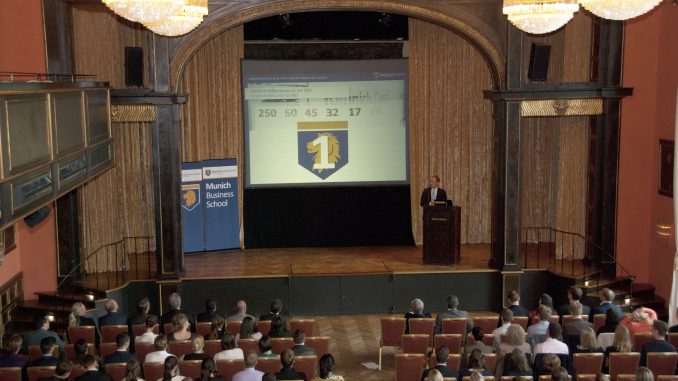 The new students of the Bachelor, Master and MBA study programs at Munich Business School (MBS) started into the winter semester 2014-2015 in a festive opening. Across all semesters, MBS counts nearly 600 students from 60 countries. With 250 new students in this year, MBS proudly announces the most successful start into the new academic year since its foundation.
Study programs at Munich Business School can best be described with three buzzwords – international, practice-relevant and personal. This year, the share of international students from 60 countries has reached 32%. Hence, 2014 is not only the year with the highest number of new students; it is also the year in which foreign students from the largest number of foreign countries have been registered. "This diversity is not only reflected in our statistics. For our students, this translates into an opportunity to enhance skills in intercultural communication and intercultural competence. In today's global labor universe, our students have to be able to function in international teams. The study programs at our university are an excellent preparation for this," explains Dr. Rudolf Gröger, president at Munich Business School.
Traditionally, the winter semester 2014-2015 starts with a festive semester opening for the new MBS students. Künstlerhaus München was the perfect setting for the event. In its historical setting, Dr. Rudolf Gröger, president of MBS, and Prof. Dr. Stefan Baldi welcomed the students and guided them through the program. Hannon Farooq, alumnus, offered insights into the life of an MBS student. He told about his way to MBS, about his life as a student and his entry into the working world and was later available for a Q & A session. MBS had the honor to welcome Dr. Friedrich J. Froeschl, CEO and founder of HI TEC INVEST as a guest speaker. In his presentation titled "Lifecycle of the IT Industry – A Helicopter View", Dr. Froeschl discussed the ever shorter product cycles of the IT sector. Simultaneously, the new students were introduced to one of the most important principles of MBS: The interrelationship between theory and practice. The new students, however, will not only be trained in economics and the relevant know-how: Social commitment is an important focus at MBS. After presenting themselves, MBS student initiatives gained many new enthusiastic members among the freshmen. A special highlight of the day was the MBS award for outstanding achievements and extracurricular accomplishments at MBS. 10 laureates received the awards in the categories "Student Association Award", "Student Representative Award", "MBS Ambassador Award" and "MBS Special Award". "With the MBS Awards, we want to reward students who – next to their study programs – achieved outstanding success for the university or have attained exceptional achievements in a student initiative. We want to duly honor these achievements and also want to show our new students, that social commitment is worth-while," says Prof. Baldi. "Today, the skills and competences students gain additionally by committing to off-curricular work are very important to set oneself apart from competitors. In addition, our students have the opportunity to establish and expand their personal networks and to make important contacts", continues the university's dean.