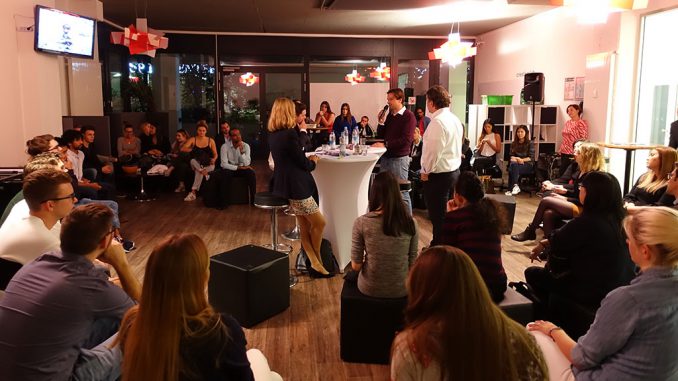 On Thursday, October 18, Munich Business School was the venue for the MBS "Social Entrepreneurship – The Business of Good" Panel Discussion. The event was hosted by Dr. Barbara Scheck, Professor for Entrepreneurship at MBS and a designated social entrepreneuship expert, and MBS Alumni Relations Manager, Martina Dengler.
MBS Bachelor, Master, and MBA students as well as faculty members and external guests gathered in the MBS Lounge to enjoy an inspiring panel discussion with external experts who all have devoted themselves to being social entrepreneurs, combining "doing business" with "doing good".
The event was opened with a warm welcome by Professor Dr. Stefan Baldi, dean of MBS. He was followed by Prof. Scheck, who provided the audience with a short introduction and some facts and figures. Afterwards the panel discussion with alumnus Bernd Wendeln, Chairman of Bonventure, alumnus Thomas Huth, CEO and Founder of VillagePower, and Jasper Schlump, Program Director of ROCK YOUR COMPANY! discussed topics such as "How do you keep score in the not-for-profit world?", "How can you attract talent when there aren't high salaries and options?", "What role should businesses play in addressing the world's societal and environmental problems?", "How can business schools prepare you for a career in social entrepreneurship?", and many more.
After the lively, inspring panel discussion, the participants seized the opportunity to engage in informal conversations on the topic while enjoying the evening at the following get-together with snacks provided by social start-up SirPlus.
MBS would like to thank all participants for making this inspiring event possible!