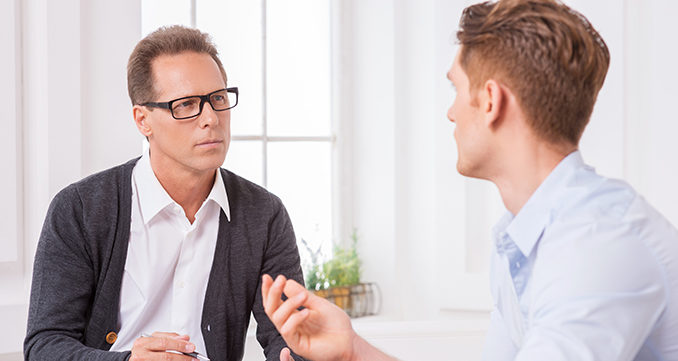 In January 2021 the new further training as a systemic business coach starts at Munich Business School in cooperation with the Berlin Coaching Center ISCO. Michael Mors, General Manager Central Europe at box, completed his training as a business coach at MBS five years ago. In the interview he reports on his experiences.
Note: Do you prefer listening instead of reading? No problem, an audio-visual version of the video can be found here (only in German).
---
Nathalie von Seyfried, (former) Chancellor of the Munich Business School: "Dear Michael, what was the trigger for you back then to take the further training to become a business coach at MBS?
Michael Mors, former course participant: There were many reasons. After more than 20 years in the IT industry, most of them in management positions, I realized that I would like to develop myself further – also against the background that culturally a lot has changed. Nowadays, an executive is no longer necessarily a person of respect because of the title, but also acts as a coach. Therefore I wanted to gain new perspectives. These were the reasons why I started to think about what new things I could do in my personal development.
In addition, as a manager you are always thinking about how you can be successful. For me it is clear that success stands or falls with the team. In order to motivate employees and to develop them further, it is more important than ever to be responsive to the employees. Also against this background I wanted to do this training to be able to deal better with people.
Last but not least, I had thought about how I could build up a second mainstay in the long term by combining my professional and leadership experience with another component, so that I could possibly become self-employed at an advanced age. In this way I could let others participate in my experience and my methodology.
Nathalie von Seyfried: In view of the fact that coaching is a process and that you also deal with yourself a lot: Did the training meet your expectations? And were there moments that you didn't expect at all?
Michael Mors: First of all, I took a very methodical approach and thought carefully about whether the training suited me or whether I should go for further leadership training. In this respect, I have already dealt with the topic intensively. When I review the year of training, I would say that I was rather positively surprised because the path was the goal for me. I liked the team very much, as well as the various topics that were discussed and taught. The topics were more focused on people than I had initially expected. For example, how do I approach the individual? How can I better understand the different facets that ultimately lead to a personality, a decision or a behavior? All in all, it was an extremely interesting and positive experience that I had.
Nathalie von Seyfried: How is the further training noticeable in your professional life? Would you say that you do things differently than before?
Michael Mors: I actually developed a hybrid solution. Hybrid in the sense that I use the topic of coaching very intensively both within and outside the company. I work for the digital company box and manage the Central European region, so I have a fairly large team scattered across Germany, Austria and Switzerland. There I can apply a lot of what I learned during my training and since my coaching training I have been putting much more focus on the individual. This means to better understand what motivates the individual, why the person is ticking, how he or she ticks, and what can be methodically done within the facets of the individual to increase his or her motivation, develop further or cope better with problems. So in my job this approach helps me a lot to coach the employees in detail.
Parallel to this, I constantly coach managers who are at a turning point in their lives, whether they are looking for a new job or changing direction. I have coached some people very successfully over the last few years and in the end they were successful because they actually implemented the things they thought about intensively.
A positive surprise during the training was that I learned more about myself, but also about how I can raise issues with my counterpart that otherwise you would not address as a manager. The difficult thing is that on the one hand you are a superior and on the other hand you are supposed to be a coach. It's not so easy to walk the tightrope, and the training helped me a lot in my daily work. Not only professionally, but also privately, I deal with some topics more circumspectly than before.
Nathalie von Seyfried: When should one consider the idea of doing a business coach training?
Michael Mors: Looking back, the training would have been good at any time. I only started the training at 50, but I think that it can be done much earlier. Above all, not only to complete a professional leadership training course, but also to become more involved in the topic of personality. The earlier you start, the better. In my opinion, you should already have gained some professional expertise so that you can build on a certain wealth of experience and compare what you did differently in the past and where there is still room for improvement.
Beyond that, one naturally still thinks about where to do the training best. Munich Business School was the right choice for me at that time, as it had the certificates required in Germany, such as the German Association of Coaching (DBVC). The certificates were important to me because they are a requirement in Germany if you want to become self-employed afterwards. In addition, the university character of MBS had a particular charm for me because I knew that a certain standard was behind it, which was finally confirmed.
In principle, such a training always makes sense. No matter whether you use it for your own development, as an employee, as a manager or as a path to self-employment. When you have reached a certain milestone in life or are thinking about the next steps for your career or in life in general, it is a good time to consider a further training as a business coach.
Curious? Then you find all the information about our further education as a systematic business coach on our website.