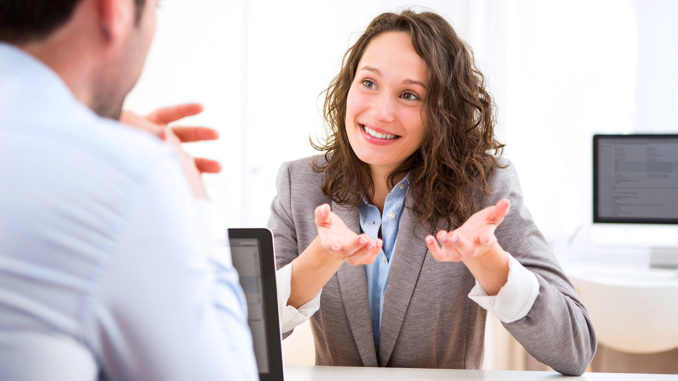 For many people, job interviews stir up feelings of fear, anxiety and pressure. That's hardly surprising: these conversations have a lot riding on them. They might determine your first job, a move into a new industry, or a leap in your career. However, as is often the case in life, preparation is half the battle. In truth, there are a number of typical questions that crop up time and again in job interviews – which allows you to prepare for them effectively. In this blog article, we'll not only look at the 30 most common interview questions. Our experts at Munich Business School (MBS) have also provided useful tips for successful answers to these 30 interview questions. Equipped with these tips, there will be nothing to prevent your next job interview being a roaring success!
---
Expertise for your next job interview
The MBS expert team discussing good answers in job interviews draws from theory and practice. From academic research, the active process of recruitment and daily contact with companies, they know what makes them tick and what answers to interview questions recruiters want to hear. 
Interview Question To Open the Conversation
1. Tell us a little about yourself!
Prof. Dr. Sophie Hieke, Academic Director of the master's program in International Marketing and Brand Management, has the following advice: "Keep it short and sweet! Recruiters don't want to hear a summary of your entire career – they've already read that in your application. Instead, it's better to select individual experiences from the different stages in your career to date (training, studies, internships, jobs) and pick out skills you have developed, so that you can explore them in more detail."
"Even if this question is obviously meant from a professional perspective, you can also throw in success stories from your hobbies and free time, such as sports or voluntary work – especially if such anecdotes demonstrate characteristics and abilities that would be relevant to your new job. You should always have relevance to the job in mind when selecting the points you want to convey," adds Prof. Dr. Heiko Seif, Academic Director of the master's program in Sports Business and Communication
2. Why should we choose you? / What sets you apart from other applicants?
This question has an obviously answer – it's because you're the best person for the job. But how can you formulate this in a reasonable way without being so direct? Prof. Dr. Sophie Hieke and Prof. Dr. Heiko Seif have a suggestion: "Above all, recruiters are interested in the added value you can offer the company, not the other way round. Make it clear that you are familiar with the tasks and duties you would be assigned and explain how your skills and experience would enable you to contribute to the company's development. Avoid long monologues outlining the new things you want to learn in the post, as this highlights the benefit to the applicant, not the company."
Interview Questions Regarding Your Motivation
3. Why would you like to work for us as [xyz]?
Prof. Dr. Heiko Seif recommends: "Explain what you feel makes the role attractive and what prompted you to apply for it. It might be the topic area, the freedom and flexibility to create something, the working environment, the company's mission, or even a recommendation from someone you know. Whatever aspect you choose to focus on, you need to have this answer ready and be able to express it clearly. You won't make a good impression if you have to think long and hard about the reasons you want the job during the interview!"
4. Why are you looking to change roles? / Why do you want to leave your current employer?
Prof. Dr. Sophie Hieke has a golden rule to follow here: "Never speak poorly of your past or current employers, managers or colleagues! This also applies when you're looking for a new job. No employer wants to recruit somebody they're worried will talk negatively about them in their next interview. Instead, focus on how you hope to develop in the future and why your new employer would be a better option in light of this."
5. What motivates you to get out of bed in the morning?
"This is one of my absolute favorite job interview questions. I recommend you spend time thinking about this one ahead of time. It's all about your personal WHY – why you do the things you do. Every company is looking for employees who strive for more than simply corporate success and who work for the company out of an inner conviction. With this in mind, your answer should always be associated with positive feelings. Not sure about what your WHY is? Go out and find it! Find your WHY, a book by Simon Sinek, is a good place to start," says Felix Ewald, Head of Marketing & Sales.
6. What are your salary expectations?
Christine Menges, Chancellor and CFO of Munich Business School, has some insights: "This is a decisive question, especially for young professionals, as future salary increases are usually calculated as a percentage of your current salary. Questions about salaries can crop up at different points in the application process – in the original application form, during your first telephone conversation with the recruiter, or in an interview with someone from the department. However, you can be sure that the question will come eventually. This makes it all the more important to prepare well for this question. Use online benchmarking portals to research standard salaries in the industry for your level of qualification and professional experience. If you are able to realistically estimate your desired salary and express this confidently, you will demonstrate to your prospective employer that you know your market value and are self-assured. In any case, negotiation is a skill you can learn, such as in our Negotiation Skills seminar."