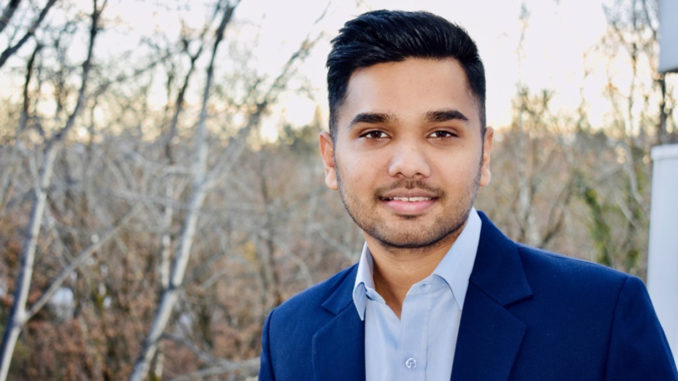 Jaimin Shah is in his final semester of his bachelor's degree in International Business at Munich Business School. During his studies, he also founded his own company – not in Germany, but in his home country of India. In the interview, he tells us what his company is all about, how he deals with the double challenge of studying and starting his own company, and what his next career goals are.
---
MBS Insights: Dear Jaimin, tell us a little more about your company: what exactly is it about and when did you start it?
Jaimin Shah: In 2018, my sister and I founded Visa Vistara – an education consultancy which helps students find the right universities and study programs abroad. We also help students with the admission and visa processes. Visa Vistara mainly focuses on spreading awareness about the European education system, as Indian students, for example, know little about the German, French and Spanish education systems. Visa Vistara currently has four employees – three full-time and one part-time – and so far we have helped more than 15 students to find the right courses and secure a place at European universities.
MBS Insights: How did you get the idea to start an education agency? What is your motivation behind it?
Jaimin Shah: I moved to Germany in 2016 and at that time I realized that many Indian students had no idea about the visa process, required language courses and other admission requirements to study in Europe. I was contacted by many students from different parts of India on social media and I realized that it is the best time to spread awareness about the German education system and provide full support to interested people about the admission and visa processes. By doing so, I was able to use my knowledge and help students get a place at their desired university.
MBS Insights: You study and live in Munich, but your agency is in India. How did you coordinate your work? I can imagine that the time difference and the double load of studying and running your own business is sometimes quite challenging.
Jaimin Shah: Yes, in the beginning it was very difficult, especially because I started my business after my first semester and the workload at MBS is quite a lot during first three semesters. After a few months of struggling, I realized that it is all about how you schedule and manage your day. So, I decided to have a fixed routine and started working for Visa Vistara at 6 am German time, which was very feasible due to the time difference to India. During the day I attended classes at MBS and in the late evening I finished my pending tasks. This way, I was able to regularly coordinate with my Indian colleagues and use my weekends for study assignments and exam preparations.
MBS Insights: What are the biggest learnings and most valuable experiences you have taken away from your startup and also from working in an international context? For example, do you notice differences between the German and Indian work cultures and how do you deal with them?
Jaimin Shah: There are many things I have learned during my journey at MBS and Visa Vistara. I think starting the business is the greatest thing I could possibly achieve in my professional career. It was not easy to turn the idea into reality, but still it was the most valuable experience as I made a lot of mistakes but learned from all of them and was able to grow as a person. During the initial days of Visa Vistara, I was able to apply the basics of business and management that I learned at MBS. My studies helped me a lot to understand the internal business functions and prepared me well to become an international leader. Of course, there is a difference between the German and Indian work cultures, but since I had worked in both cultures, I already knew that in order to manage people online, it is important to give them freedom at work and allow them to show their creativity and skills. I try to be as Indian as I can while coordinating with my colleagues and the client, and to focus on the German work culture when I am working and handling the clients' admission and visa applications. Morevover, I also make sure to give my work and business relationships a personal touch, as this is highly appreciated in India.