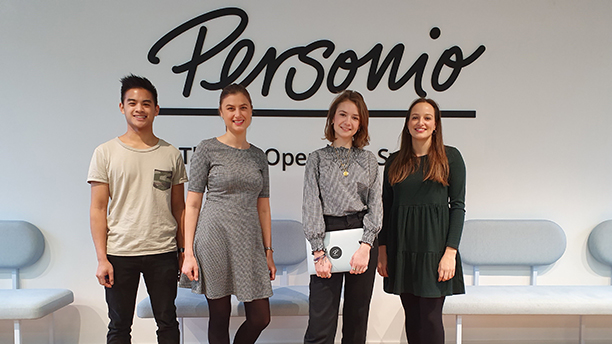 Last Monday, December 16, the MBS Career Center visited the company Personio, an important cooperation partner of MBS. HR managers, recruiters and executives use Personio to make their organization better and more efficient step by step. The company is doing its part by continuously developing its HR management and recruiting software and adapting it to the needs of companies.
Stephanie Raschen, Career Center Manager at MBS, spoke intensively with representatives of the Personio HR department to deepen the cooperation. For MBS students, Personio offers a variety of career opportunities in the form of internships, working student activities and entry opportunities. An MBS student is also currently working as intern at Personio and reports enthusiastically about his job. For coming March a attendance is planned for the MBS students with Personio, in order to bring them the occupation everyday life and the chances, which the enterprise holds ready, more near.
We would like to thank Personio for the great cooperation and look forward to continuing the cooperation and close exchange with the company in 2020.