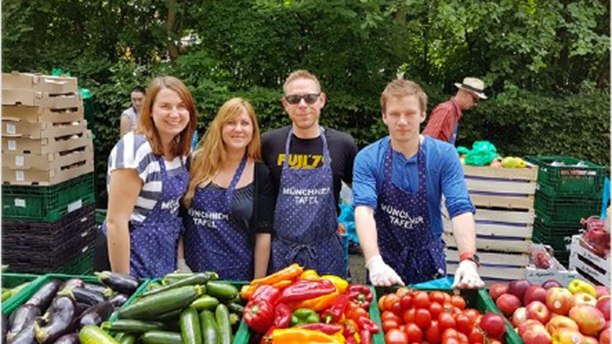 Eighteen Pre-Bachelor students supported various social organisations from September to December during their semester and actively worked there. The Munich Outreach Program, which was added to the curriculum for this purpose, is designed to bring students into contact with a wide range of life situations and realities and to facilitate new contacts outside MBS. Continuous reflection on this experience in class plays an important role.
"We at MBS are firmly convinced that imparting pure specialist knowledge in international business management is not enough; we have always had a holistic approach to education and take our MBS value "responsibly" very seriously. The Munich Outreach Programme helps to enable students to change their perspective by becoming actively involved in social organisations," explains Prof. Dr. Patricia Kraft, academic director of the Bachelor International Business programme and co-designer of the project.
The students were active at the Münchner Tafel, the senior citizens' residence at Westpark, the Alfons-Hoffmann-Haus of the Munich Monastery and the Multicultural Westend Youth Centre. Depending on where they were deployed, they were active in distributing food to the needy, accompanying people suffering from multiple sclerosis, reading aloud, talking to senior citizens, offering gymnastics and leisure activities for young people.
The students' conclusion: "A rewarding experience; we are happy and grateful because we are healthy and we see the project as obligation to help the less fortunate". Well done, students! We are looking forward to the next Munich Outreach Project.