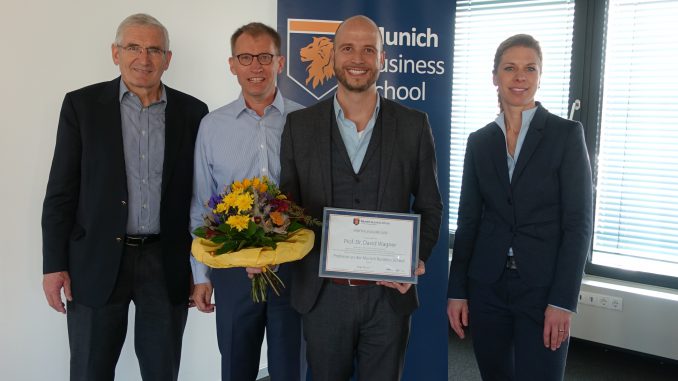 Starting from October 2018, Dr. David Wagner, who is regarded an expert in the fields of Digital Business and Social Media, with vast experience from corporate practice as well as in teaching and applied research on an international level, will hold a professorship in "International Business/Digital Business" at Munich Business School (MBS). He will share his extensive knowledge with students of MBS.
Dr. David Wagner studied Management and Economics at the Otto von Guericke University in Magdeburg, Germany, and Management Psychology at University of Nottingham, United Kingdom. He earned his doctoral degree from the joint graduate program of the European University Viadrina in Frankfurt/Oder and the German Graduate School of Management and Law (GGS) in Heilbronn, Germany.
Dr. Wagner is a dedicated scholar, having gathered research and teaching experience at leading universities and business schools in the German-speaking area and beyond; among them, for example, Business School Berlin, Germany, and McGill University in Montreal, Canada. Besides his extensive experience in academia, Dr. David Wagner has worked at the German Chamber of Industry and Commerce in Toronto, Canada, the technology company Voycer, as well as the digital strategy consultancy diva-e (both based in Munich), among others.
Dr. David Wagner belongs to the guest faculty at the German Graduate School of Management and Law (GGS). Furthermore, he serves as Head of Research at the German Association for Community Management (BVCM) and he develops corporate training programs at the Social Media Institute (SMI). At MBS, Dr. David Wagner serves as the Academic Director for the Master Sports Business and Communication.
Dr. David Wagner has presented his work at major academic conferences, such as the annual meetings of the Strategic Management Society, the Academy of Management, the International Conference on Information Systems, and leading industry events such as IBM Connect. He has published research articles in various scientific outlets, for example the Journal of Business Strategy and the Journal of Enterprise Information Management. He frequently serves as a reviewer in the fields of strategy, management, and information systems. His work has been featured in popular media, such as WELT, w&v, and personal manager.
"With Dr. David Wagner, MBS wins an experienced and ambitious lecturer and researcher who will be a great addition to our faculty. That makes us really proud. His professional experience, practice-oriented teaching approach, international mindset, and ambitious research activities are perfectly in line with the profile of our university," says Prof. Dr. Stefan Baldi, Dean of Munich Business School.