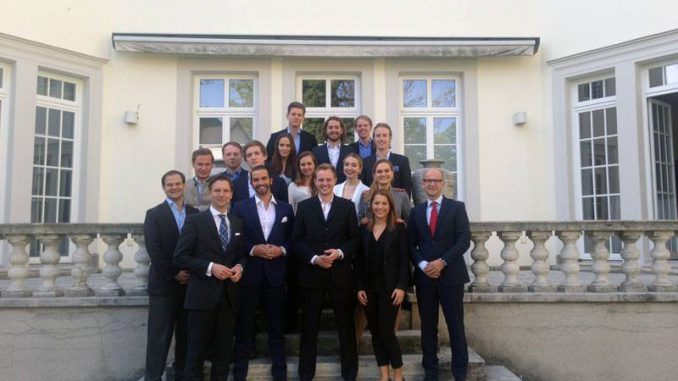 In two semesters, the Master students intensively scrutinized topics in context with "International Family Firms", investigating the functioning of modern family enterprises. Recently, the study program closed with a venerable event: Over two days, the MBS students visited the Munich branch of Swiss bank UBS and the EQUA Foundation, both dedicated to promoting and supporting family enterprises.
On Friday, April 4, 2015, 15 students of the Master program with focus on "International Family Firms", under the direction of Professor Dr. Marc-Michael Bergfeld, followed the invitation of UBS to its Munich quarters. The goal of this excursion was to get in-depth insights into the bank's activities, to develop an understanding for asset protection and investment of entrepreneurial families and to discuss sustainable investment strategies with the Swiss bank's experts.
In the nicest sunshine, the afternoon started out with a reception on the terrace of "Palais Europa", where UBS resides. Christian Janas, Director of the branch, welcomed the Master students. He was assisted by Maria Lehner, who is responsible for marketing and events. Janas gave a brief overview over the history of the villa at Munich's Europaplatz, where USB is located, and invited the students for a cup of coffee with some cake.
Investment strategies for entrepreneurial families
Next topic on the agenda was a presentation by Eike Jacobi: The Executive Director in Wealth Management introduced the audience to the bank's structure and fields of activities, guiding the listeners through the various areas in which UBS cooperates with entrepreneurial families.
Subsequently, Christian Janas gave a detailed presentation about sustainable investment strategies across all asset classes in current financial environments: from currencies, natural resources and bonds to shares or alternative investments such as real estate and private equity as well as hedge funds. After having brought up so many diversified topics, it came as no surprise that the ensuing Q&S session took much longer than originally planned.
At the end of this indeed very interesting day for the Master students, the Bank invited its guests from MBS to the Palace Hotel Munich for dinner and further discussions. In a casual atmosphere, an intense dialogue between UBS representatives and students developed until the late evening. And the "Family Firms Community" of Munich Business School grew by a few more valuable contacts