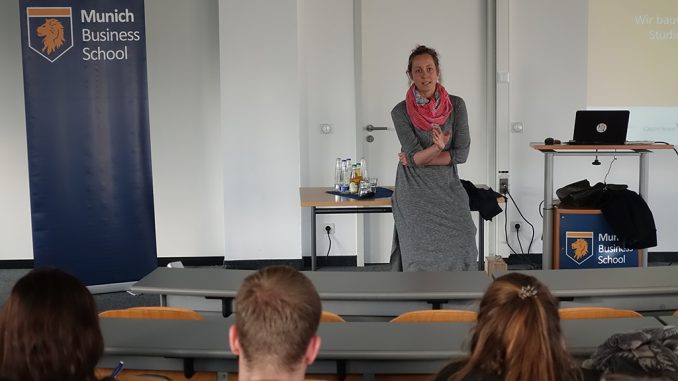 Yesterday evening, on invitation of MBS Professors Dr. Patricia Kraft and Dr. Barbara Scheck, Elisabeth Hahnke, co-founder of ROCK YOUR LIFE, visited Munich Business School to give an inspiring talk in front of MBS Bachelor International Business students.
ROCK YOUR LIFE is a social business that aims to support pupils from socially underprivileged conditions by assigning them university students as mentors. The students accompany their mentees over a period of two years with the objective to support and encourage them in order to achieve educational and professional goals. ROCK YOUR LIFE provides both the mentors as well as the mentees with dedicated training measures and support such as organizing internships for the pupils. As of today, ROCK YOUR LIFE has more than 50 branch offices located all over Germany and Switzerland that are run as social franchises, with over 4.000 students volunteering.
Elisabeth Hahnke, who co-founded ROCK YOUR LIFE with fellow students in 2008, provided the MBS students with inspiring insights into her motivation to build the social business and gave an extensive overview of the development of the organization.