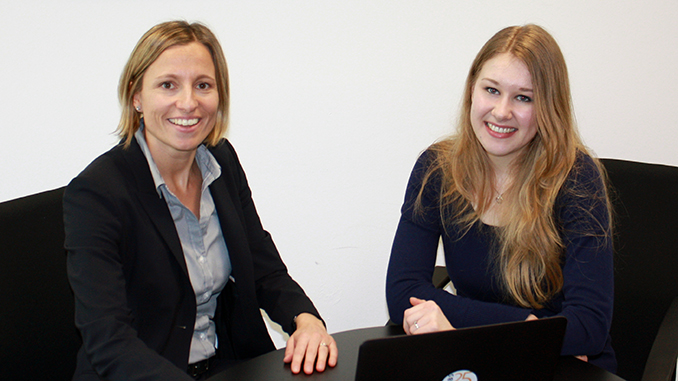 MBS BACHELOR International Business Student Stefanie Schulz Receives Scholarship of the Friedrich Naumann Foundation for Freedom
When thinking of financing studies, most people in Germany first think of BAföG, the promotional program of the Federal Ministry of Education and Research. That is far from being the only possibility that potential and current students have. Munich Business School (MBS) thus offers a dedicated scholarship program for particularly high-performing and committed applicants of the study programs BACHELOR International Business, MASTER International Business, MASTER Sports Business and Communication and MBA International Management – the MBS Best Scholarship.
Additionally, many public and private banks as well as foundations award scholarships that often include much more than just financial support during the studies. Stefanie Madeleine Schulz (right in the picture; with MBS lecturer Prof. Dr. Patricia Kraft), student in the BACHELOR International Business program at MBS, successfully applied for a scholarship of the Friedrich Naumann Foundation for Freedom. We talked to her about the scholarship and her role as a scholar.
Hello Stefanie, and congratulations on your scholarship. Can you briefly explain why you specifically chose the promotion of the Friedrich Naumann Foundation for Freedom?
I come from a liberal family and would call my own attitude liberal as well. As an organization close to the FDP (the German Free Democratic Party), the Friedrich Naumann Foundation for Freedom represents these liberal values. I therefore deliberately applied there, and only there for a scholarship.
I am very happy to have been chosen as a scholar, not only because of the financial support that I am getting. The foundation also enables me to play an active role in society together with like-minded people and to put my own ideas into practice.

What options does the foundation provide for this?
The foundation offers several work groups and initiatives in which we scholars can explore social, political and economic subjects. For example, there is an entrepreneurship initiative that supports founders with advice and active help, and a work group on democracy in which new approaches to strengthening the democratic awareness in society are developed.
Additionally, all scholars are entitled to participate in events of Theodor Heuss Academy, the foundation's educational institution, free of charge. Seminars and other events on many different subjects are offered there, from a rhetoric crash course to panel discussions on the future of learning and teaching.
And of course, I am already looking forward to getting to know many fellow scholars and develop a network for my future career.
What were the prerequisites for the scholarship?
My performance at school was the basis. The foundation also puts special value on personality and social commitment of the applicants.
For example, I had to explain why I thought that Munich Business School was the right university for me and why I had chosen the BACHELOR International Business study program.
I also explained how I volunteered as a student at school already: I worked, amongst others, in the senior care and refugee aid sectors. Of course, the foundation also wanted to know why I specifically applied for their scholarship and what I expect and hope to gain from it.
Finally, they required two reports separate of each other that confirmed my suitability for the scholarship. My two advanced class teachers were kind enough to provide these.
How did the application process continue after that?
I was invited to the selection process which was mostly made up of an interview. I answered various questions from a committee composed of experts from economy, science and politics. A short time thereafter, I was informed that I had been chosen as a scholar. The promotion is initially continuing for one year and will then be extended by 12 months each until I get my degree. That is, of course, assuming that my academic results and commitment continue to convince the foundation's experts.
Do you have any advice for new students who want to apply for such a scholarship?
Your own motivation and conviction of the foundation's goals should be decisive for choosing such a scholarship. You should really be eager to show commitment and use the offers that an organization such as the Friedrich Naumann Foundation for Freedom provides its scholars with. If you only want the financial support, it is more advisable to choose a different financing option.
Thank you for the interview, Stefanie, and all the best for your future.