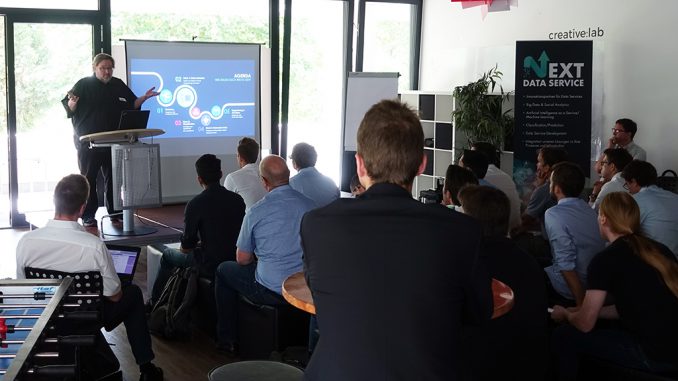 On Tuesday, June 5, 2018, the Hackathon Predictive Maintenance took place at Munich Business School (MBS) for the second time. The event was organized by the German Mechanical Engineering Industry Association (Verband Deutscher Maschinen- und Anlagenbau e.V.; VDMA), management consultancy UNITY AG, NEXT Data Service AG, and MBS. During the Hackathon, participants from 20 companies learned about and tried out data analytics and the application of artificial intelligence to real machine data, and – under the guidance of experts – developed initial analyses for intelligent and predictive maintenance.
To start the event, Dr. Thomas Kinkeldei, Project Manager Industry 4.0 at VDMA, welcomed the participants, followed by Dr. Heiko Seif, MBS Professor and Senior Manager of UNITY AG. In his subsequent keynote speech, Dr. Hans H. Jung, also MBS Professor and Senior Manager of UNITY AG, introduced the topic of Artificial Intelligence and, based on this, lead over to the aspect of predictive maintenance of industrial plants.
Before the actual Hackathon could begin, Stephan Sommer-Schulz and Dr. Sebastian Busse, both of NEXT Data Service AG, presented the task and procedure of the competition, and divided the participants into teams. The objective was to process and classify real machine data in three consecutive interactive workshops in order to ultimately train an artificial neural network with this very data. During the process, the participants were guided by experts of NEXT Data Service AG – the winners of last year's Hackathon Predictive Maintenance.
After successfully dealing with the task, the teams came together to award the winners of the competition with the Predictive Maintenance Award, and to exchange ideas in a relaxed atmosphere. "Many companies have recognized the opportunities that data-driven services open up regarding the maintenance of machines and plants, but find it extremely difficult to make use of them in practice. It is important that companies actively approach the topic, and actively exploit the opportunities," Marcus Goerke, co-founder and Executive Board Member of NEXT Data Service AG, found the appropriate words on the topic of predictive maintenance.
Munich Business Schools would like to thank all participants and organizers of the Hackathon Predictive Maintenance for making the event a special one!