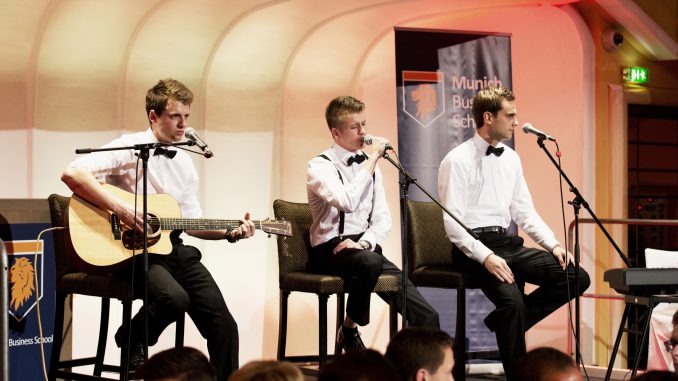 Long overdue and finally a reality: Munich Business School has got its own band! It all began shortly after the start of studies for the winter semester 2014.
From the presentation rounds for the Master in International Business program orientation days, it had already appeared that a large number of MBS students have a musical background. It was therefore only a matter of time before a band was founded. Master student Philipp Mathow, who as a guitarist had gained band experience during his Bachelor time at Ulm University, was convinced that a band would enrich the life at MBS. While cooking together in their shared flat, it became quickly clear that Max Schock's outstanding voice would qualify him as the lead singer of the band. Further band members were found during break talks with fellow students. Denis Day had a reputation for being an experienced vocalist and pianist. Two lectures and one phone call later, Max and Philipp were pleased to welcome Denis as the third band member. To keep the overview and co-ordinate performances, Lisa Mathow was elected as the band manager. Like the three other band members, she too, is pursuing her Master in International Business at MBS.
Their first major performance came promptly. In November 2014, at the MBS graduation ceremony in the Hotel Bayerischer Hof, the quartet impressively demonstrated their skills. Thrilled by their performance, Hubert Barth, managing partner of EY's Bavarian region, booked the band for the Christmas party of EY. Here, they appeared in front of 1.000 invited guests. The year 2014 was rounded off when they performed for the grand opening of the newly designed MBS student lounge.