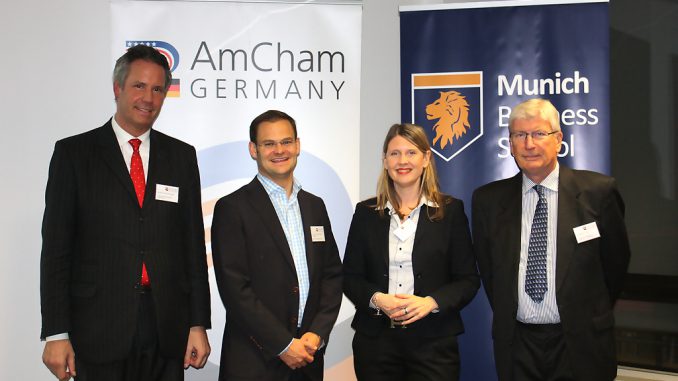 As a new member of the American Chamber of Commerce in Germany e.V. (AmCham Germany), MBS hosted for the first time an event from the AmCham series "Business After Hours" on Tuesday November 18, 2014. In an entertaining and intense presentation, Prof. Dr. Marc-Michael Bergfeld gave interesting insights into the current state of German family firms and their future in a global context.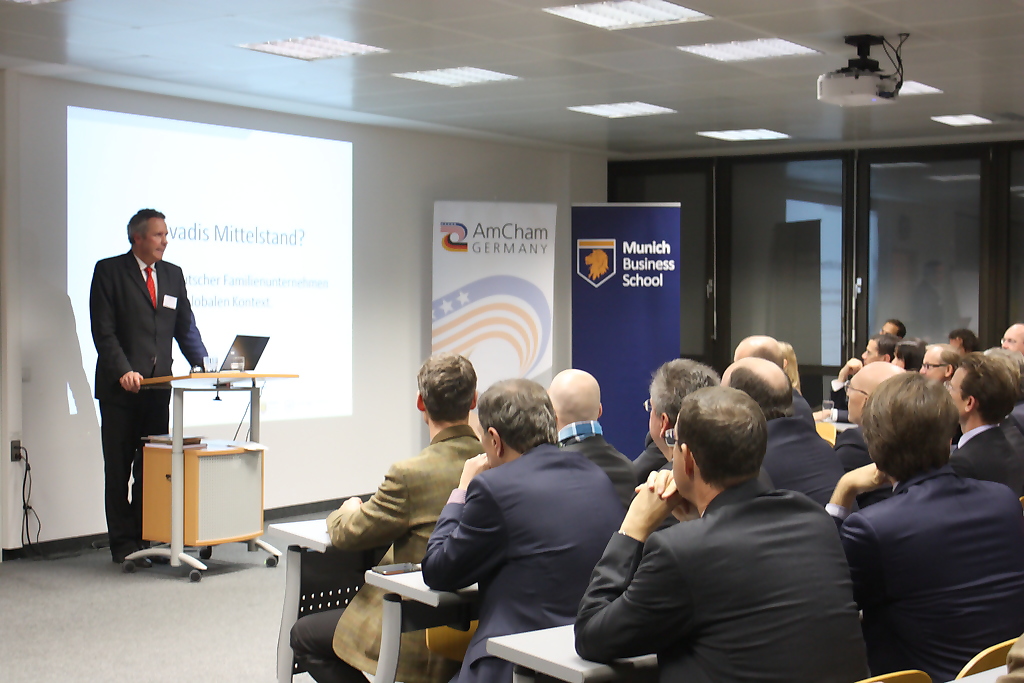 Andreas Würtenberger, Bavaria Regional Commitee Co-Chair of AmCham's Munich Chapter, and Dr. Nadine Westphal, Chancellor and CFO of Munich Business School, started off the event in front of a full auditorium of AmCham members on Tuesday evening. Dr. Westphal gave an especially warm welcome to the guests on behalf of Munich Business School as a new AmCham member; Mr. Würtenberger pointed out with a smile that it might have been a while for some of the attendants since they had last sat on a school bench and that therefore they were particularly excited about the evening ahead.
And exciting it was: Keynote speaker Prof. Dr. Marc-Michael Bergfeld gave a riveting presentation on the situation of family firms in the German SME market and their future perspectives in the light of global developments. Prof. Bergfeld, who is the Academic Program Director of the Executive MBA General Management+ program and lecturer for the business focus International Family Firms at MBS, portrayed the upcoming challenges for Germany family firms: Flexibility and the ability to adapt to new markets and business models will become the most decisive success factors for these enterprises.
"Our SMEs have to adapt to the new global conditions as quickly as possible", was the core of the MBS professor's presentation which he also expressed in more provocative words. "The fact that our high-quality products and systems have worked successfully before and have made us world-famous in the past does not mean that this will be enough in today's global marketplace with its new competitors and rapidly changing rules and conditions. Leaner processes, a closer affinity to emerging markets and the development of simpler new service offers are a necessity in order to survive in markets such as Asia, Latin America or the US. Sometimes we think too complicated, narrow-minded and arrogant. This has to change."
The following get-together gave ample time and space for discussion amongst the attendants as well as the opportunity to toast to the successful first AmCham event at MBS.