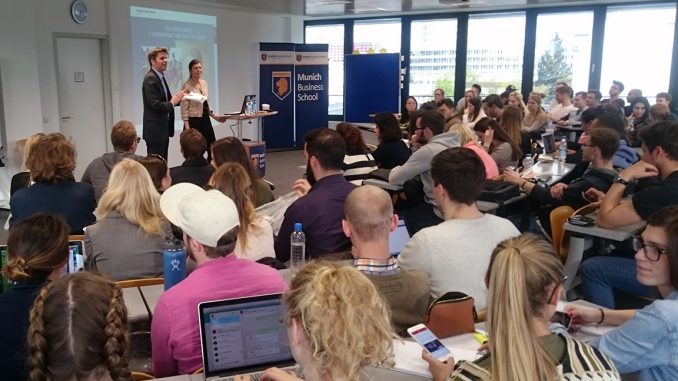 Danish Vice Consul Emilie Normann holds guest lecture at MBS
It is once again the happiest nation on earth: Denmark has scored the first rank in the World Happiness Report 2016. Already in the first edition of the report, conducted and published by the UN in 2012, the Danish people had turned out to be the happiest amongst more than 150 countries surveyed. The Scandinavian nation managed to repeat this feat in 2013 and finished third in 2015 (in 2014, no report was conducted).
Germany, as well as other "big" countries, is far behind. So, what can be learnt from Denmark in terms of Happiness? What does the government provide to raise Happiness? How do the Danish people contribute? And what are the deciding factors and indicators for Happiness? To answer these questions and provide further information on Denmark and the understanding of Happiness there, the Vice Consul of the Danish Consulate General in Munich, Emilie Normann, visited MBS.
Emilie Normann was warmly welcomed by MBS lecturer Prof. Dr. Christian Schmidkonz who has been organizing the Happiness course as part of the Master International Business program for the third time already.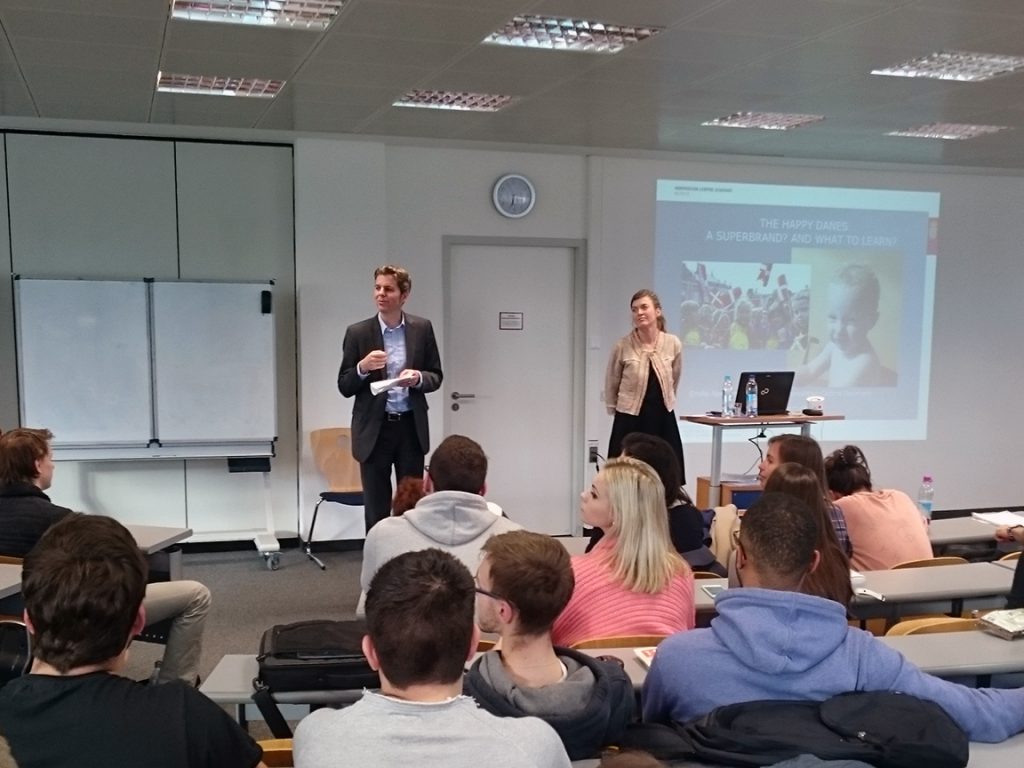 Creator of Happiness: The "Nordic Model"
Ms. Normann put the focus on Happiness in general and in Denmark in particular: Why are the Danish people so happy? Is there something other countries can learn from Denmark in regard to Happiness?
Ms. Norman initiated the topic by depicting the different approaches of measuring Happiness: short-term vs long-term Happiness, hedonistic vs eudaimonic Happiness (i.e. momentary enjoyment/ amusement vs overall well-being/ bliss) or affective vs evaluative Happiness (i.e. everyday ups and downs vs general appraisal).
According to Emilie Normann, Denmark has been doing particularly well in establishing evaluative Happiness amongst its people; the same accounts for other Nordic countries. This is due to the combination of policy properties such as free market capitalism with extensive welfare-state as well as collective bargaining measures that are common to the Nordic countries; this social and economic concept is therefore referred to as the "Nordic Model".
Indicators of Happiness
Continuing her impressive lecture, Emilie Normann put the focus on indicators of Happiness. She listed aspects such as trust, security, wealth, freedom, work-life balance, democracy and the civil society as heavily influential factors for achieving Happiness amongst the people. One particular example she mentioned was the so-called Flexicurity model that Denmark has been executing since the 1990s already: Being a portmanteau fusing flexibility and security, it describes a labor market policy that combines employer and employee interests and aims at satisfying both parties' needs and ideas.
While this seems to work and generate Happiness in Nordic countries, other European nations are not necessarily succeeding in implementing Flexicurity measures (see the Hartz-IV reform in Germany that tried to follow this model). Emilie Normann had one more thing to say that should at least bolster Germans to be able to achieve a higher Happiness: "My son has become happier since moving to Germany," she found appropriate words of encouragement for the student audience.
Innovation Hotspot Munich
In addition to the Happiness topic, Emilie Norman had some more interesting facts to share on Denmark, its approach to innovation, foreign policy et al.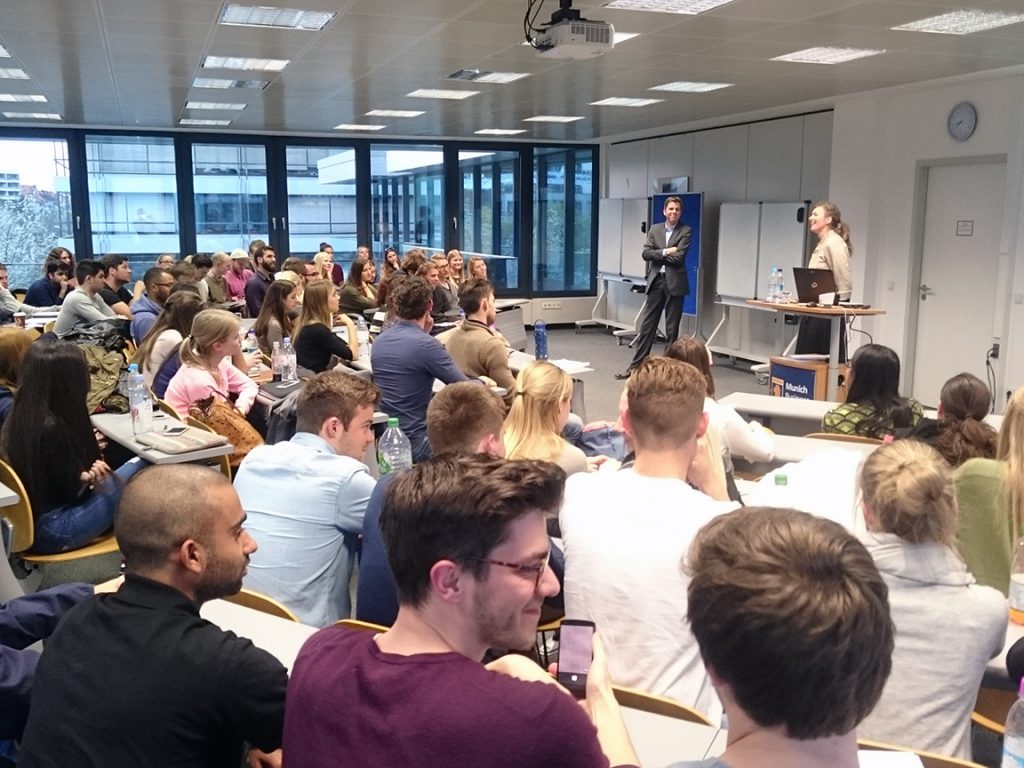 Not coincidentally, the Danish government has established one of its Innovation Centres in Munich, alongside New Delhi, Sao Paulo, Seoul, Shanghai and the Silicon Valley. Emilie Normann, being the Innovation Attaché of the institution in addition to her various other functions, stated that these centres had been opened at the presumably "hottest innovation spots" to make use of the innovative spirit evolving there: "Research and business are global nowadays. Hence, internationality is key for innovation," Emilie Normann explained to describe the international approach of the Innovation Centres.
In this context, she explained the concept of "Science Diplomacy" as a leitmotif of Danish foreign policy: Scientific collaborations with other nations are utilized to tackle complex global issues as well as build partnerships on an international level. "Denmark is good in this area," Emilie Norman pointed out. This fact is also underlined by the Innovation Union Scoreboard 2015 (IUS), a report published by the European Commission that rates the innovation performances of EU countries: Denmark is ranked second here, beaten only by their Scandinavian neighbor Sweden. Both countries are tagged "Innovation Leaders", scoring way above the EU average.
Another EU report, the Digital Economy and Society Index (DESI), ranks Denmark on first place. This index "(…) is a composite index that (summarizes) relevant indicators on Europe's digital performance and tracks the evolution of EU member states in digital competitiveness", taking into account the factors Connectivity, Human Capital, Use of Internet, Integration of Digital Technology and Digital Public Services – and underlining Denmark's future-oriented approach once again.
Following the lecture and to conclude this very interesting Happiness evening, a lively discussion on Happiness evolved between the students and Emilie Normann. MBS wants to thank the Danish Consulate General in Munich and Emilie Normann for coming to MBS and share her thoughts and experiences. Farvel!