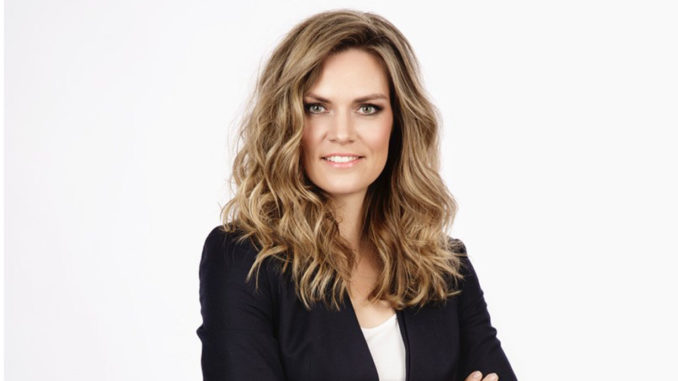 The Sports Business and Communication (SBC) Master's program at Munich Business School (MBS) is characterized by the large number of lecturers coming directly from the practice and providing students with important skills for their entry into the sports business. One of them is sports presenter Julia Scharf. In the interview with Academic Director Prof. Dr. David Wagner, the sports journalist gives insights into her teaching activities at MBS.
---
Prof. Dr. David Wagner, Academic Director of the SBC master's program: Dear Ms. Scharf, could you please introduce yourself briefly? What connects you with the world of sports? What are important career stages? And what hat are your current areas of responsibility?
Julia Scharf: My name is Julia Scharf, I am a sports presenter for the ARD Sportschau and BR Fernsehen. I mainly report on soccer and winter sports. Sport has always been very important in my life. I myself was active in the national vaulting squad. I worked as a trainer in various countries and was also involved in training coaches. As co-trainer of my team we won the World Cup in 2000.
After studying sports science and media/communication, I did a traineeship at the Munich newspaper publishing house. Afterwards I started at SPORT1 and got many opportunities to present live sports broadcasts. In 2011 I changed to SWR and thus to ARD Sport. Later BR became my home channel within ARD.
Currently I present the ARD Sportschau on Sunday, the Blickpunkt Sport on BR Fernsehen, the Abendschau and many live events, especially in winter.
Prof. Dr. David Wagner: Which course in the Sports Business and Communication Master's program do you teach?
Julia Scharf: I teach Practical Journalistic Exercises and specifically do a camera and TV coaching for the students.
Prof. Dr. David Wagner: What is the focus of this course? Why is this course important for a career in sports business?
Julia Scharf: I attach particular importance to a journalistic preparation of the content, presentation and feedback are also important to me. In the sports business you often have to be in front of the camera. Be it as a journalist or because I want to spread my message in a corporate video. Even as an expert, knowledge is often needed in front of the camera. That's why I think it is important for all industries nowadays to be able to sell yourself confidently, sympathetically and authentically in front of the camera.
Prof. Dr. David Wagner: What is your favorite component of the course, for example a particular case study, exercise or excursion?
Julia Scharf: In my workshop, you can achieve great progress with just a few exercises. I enjoy seeing how quickly the participants develop. At the end we always have a talk show.
Prof. Dr. David Wagner: How do you personally connect science and practice and how important is this connection to you?
Julia Scharf: In my job, media research is particularly important. If we are developing programs and content on all channels, we need to know how viewers' viewing habits are changing. That's why studies and surveys in this area are particularly important to me. I also keep an eye on how sports and viewer behaviour change. I am often asked to describe my impressions on such topics for interviews in final papers.
Prof. Dr. David Wagner: In your opinion, what is the unique selling proposition, the special feature of the Sports Business and Communication program and Munich Business School in general?
Julia Scharf: They are small but motivated groups. The personal contact and the many practical projects are unique.
Prof. Dr. David Wagner: Which advantages do SBC graduates have in your opinion when it comes to applications and employment in the sports sector?
Julia Scharf: They already know many decision-makers from the sports industry, as most of the lecturers come directly from the practice. Through projects and international experience they are well prepared for their career start.
Prof. Dr. David Wagner: To conclude: What has been the highlight so far in your time as an lecturer at Munich Business School?
Julia Scharf: An event in which I had the handball world champion Dominik Klein as a guest. He not only patiently practiced live interviews with all the participants, but also told us a lot about his career and his time after competitive sports.
---


You are interested in economics and want to acquire in-depth business know-how?
Then the international business degrees at Munich Business School (MBS) are just right for you! At MBS you won't cram dry theory from old textbooks, but learn in a outcome-oriented way and gain valuable practical experience. Convince yourself:

Bachelor's in International Business
Master's in International Business
Master's in International Business I Finance
Master's in Innovation and Entrepreneurship
Master's in International Marketing and Brand Management
Master's in Sports Business and Communication
MBA General Management
Doctor of Business Administration