Digitalization does not stop at teaching and is the starting point for numerous processes of change at various levels. In line with the enormous thrust that digitalization has given to teaching, especially with COVID-19, some lecture halls at Munich Business School have been converted into active learning environments in recent months, enabling a symbiosis of offline and online learning.
Colourful revolving chairs with individual desks that can be arranged in no time at all to form different formations, rollable high tables that encourage movement and mutual exchange, walls and windows that can be described with markers and chalk, and prototyping carts with a variety of utensils that invite creativity and prototyping. Sounds like the setting up of an innovative start-up lab? But it is the new teaching and learning rooms at Munich Business School, which have been transformed from conventional lecture halls into innovative learning environments in recent months.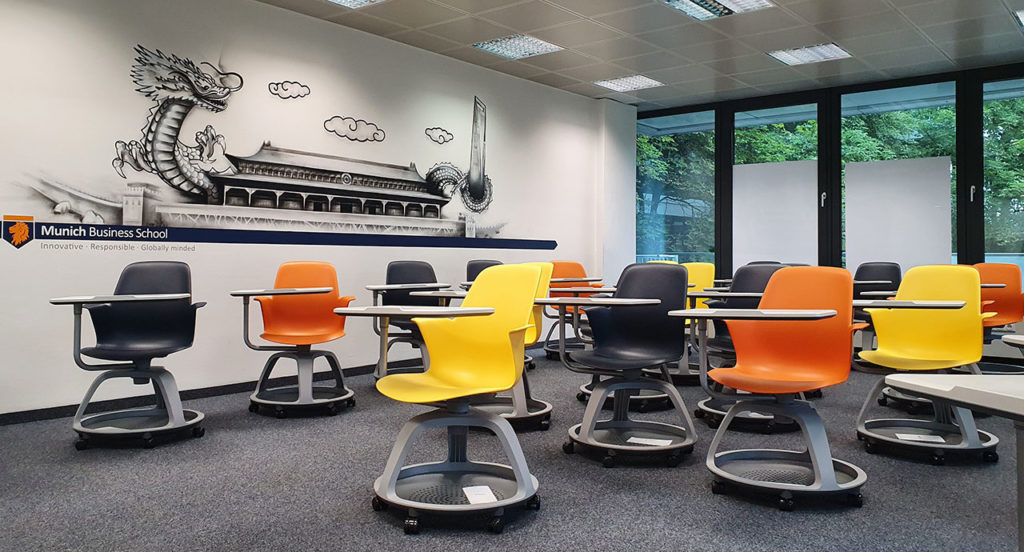 Digitalization intervenes quickly and sustainably in the world we live in and presents us with challenges that require a flexible response. Last but not least, the current corona pandemic shows how quickly learning is changing and may have to change in the future: Online learning is becoming more and more important and is increasingly being combined with conventional offline learning elements in the blended learning model in order to offer learners an optimal learning experience. New forms of learning also require new learning environments, away from the classic seminar rooms full of rows of tables and chairs, with teachers standing at the head of the room with blackboards.
Here, MBS has now taken a forward-looking step towards new learning. A total of three rooms, two of them classrooms and one room for self-study, were redesigned in cooperation with the interior designer and office furniture producer Steelcase. The goal of the redesign was to optimize the learning environments and especially the learning-teaching interaction at MBS by adapting the rooms to the different needs of students and teachers and making them flexible.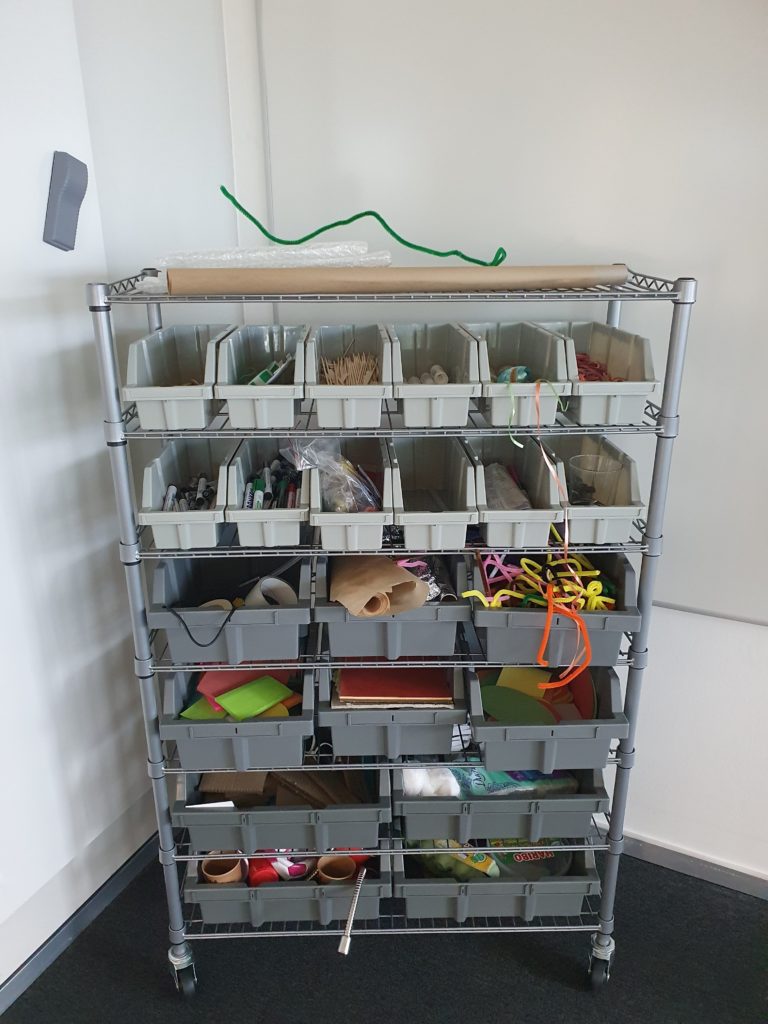 "At MBS, we do not see offline and online learning as two separate processes, but rather as two equal components of the teaching of the future, from whose symbiosis the best results for students and teachers arise. Since the value of innovation has long been anchored in the DNA of the university, it was only logical for us to redesign our rooms according to the new developments towards more flexibility in order to prepare our students for the future in the best possible way", explains Prof. Dr. Patricia Kraft, Vice Dean for "Learning and Teaching" at MBS.
In seminar rooms 107 and 326, for example, the rollable chair and table elements now make it possible to switch quickly and easily between different teaching methods – from peer-to-peer learning phases, larger group work and discussions to classic lecture units. In this way, the step away from passive learning towards active participation of the students in the teaching process is achieved. With its standing elements and prototyping carts, which encourage movement and the development of creative ideas, prototypes and team tasks, room 326 can furthermore be seen as a preliminary stage of a maker space. In the self-study room adjacent to the library, students can now use flexible individual work areas for focused work as well as shared workstations for social interaction and networking.
Prof. Dr. Stefan Baldi, Dean of Munich Business School, is looking forward to the future: "We can't wait until we can hopefully use the new rooms with the students from september on, and we are already very excited about the students' feedback!"