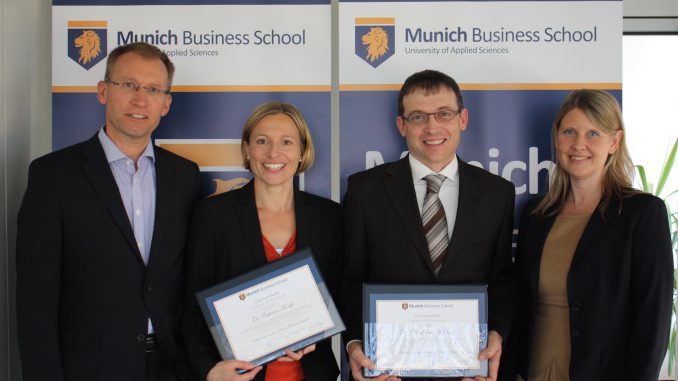 The university management of Munich Business School (MBS) has appointed Dr. Patricia Kraft and Dr. Christopher Weilage as Professors for International Business. While the focus of Professor Kraft's work will be mostly on the topics of Strategy and Marketing, Professor Weilage is the Academic Program Director for the MBA International Management program. With these two new appointments MBS aims to further strengthen its international focus and expertise.
Prof. Dr. Patricia Kraft studied Business Administration and earned her doctorate at the University of Regensburg and the University of Colorado, Boulder, USA, in the topical area of International Marketing. During her doctorate she was an integral part of setting up three new study programs within the "Elitenetzwerk Bayern" framework. After working for several years in marketing in the financial services industry, Prof. Kraft joined the Reinhausen Group, a medium-sized world-leader and "hidden champion" in electrical engineering, where she was responsible for the strategic management process of the group. Besides MBS, she is a lecturer at other universities in Bavaria.
"As our new colleague, Professor Kraft will not only bring new insights and ideas to MBS due to her professional background, but will also be a great lecturer for our students, as she already has extensive experience in teaching", says Prof. Dr. Stefan Baldi, Dean of MBS. "We are looking forward to a fruitful cooperation."
Prof. Dr. Christopher Weilage earned degrees from five universities, most notably MBAs from the University of South Carolina and Aalto University in Finland. He completed his doctoral studies at LMU in Munich on the topic of Knowledge Transfer in eLearning. After working in asset management and real estate in Florida, USA, he began instructing classes in Germany in 2002. Chris originally joined MBS in 2007 and in 2013 became the MBA International Management program director.
"We have already benefited from Professor Weilage's great expertise in teaching and research for a few years and are now happy to formally reward his contributions by appointing him professor", says the CFO of Munich Business School, Dr. Nadine Westphal.