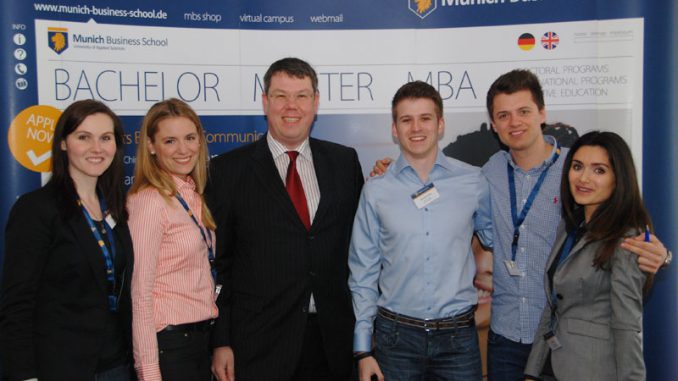 "Experience the spirit of MBS" – this was the motto under which Munich Business School welcomed its guests to the MBS Open House 2015 on Saturday, March 14. The university opened its doors for interested high school graduates and their parents, students and potential students. Around 200 visitors had seized the opportunity for a closer look at MBS, exploring the variety of the university's study programs.
In a gesture of internationality, students and staff welcomed the guests in various languages. In his opening speech, MBS dean Prof. Dr. Stefan Baldi, introduced MBS to give visitors a first impression, for example about its history, study programs and the international partner network.
Trial lectures and info sessions
Following the intro, guests could attend a series of teaching events. MBS lecturers held sample lectures addressing topics such as "Success Factors for Doing Business in China" or "Business Coaching for Executives". In info sessions, interested visitors received detailed information about the Bachelor, Master, MBA and DBA programs as well as about related subjects such as semesters abroad or the numerous student associations.
Besides the 16 lectures and info sessions, visitors had the opportunity to obtain advice on particular issues at the info center. Student advisors as well as current and graduated MBS students answered the attendants' specific questions. "I am impressed about at the extensiveness of the information offered. I personally liked best that I could talk with students about their personal experience at MBS. I was very much interested in their honest opinion to form an idea as accurate as possible", explains Johannes F., quite satisfied with his visit at Open House 2015. The young high school graduate had come from Augsburg to find out more about the Bachelor program in International Business and the semester abroad.
International and close to the economy
Guests who wanted to know more about the over 60 international partner universities or the Dual Degree option in the Master program, were in good hands at the info stand of the International Center. Next door, at the Career Center, the rush was great, too: Here, visitors were extensively informed about company cooperations and MBS' ties to business. "We were quite impressed by the proximity of MBS to many large companies. We want to gain as much practical experience as possible while we are still students and are therefore looking for a suitable university. MBS offers exactly what we want," Pauline R. und Anna P. agreed. The two friends had come to Germany to learn the language and want to graduate as Bachelors in International Business later.
Last but not least, Open House visitors could take a campus tour through the university's well-equipped state-of-the-art premises. In the newly opened MBS lounge, guests relaxed with coffee and snacks – and live music by the MBS Band.
After an exciting and eventful day, dean Prof. Dr. Baldi bid farewell to the MBS Open House 2015 attendants, drawing a positive conclusion: "We hope that we have provided our visitors with a good impression of our university and the study options it offers. And we are looking forward to welcoming some of them as our students."