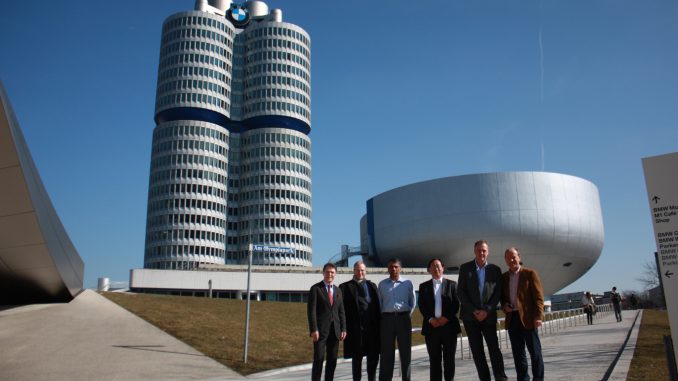 Its international orientation is one of the cornerstones of Munich Business School's study programs. The annual MBS Master International Week proves that this internationality is not only taught, but also actively put into reality. MBS is host to the event which – under the umbrella of the Master International Business study program – took place for the third time in the beginning of March, 2015.
This year, five renowned guest lecturers from Asia, Europe and the US have honored MBS with their visit. All of them are lecturers at one of MBS's over 60 international partner universities and had come to the capital of Bavaria for this week of events. Thus, MBS students had the opportunity to listen to the guest speakers' interesting presentations on specific key topics. At the numerous social events, there was ample opportunity for the students to exchange ideas with international experts. The MBS lecturers also enjoyed the professional dialogue with their colleagues.
From Luxury Management to International Finance
In the Master International Business program, students select two out of six business concentrations to acquire in-depth knowledge of their special field of study: International Marketing, International Finance, Luxury Management, International Family Firms, Corporate Strategy and Innovation as well as International Entrepreneurship. The five international guest lecturers presented informative lectures on all of these topics.
Dr. Géza Sebestyén, Assistant Professor at Corvinus University of Budapest, discussed the "Where, when and what – 3 secret factors of financial success": What are the economic circumstances under which successful family firms prosper?
Chris Pickford had come from Regent's University London. In his workshop titled "Mapping the 'Metropolitan Mindset' for innovative brand positioning the marketing expert addressed the topic of brand personality in general and the luxury segment and Munich as a location in particular.
Branding was also placed into focus by Dr. Peter Spier, Professor of Marketing and International Management at Skema Business School in France. The title of his lecture was "Making your marque: connecting, telling tales and making sense in international branding".
Dr. Song Chen, professor at Tongji University in Shanghai, gave interesting insights into the rapidly evolving Chinese market. In his lecture on "Innovation made in China: companies and products from China that are conquering the world market", he explored, among other things, how Chinese companies promote innovation and conquer new markets.
Dr. Dileep Rao had taken the long journey from Miami, US. The Clinical Professor of Entrepreneurship at Florida International University presented his concept on entrepreneurship 2.0 and particularly addressed the complex issues around venture capital. MBS Business Blog has published a comprehensive article on Dr. Rao's presentation on "Entrepreneurship 2.0: the future of venture development".
Networking @ MBS
In addition to all the lectures, many networking events took place during the MBS Master International Week: During "Lunch @ MBS" – of course with typical culinary treats of Bavaria – the guest speakers answered the students' numerous questions, and in an "Education Methodology Session", they discussed didactic issues with the MBS faculty.
The program also contained two day trips: At BMW Welt, at the castle of Neuschwanstein and at Linderhof castle, MBS's international guests were acquainted with more aspects of Bavarian culture.
"Within a very short time, the MBS Master International Week has evolved into a very important event at our university, not only for students. For our teachers, too, the event has become a great opportunity to meet and get to know colleagues from our partner universities," summarizes Prof. Dr. Christian Schmidkonz, director of the Master International Business program at MBS. "We thank our international guests and are already looking forward to the 2016 MBS Master International Week."
MBS participates in a lively exchange with its over 60 international partner universities. Depending on their individual study program, students at MBS can spend their semester abroad at these universities. In addition, master students have the opportunity to acquire an international Dual Degree at selected partner universities.