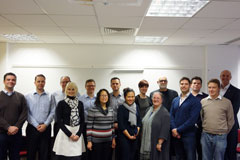 From 13-16 January 2015, the first cohort of MBS DBA students went to Sheffield, England for their induction into the Doctor of Business Administration (DBA) program and the program's first study block. This launched Munich Business School's DBA program in collaboration with Sheffield Hallam University (SHU), which is the only DBA program in Bavaria that is officially accredited by the State Ministry.
Program Leader, Prof. Dr. Heiko Seif, and Program Advisor and Coordinator, Stephanie Janschke, were there to welcome the highly international group. "Your participation in the DBA program contributes to Munich Business School's objective of giving research a higher profile", said Prof. Seif. The first module of the program focuses on the philosophies of research in business and management. For most of the students, it had been years since they had been in the classroom, and the DBA program gave them an opportunity to step out of their busy professional routines.  All day students immersed themselves in academic discussions and lectures.
A unique feature of the DBA program is the Learning Set in which learning takes place in a small group of students who progress together through the DBA program. Students form bonds with other members of the Learning Set that provide them with motivation, support and camaraderie throughout their DBA studies and beyond.  As students progress into the research phase of the program, fellow students provide supportive sounding boards.
After four days DBA students returned home to tackle a lengthy reading list of recommended books and articles and work on their assignments. Since students have several months to complete the assignment, they can pursue their DBA studies while continuing to meet their professional commitments. In May 2015, MBS will host the next study block of the DBA program and students will start the second module.