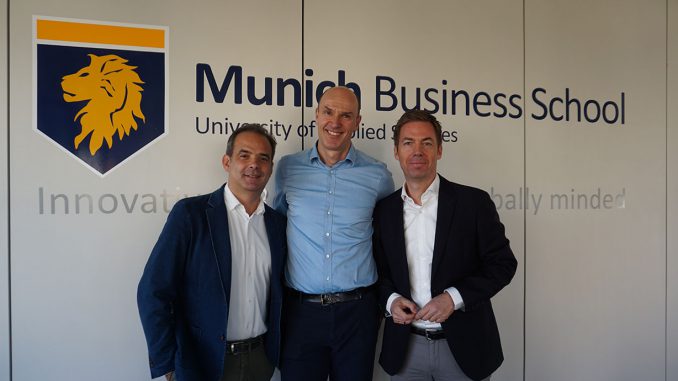 Yesterday, we had the honour to welcome Mr. Wolfgang Metze, Chief Consumer Officer of Telefónica Deutschland Holding AG and Mr. Christoph Kunz, Founding Partner of BMW subsidiary The Retail Performance GmbH as guest speakers in our lecture Corporate Strategy, Innovation and Change.
After Professor Seif had welcomed and introduced the guest speakers, Mr Metze gave us an overview of his professional career according to the motto: "From trainee to CEO of a large corporation" and he showed the difference between business and management in theory and practice. An essential difference is the fact that in the fast-moving business world, classical disciplines can no longer be viewed separatly from each other, but rather a consistent cross-disciplinary approach is required in order to be able to excellently serve customers in all their diversity. This is reflected in the design of key figures, with the Net Promotor Score ("net recommendation level") playing an increasingly important role. Positive factors influencing this NPS are in the telecommunications industry:
innovation
brand
product
price / value
service
network
For the allocation of resources, these factors are increasingly used for decision-making, in addition to purely business-oriented key figures and business plans. In addition, Wolfgang Metze gave an outlook into the future of the business, where artificial intelligence, service automation and digital sales and service channels are evermore used.
The second speaker, Christoph Kunz, alumnus of MBS and founder of the BMW subsidiary RPC, took up the topic of digital transformation. Innovations are more and more based on digital technologies such as data analytics and artificial intelligence, resulting in new job profiles and designations. In particular, curiosity (in the positive sense), adaptability and digital skills will be important characteristics in the future and sought after on the job market. Christoph Kunz proved these statements with specific practical examples from BMW, Allianz and other large companies, whereby the "Digital Experience Space" from BMW made the subject of data management comprehensible and tangible.
The students were able to gain important insights into the work at board level of large corporations through the two top-class speakers. Wolfgang Metze presented a clear view from the inside on the strategic and operational interrelationships of Telefónica AG. Mr. Kunz as C-level advisor was able to reflect an external view of this context, resulting in an almost congruent picture. In the following discussion, it became clear that the business and management content taught at MBS represents an important basis, but further development of this knowledge according to the principle of transdisciplinary life-long learning, especially in rapidly changing practice, is an indispensable prerequisite for advancing in professional life. In the current economic environment, digital skills are particularly important alongside soft skills such as the ability to cooperate and adapt.
Many thanks to our two guest speakers Wolfgang Metze and Christoph Kunz as well as to the active participation of our Master students, who made the lecture a special experience!