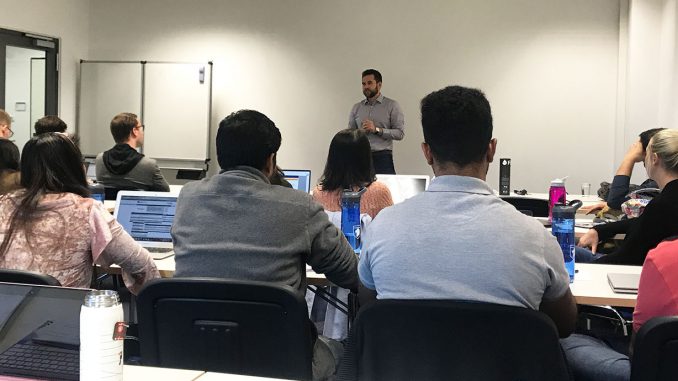 At the invitation of MBS lecturer Prof. Dr. Barbara Scheck, MBS alumnus Michel Geolier, CEO and co-founder of Betterfront Technologies, visited Munich Business School to share his entrepreneurial experience with MBA General Management students.
Michel gave the students interesting insights into his career path so far. Michel Geolier is a Master International Business Alumnus of Munich Business School and a French-born entrepreneur and co-founder of Betterfront Technologies, a data analysis company for alternative investments. Prior to Betterfront, Michel led due diligence and fund manager selection for Siemens Fonds Invest and managed Siemens' global venture fund of funds. Out of his own frustration over poor investment analytics solutions for institutional investors, Michel founded Betterfront. Today, Betterfront works with global alternative asset managers, providing them with powerful analytics to find the best investment opportunities.
Michel was able to give students a very good picture of the current situation in the start-up sector, especially in financing, and provide interesting insights into how venture capital works and what its advantages and disadvantages are.
If you want to find out more, you can meet Michel and other MBS entrepreneurs at the next issue of "MBS Start-Up Spirit" on 13 November.
Many thanks to Michel for his visit to MBS and for his interesting insights.