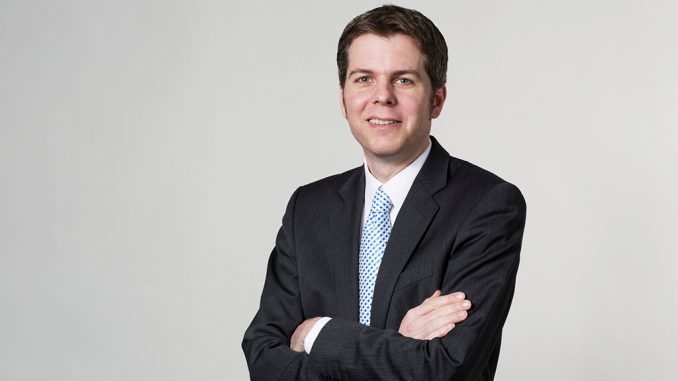 Following the MBS Research Award, Munich Business School also introduced and awarded the MBS Teaching Award for the first time last year. Professor Dr. Christian Schmidkonz, who has been teaching and researching at Munich Business School since 2007, is the first award winner.
A selection committee consisting of the dean of the university Stefan Baldi, the vice dean for learning and teaching Patricia Kraft and the MBS professors Anne Tryba and Christopher Weilaghe decided on the awarding of the teaching prize. Also students could submit nominations. In order to cover the many dimensions of teaching excellence as broadly as possible, the following criteria, among others, were taken into account when awarding the teaching prize: the application of innovative didactic teaching concepts, the integration of teaching content that goes beyond the context of business studies in the sense of a holistic approach, a high commitment to teaching, a focus on student learning and great inspiration for students in the classroom.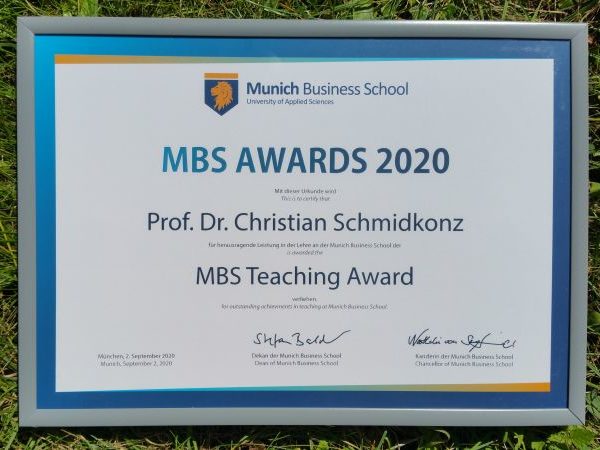 Due to his study and research stays in Taiwan and China, Professor Dr. Christian Schmidkonz is, amongst others, an expert for Asian Pacific Business Studies at MBS – he has been teaching this international focus in the bachelor's and master's programs since the beginning of his MBS career. Schmidkonz' innovative teaching concepts, content, and methods are applied, for example, in his elective Success Factor Happiness, where he integrates guided meditation by a Zen teacher, self-reflection elements, or transtech technologies. Another focus of the academic director of the master's program in International Business is Conscious Business, which puts business administration in a more holistic context. In the compulsory course of the same name in all master's programs, students work out together how a higher corporate purpose, conscious communication and leadership, and the involvement of all stakeholders significantly influence the success of a company. Both courses continuously achieve top marks in student evaluations. Last but not least, in the extracurricular event series Change of Perspective, Prof. Dr. Christian Schmidkonz invited people from areas that at first glance seem to be unrelated to the business world to MBS to discuss their experiences and insights into success or failure with the students. As part of this series, Sportfreunde Stiller bassist Rüdiger Linhof, director of human resources at Pentland Firth Sanna Pohjalainen-Krall, author and speaker Dr. Florian Langenscheidt or the activist and social impact entrepreneur Raphael Fellmer have already been guests at MBS.
These diverse innovative topics, methods and initiatives make Prof. Dr. Christian Schmidkonz a worthy first prize winner of the MBS Teaching Award. MBS Vice Dean for Learning and Teaching Professor Dr. Patricia Kraft emphasises the importance of such an award: ""Very good teaching, teaching quality and learning outcomes are outstanding USPs of Munich Business School and we are proud that this is also reflected in various rankings over the past years. We attach particular importance to application-oriented teaching. To underline this, we created the MBS Teching Award for permanently employed MBS lecturers and I am delighted to have found a more than deserving first prize winner in Christian Schmidkonz as a long-standing colleague."