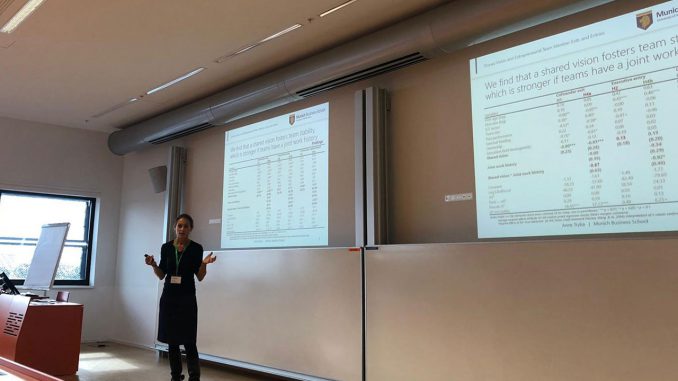 MBS Professor Anne Tryba presents her research about "Shared Vision in Entrepreneurial Teams" at the 23rd Annual Interdisciplinary Conference on Entrepreneurship, Innovation and SMEs (G-Forum) in Vienna.
This year's G-Forum took place from September 25th to 27th, 2019 at the premises of the WU Vienna University of Economics. The overarching conference theme "Opportunities for SMEs in a globalized world" specifically aimed to create awareness about the significant changes in competitive conditions for small and medium-sized enterprises resulting from an increasing globalization. Therefore, the conference's focus was lying on management concepts and strategies that allow SMEs to succeed in such dynamic environments. Specific about the G-Forum is that it actively fosters the exchange between science and practice by including sessions from "both worlds" in the conference program. With around 250 submissions from 18 countries, an insightful key note, various panel discussions and a doctoral colloquium, the event provided a comprehensive platform to thoroughly exchange new insights and discuss new opportunities and approaches in a multi-facetted manner.
Representing MBS, Prof. Anne Tryba presented her current paper on "Shared Vision and Entrepreneurial Team Member Exits and Entries: The Role of Joint Work History", co-authored by Prof. Jörn Block (University of Trier). Key findings of the paper are that on one hand, a shared vision creates higher team cohesion and stability, which can improve team processes and performance. On the other hand, however, a shared vision can also lead to fewer executives joining the initial entrepreneurial team or replacing cofounders, thereby possibly diminishing chances for growth and innovation. These effects are particularly strong if cofounders have previously worked together in a different firm context.
Thanks for the lively and fruitful discussion by the participants of the paper session, which generated helpful new insights!