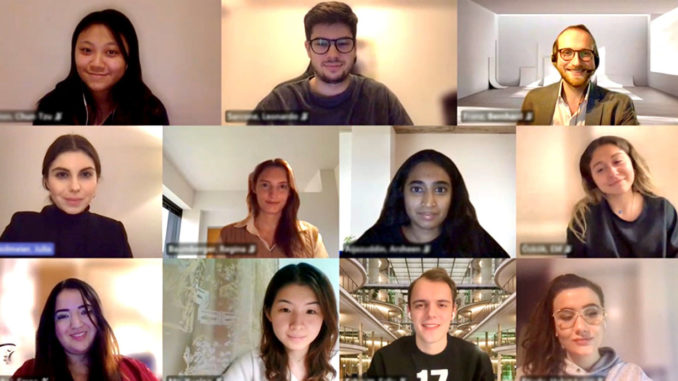 The Mark Challenge is an annual business plan competition from the International University of Monaco dedicated to luxury passionate students and entrepreneurs. The competition is about sustainable business concepts in the luxury field that build upon strong social, environmental pillars. In 2020, two out of the four finalist teams – Kosha and ReBorn – were from Munich Business Schools, wherefrom team Kosha even won the 7th edition of the challenge.
The competition is an integral part of the master's concentration Luxury Management, where the students can bring their learnings to life. To be well prepared for this year's Mark Challenge, the module leader Julia Riedmeier invited last year's two MBS finalist teams and former students of the luxury course to the Luxury Insight Talk. Bernhard Franz from team Kosha and Emna Rabai together with Pascale Ghoussainy from team ReBorn shared their business concepts, experiences and lessons learned. Further they opened up the discussion floor to answer all questions from the current students, whether practical, theoretical or personal.
The then finalists provided this year's participants with the following key takeaways:
"Don't be scared of criticism and make sure you pay attention to legal rights." (Bernhard Franz)

"Use the lean business model canvas and the golden circle – Simon Sinek is the best!" (Emna Rabai)

"Take it more seriously and reach out to your network,." (Pascale Ghoussainy)
The MBS students were able to derive important learnings from the exchange with the final teams:
Build your brand strategy as a digitally native vertical brand (Elif Özkök)
Be able to explain in one sentence what your product is about and how it is better than the others (Helen Stierle)
Create an idea that is feasible and "easy" to bring to life (Felix Schmitt)
Always start with the purpose (Yuqing Ma)
Seize the chance to connect with professionals, to learn a lot, and most importantly, to have fun during your project (Chun-Tzu Chen)
Furthermore, all agreed that you need to know your audience to design the message as clear and compelling as possible. The first Luxury Insight Talk was well enjoyed by all participants and motivated the students to get the best out of their ideas, as MBS student Victor Daron explains: "Meeting the finalists and winners of the Mark Challenge 2020 motivated me because hearing that a year ago they were exactly where we are now gives us hope and shows us that succeeding in such a challenge is possible with hard work. It was also inspiring to make me believe in my ideas and my creativity,."
Another Insight Talk is planned with Catarina Capelo Moreira of the winning team Kosha, where the current students will pitch their business idea and receive feedback. Catarina Capelo Moreira will then further go into detail on e.g., the concept of personas, target markets, mock-up of product and services.
The Luxury Insight Talk is a series where students of the Luxury Management concentration in the International Business master's program can ask professional and former students in respect to career advice, personal development or course related topics.