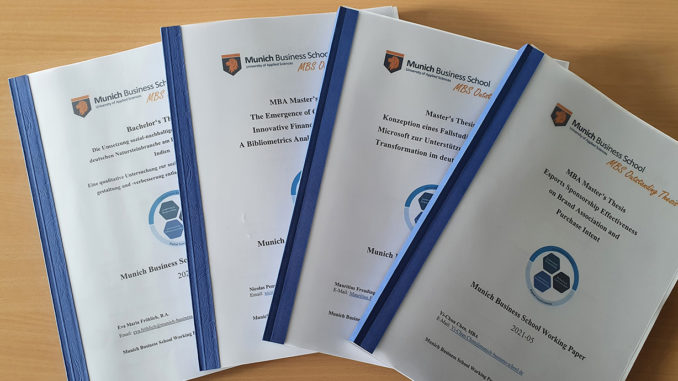 Last year, four further theses produced by our MBS graduates were selected for inclusion in 'MBS Outstanding Thesis', a series of working papers. This blog article introduces the outstanding final papers in 2021.
---
Whether at bachelor's or master's level, a thesis is more than just the final step towards completing a degree: it can also make a significant intellectual contribution to academic and societal discourse. Students at Munich Business School are no exception, conducting high-level research as part of their theses. However, given that it is not usually possible to have these papers published in academic journals, Munich Business School's Prof. Dr. Bartholomae launched a series of working papers entitled 'MBS Outstanding Thesis'. In the fall of 2020, the first installment in the series recognized and published the master's thesis of MBA graduate Jiaojiao Zhao.
At the start of the 2021/22 academic year, MBS asked its professors to put forward exceptional theses for inclusion in the series. Submissions not only required excellent grades but also had to exhibit innovative approaches and methods and provide novel insights. One bachelor's and three master's theses stood out in particular and have been awarded the designation "MBS Outstanding Thesis". The authors hail from Europe, Asia and South America – the topics they covered are similarly diverse and as broad-based as the university's curriculum.
Here's an introduction to the four outstanding theses:
The Implementation of Socially Sustainable Supply Chains in the German Natural Stone Industry Using the Example of Trade with India
In her bachelor's thesis, Eva Maria Fröhlich investigated the social sustainability of supply chains in one of the few industries for which the recently passed Supply Chain Act does not apply. Focusing on the trade with India and using qualitative research methods, the author examined which concrete criteria and implementation strategies of social sustainability are relevant and currently beeing applied in the natural stone industry. She established the importance of strengthening the implementation of cooperative strategies and which criteria should be taken into account beyond the avoidance of child labor. Furthermore, she identified which communication strategies can be used to raise awareness among end customers and which legislative measures could provide essential support for socially sustainable supply chains. Click here to read the full paper.
Case Study Concept for Microsoft to Support the Digital Transformation in German SMEs
Mauritius Freuding, who graduated from the master's program in International Business, researched the needs of small and medium-sized enterprises in the field of cloud computing. During his analysis of cloud computing, he also found ways to make this complex topic comprehensible to people who are not domain experts. In addition, Freuding developed a method of outlining the benefits of cloud computing for small and medium-sized enterprises. Microsoft has since adopted Freuding's method as its standard procedure for adapting cloud computing solutions to the needs of SMEs – a ringing endorsement of his innovative approach. Click here to read the full paper.
Esports Sponsorship Effectiveness on Brand Association and Purchase Intent
Yi-Chun Chen focused on this barely researched but highly topical field for her thesis as part of the MBA International Management program (the former name of the MBA program at MBS, renamed MBA General Management in 2019). She surveyed almost 400 Taiwanese gamers and analyzed the data she collected using structural equation modeling (SEM). The findings? Attitudes towards the sponsor, the suitability of the event-sponsor fit, and the sponsor's involvement in activities had a significant influence on gamers' association with the brand and their intention to purchase a product from the sponsor. Brand association also plays an important role in forecasting purchase intention. Based on these insights, Chen also developed a number of highly instructive recommendations for both marketing professionals and further research. Click here to read the full paper.
The Emergence of Green Bonds as Innovative Financial Instruments
For his final paper in the MBA General Management program, Nicolas Penuela carried out a bibliometric analysis of the rise of green bonds as innovative financial instruments. He examined a dataset of 98 academic articles on green bonds published between 2008 and 2020. Using a qualitative filtration process, the MBA graduate initially analyzed controversial topics cited most frequently in the articles. Then, using a piece of software called Biblioshiny, he identified trends and gaps in green bonds research and divided his findings into three chronological phases, which allowed him to demonstrate how published articles developed over time. Finally, Penuela put forward a dynamic template for analyzing journal articles to help (future) academics to familiarize themselves with this new yet rarely used research discipline. This highly innovative topic is currently gaining considerable momentum in the field of sustainability. Click here to read the full paper.
Munich Business School would like to congratulate its graduates on these outstanding pieces of work! An overview of all final papers in the 'MBS Outstanding Thesis' working paper series can be found here.