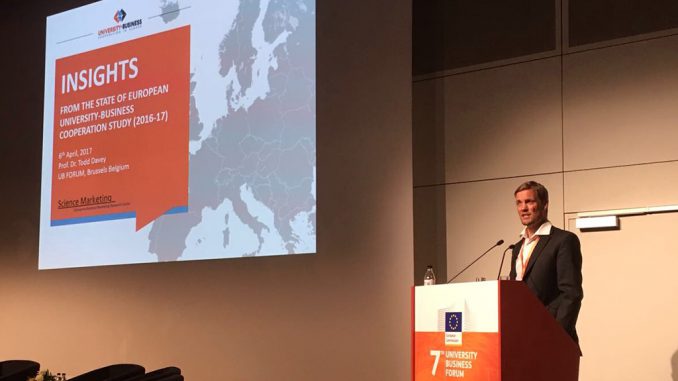 During the 7th European University-Business Forum, hosted by the European Commission in Brussels, MBS Professor Dr. Todd Davey, delivered a keynote presentation on the findings of "The State of University-Business Cooperation in Europe" study.
In his keynote speech, Dr. Davey presented the main findings of the largest study on University-Business Cooperation, from a project for the European Commission, providing recommendations on how to foster and improve collaborations between academia and industry: "Universities have a vital role in developing Europe into a knowledge society, and their cooperation with business is a key conduit to achieving this.
The findings of our study suggest that in fact universities are increasingly being turned to by business to provide research-driven solutions for business and society in the medium to longer term. More recently, this cooperation between universities and business has expanded more substantially from research collaboration into cooperation in the development and delivery of education, in universities being a source of technologies and entrepreneurial new business start-ups as well as the regional governance and co-location, facility and equipment sharing."
The topic was further discussed in the workshop "The University-Business Cooperation Ecosystem" led by Dr. Davey, and colleagues from the Science-to-Business Marketing Research Centre Arno Meerman, Dr. Victoria Galan-Muros and Balzhan Orazbayeva. The interactive session provided participants with a detailed overview of the current state of university – business collaboration and gave insights on how this knowledge can be applied to their institutions.
The European University-Business Forum event was attended by around 400 representatives from higher education institutions, businesses and relevant European organizations as well as associations.