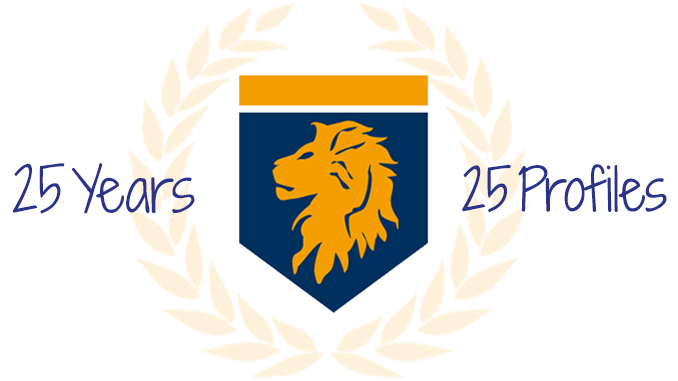 The academic year of 2016/17 is a truly special one for Munich Business School: MBS celebrates its 25th anniversary. To mark the jubilee, we would like to present you 25 people from the "MBS cosmos" and their stories from 25 years of Munich Business School – in our blog series "25 Years – 25 Profiles". 
The First of Many
Sandra Ankenbrand is a 1995 graduate of eba (now: Munich Business School) 
She has matriculation number one: Sandra Ankenbrand was the first person ever to matriculate for a study program at Munich Business School – in 1991, back when Munich Business School was still called the "Europäische Betriebswirtschafts Akademie" (EBA). Initial research tells us: She is now living in Hong Kong, but currently visiting Augsburg. "If you're looking for someone who had a great career… I fear you got the wrong person," she says. It doesn't matter. We need to get to know her. Off to Augsburg!
We meet Sandra in the cafe of Hotel Drei Mohren. It is the first address in the Fugger town. "I put on the dress I wore for my graduation ceremony for you," she tells us when we say hello. She's in good temper and as excitedly looking forward to the interview as we are. The dress she mentioned fits just as if she had graduated only yesterday.
It's a sunny day. We sit down, order coffee, water. There's another parallel to the past:
"This is where I was sitting with my father and a professor from Augsburg University more than 25 years ago. I was a punk at the time, blue hair and all that. I dreamed of studying fashion design, or maybe architecture.
My father was owning a construction company and had a very different idea. He saw me as his successor in the family's company. So he brought this university professor on board. They kept telling me to start out by studying business administration: to acquire the business management basics that I'd need for my career as a fashion designer. It was a good trick. It worked; I was quite gullible at the time. So I was going to study business administration first."
In the Fugger Family's Tradition
While we talk, someone stops to say hello to Sandra. Well, it's not so large a town. It's Augsburg, not Munich. People know each other.
"My father was extremely internationally oriented for the time: he always said it was the Fugger tradition. He taught himself English. He was the first German builder who had projects in Saudi-Arabia – long before much larger companies like HOCHTIEF. My father wanted me to have an internationally aligned education to enable me to continue down that way. The state universities didn't offer that at the time, but the Europäische Betriebswirtschafts Akademie did. So I went to Munich to study."
What Do You Want in London and Paris?
Someone else stops. This time it's a couple. They say hello to Sandra, there's a brief talk. We continue…
"When I took up my studies, I still had blue hair. I still wanted to be a fashion designer in the end. But the study contents interested me from the beginning, and soon I was downright enthusiastic about business administration. What was truly extraordinary were the many international fellow students that we had at EBA even then. Then there were my terms abroad. When I went to London and Paris, my friends were surprised. They asked: What do you want there? How's that going to help you? My attitude was entirely different. I always thought internationally. I already wanted to get to know other countries and other cultures during my time as a student. I must have inherited that from my father, who encouraged me early on to go abroad and to get to know the world – professionally as well as privately."
Sandra tells us about the Hotel Drei Mohren, about the historical inner city and about Augsburg. She knows the town well, even though she's been living abroad for years. Augsburg, however, is her home town. You can hear her connection to it as she speaks.
"To write my diploma thesis, I went to the record company BMG Classic in New York. That was the next great international experience, and it was connected to music – another great passion of mine. My ambitions of becoming my father's successor were rather low, to be honest."
Time to Give Back
"1994 brought the Schneider affair occurred that brought economic ruin to many German companies. My father's company, though entirely blameless, was hit as well. The banks dropped many companies at the time.
I couldn't believe it at first. My parents had worked hard all their lives. They had made all the right decisions; they had done everything right, really. And from one day to the next, everything was supposed to be gone? It was a hard blow, not just for my parents, but also for me. I couldn't comprehend it. Luckily, I was just setting out in my own career at that time, and was able to financially support my parents during those hard times and to give back a little."
The University's Name Opened Doors for Me
Someone else comes to our table. That is, to Sandra. They talk briefly again. We start wondering. That can't be pure coincidence. She seems to be known here.
"My time at EBA was great fun and showed me many new perspectives. The international education meant that I was far ahead of my time. When I had my first job interviews after my studies, I was often asked why I'd spent so much time abroad and what I was hoping that would do for my career.
It wasn't ever a problem that EBA wasn't state-approved yet at the time. Quite the opposite: the university's name alone opened some doors for me. I started out in the investment area. I no longer wanted to be a fashion designer. Later, I switched to online banking, which was just starting to develop at the time. Finally, I ended up in social-media marketing."
Decision Against the Big Career
Sandra shows us the hotel. It's wonderful. We return outside. A well-dressed gentleman approaches us in the foyer. That is, he approaches Sandra. He greets her, beaming at her. He's the director of Hotel Drei Mohren.
"Now I still need to tell you why I'm the wrong person for you if you are looking for someone with a great career: In 2005, I decided to give up working full-time even though my career had developed well. In the end, I was working as a team leader and running an entire department.
But I felt that the career made me give up things that are important to me. So I had to make a decision, and that was against the big career. Instead, I now travel to the most beautiful corners of our world and attend cultural events. My husband is part of why I can afford this lifestyle. We met at school, and we have been a couple since. He works for a large Swiss insurance company – more precisely, in their branch in Hong Kong. So now you know how I ended up half a world away."
Commitment to Her Home
"I am still very closely connected to Augsburg, my home town. I visit regularly. That's also because I have been committed to the local Lions Club since I was a youngster. I even was its president in 2005. The Club is a global association with more than 46,000 regional branches in which people do voluntary work for those in need. We have organized a lot here in Augsburg before, both socially and culturally. The Europaforum 2015 is one example. That's why quite a few people here in town know me. You probably noticed."
We walk through the inner city of Augsburg with Sandra now. She shows us the Fugger buildings and tells us about her plans for the future. Then we take our leave. An afternoon full of interesting stories comes to an end. They were stories that aren't set in the board levels of large corporations. They were stories of being open to the world, stories of selfless commitment. They were stories that characterize the "MBS Spirit" as much as great careers do.