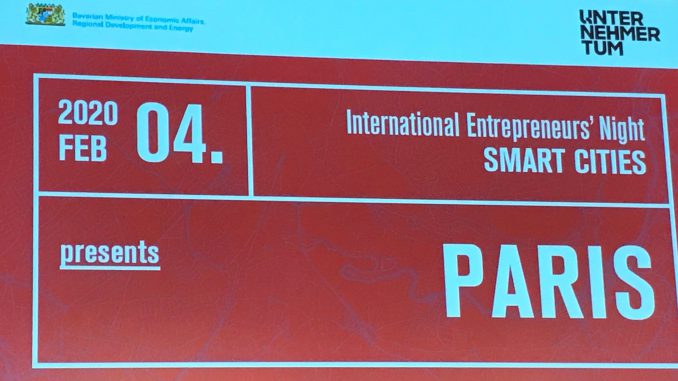 On February 04, students of the Masters in Innovation & Entrepreneurship and the Masters in International Marketing & Brand Management had the opportunity to visit the International Entrepreneurs' Night: Smart Cities as part of their course "Technology Trends" with Prof. Dr. Anne Tryba.
Twice a year, the series of events organized by the UnternehmerTUM brings together entrepreneurs, start-ups, industry partners and international guests to discuss the design of the cities of the future. At each International Entrepreneurs' Night, the focus is on an international role model metropol that presents its innovative ideas for a life worth living in the cities – on February 4, it was the turn of our neighboring capital Paris.
First, Nicolas Bellego, Head of Innovation at ICADE in Paris, gave a keynote speech explaining how the leading actor in the French real estate market invests in the future of Paris and helps to bring an innovative vision to life into the "City of Lights". ICADE is driving a number of projects in the field of urban development, such as the transformation of an  industrial wasteland into an attractive and prime residential neighbourhood or the development of an ecological and innovative housing complex made up of 76% wood.
Afterwards, a total of five start-ups from the Paris start-up campus Station F pitched their ideas to make our urban life healthier, greener and more sustainable. These included Urban Canopee, who have made it their mission to bring the forest back to our steel jungle, and R-Pur, who have developed an antismog mask that filters gases, odours, pollen, bacteria, toxic particles from air pollution and fine/diesel particles out of the air.
The MBS students followed the lectures with great interest, used the subsequent get-together with the entrepreneurs for intensive discussion and received a lot of inspiration for their own innovative ideas and their possible implementation using new technologies.