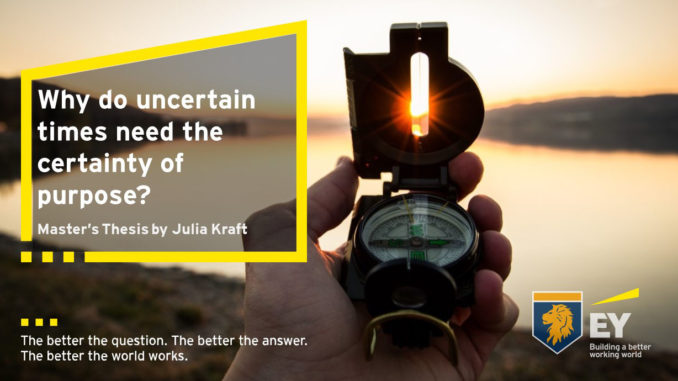 A Promising Start
The children's rights and world renown activist Malala Yousafzai once stated: "It is very important to know who you are. To make decisions. To show who you are." As many students during their studies are faced with decisions, MBS ones have to decide whether to write their thesis at Munich Business School or collaborating with a company. Julia Kraft, MBS alumna in the master's program International Business, has also addressed this question and chosen to write her thesis in collaboration with Ernst & Young (EY). Not knowing by then, how her personality guided her decision, led to great opportunities and emphasized who she is and how she would infuse the world with purpose.
Setting the Stage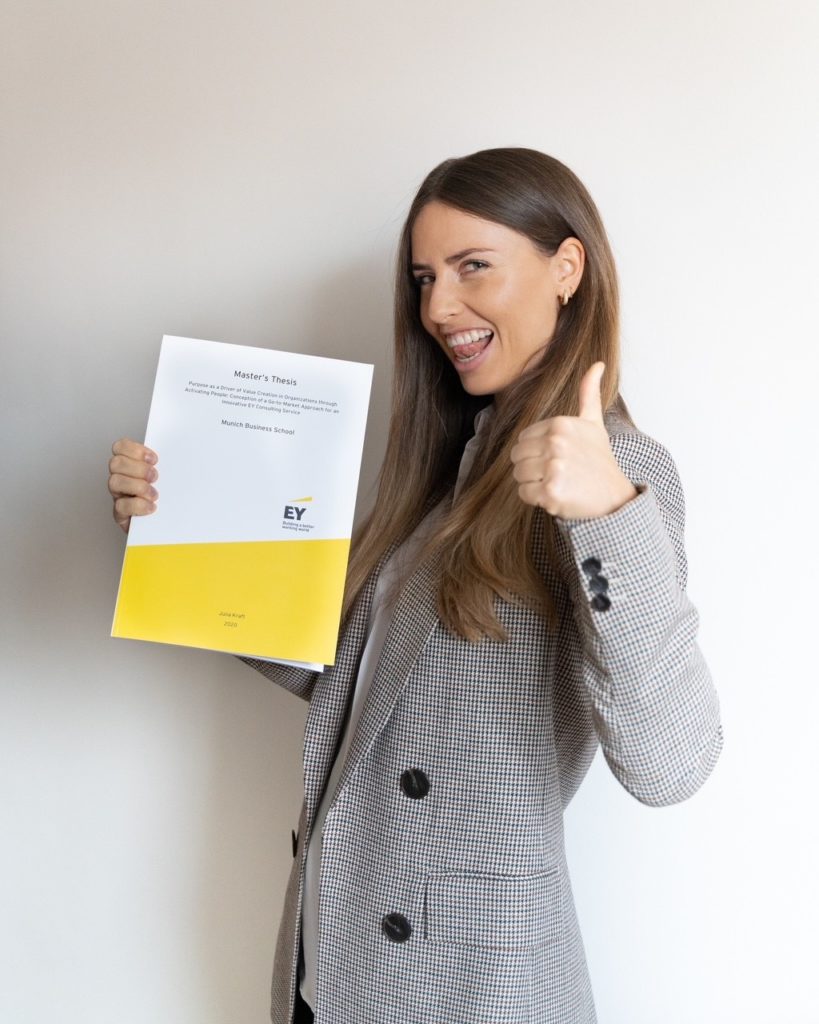 Taking the opportunity to gain practical experience during the research work was a decisive criterion for Julia to write her master's thesis in collaboration with a company. Since this requires good and timely planning, she started early to look for a position and a research topic that met her interest field. Pursuing her goal of working in management consulting, Julia was eventually hired as a working student within EY's People Advisory Services (PAS) in Munich. As part of the Strategic Enablement Office, which is the direct support to GSA PAS' regional leader, Julia worked on strategic topics aiming at elevating the departments maturity, diversifying its portfolio and unlocking human potential. A client facing approach toward "purpose" was one of these growth topics. After consulting with her supervisors Carina Boateng from EY and Prof. Dr. Hans Jung from MBS, Julia decided to focus her research on the topic of purpose activation. Choosing a topic of high relevance for EY and its clients provided the opportunity to make a personal contribution to driving cultural transformation, value creation, and ultimately a better working world.
Purpose on Point
Organizations today face an accelerated pace of change that reshapes their business environment. Digitalization, a war for talent, generation and value shifts, changing customer behavior, and environmental issues are only a few examples of disruptions organizations are confronted with. Along with the COVID-19 crisis, all these factors are currently driving the debate on purpose, and thus, the pursuit of resilience as one positively impacted aspect. As a result, many businesses are concerned with much more than just visions and missions. Purpose is, therefore, no longer a buzzword but a necessity that organizations must deal with. A compelling purpose is about making a positive impact in the world and creating long-term value to stakeholders beyond profit. It is the new source of motivation that can serve as a compass for both leaders and employees to successfully navigate through times of accelerated change.
Being a purpose-led company, EY wanted to offer its clients in Germany, Switzerland, and Austria an innovative consulting service that closes the gap of perceived significance and a purpose that is actually realized. Therefore, Julia's master's thesis aimed to conceptualize an innovative EY consulting service and a go-to-market approach for purpose activation.
Research and Conceptualization Phase
During the research, Julia had the opportunity to receive academic support from Prof. Dr. Hans Jung and business-related support from Carina Boateng. Regular communication helped her to reflect both viewpoints in the conception of the new consulting service. Particularly advantageous was the access to EY-internal databases, which also provided useful sources in addition to the MBS databases. The close cooperation with the team and the exchange with colleagues across the globe allowed Julia to gather new perspectives and ideas for her master's thesis and experience the EY corporate culture at first hand. Furthermore, access to the company-wide network enabled Julia to conduct interviews, as part of the qualitative research, with key stakeholders.