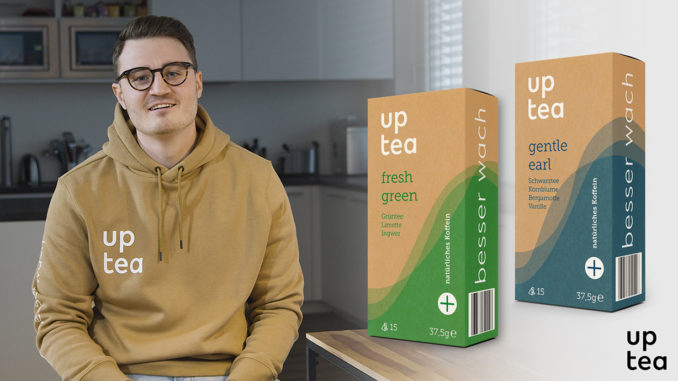 Maximilian Pütz completed an MBA in General Management at Munich Business School from 2016 to 2018 and got a taste of entrepreneurship. In the midst of the corona pandemic, his company uptea, which specializes in the production of sustainable highly caffeinated teas as a healthier alternative to coffee and energy drinks, was launched in September 2020. How the idea came about, where the start-up currently stands and what the next steps are, the young founder Max tells us in the interview.
---
MBS Insights: After graduating from school, you studied computer science in your Bachelor's and Master's degree. Why did you decide to do an MBA after some time in your professional life and why did you choose the program at Munich Business School? In your opinion, what are the characteristics of the MBA program at MBS?
Maximilian Pütz: Already during my bachelor's degree, I noticed that pure computer science was too technology-heavy for me, which is why I focused on medical computer science during my master's degree, because I find the combination of IT and medicine incredibly exciting and important for the future. After all, health is the greatest good of mankind. However, during my first work stations, I realized that I would like to further my education. Coupled with the desire to gain a foothold in a management position in the medium term, I had a look around at the pool of diverse options. What I liked most about Munich Business School was the international approach. Fellow students from different nations with very diverse professional backgrounds, international weeks at Bocconi University in Milan or SMU in Singapore, and a program that, from my point of view, is very well structured, made the MBA program at MBS an attractive choice for me. It was important for me to gain knowledge in various business areas in addition to my technical background, but also to develop management and leadership skills. I felt that the fact that very many lecturers at MBS are not purely based in academics, but come directly from the practice of large companies to impart their knowledge was great and very instructive.
MBS Insights: You have several years of professional experience in project management, especially in the medical field. Even now you are still employed at Meierhofer AG as team leader of project management and consulting. And yet you founded your own company uptea in September 2020. How did it come about? Had the founding spirit been lying dormant in you for some time?
Maximilian Pütz: MBS Professor Dr. Marc-Michael Bergfeld certainly played a major role in tickling the entrepreneurial spirit out of me. His lectures on entrepreneurship were extremely instructive. The idea for uptea actually developed at MBS, but it had to lie fallow for a while and mature, since founding a start-up while working is not that easy and takes a lot of time. But in my opinion, if you are really convinced and taken with an idea, you have to take action at some point.
MBS Insights: Uptea produces sustainable highly caffeinated teas that are intended to wake you up better than coffee & co. and are also healthier. How did you and your co-founder come up with this extraordinary business idea? Are you passionate tea drinkers who regularly struggle with morning tiredness, or did you think more from a medical perspective?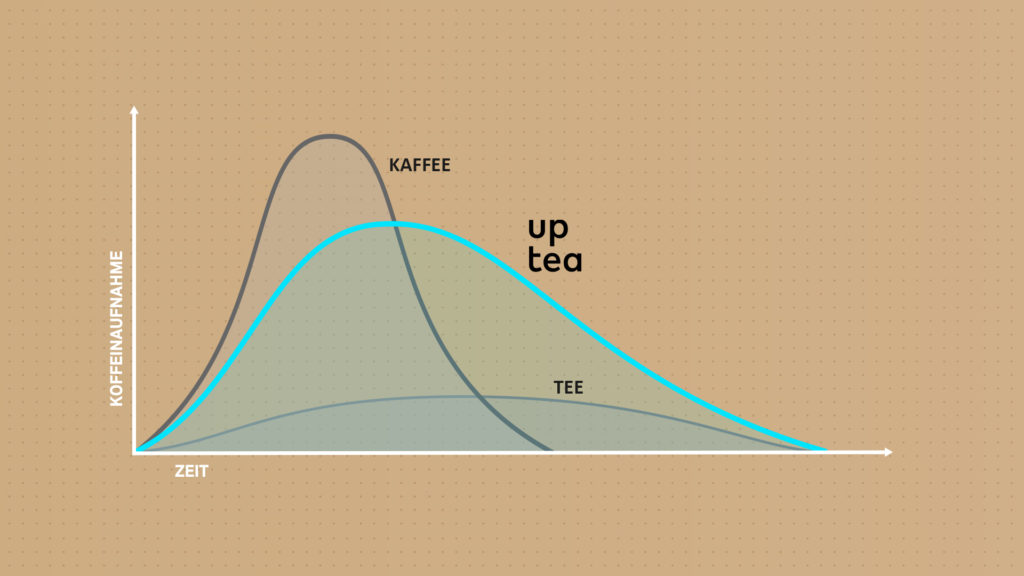 Maximilian Pütz: In order to be fit and concentrated for lectures on Friday evenings and Saturdays after a strenuous work week, an energy boost was often necessary. Unfortunately, I don't really tolerate coffee well, which is probably due to all the acid that irritates the stomach. Energy drinks are also out of the question for me because of the many artificial ingredients and sugar. That's why I had to come up with something. With uptea we created a healthy wake-up drink that is much more effective than coffee. If you don't believe it, you can see for yourself. On our startnext page you can find a video with more information about how it works as well as the possibility to order a batch of uptea in advance.
MBS Insights: What prompted you to start a company in the middle of the coronavirus pandemic, which also stands for an economic recession? Did you ever have doubts or do you rather understand the crisis as an opportunity and driver for innovation?
Maximilian Pütz: No matter how unpleasant and stressful the current Covid-19 situation is, for me it has a positive aspect too. Einstein already said: "In the midst of every crisis, lies great opportunity. I dare to doubt whether he was referring to a pandemic, but the quote is apt in any case. Contact bans, curfews, and store and restaurant closures make it easier for me to take care of uptea on top of my regular job. But that only works because I'm completely convinced of the idea and it gives me a lot of joy and fun to build something up myself. Even though a start-up involves a lot of work, I see it less as a duty and more as a pleasure. Ideally, I also get support from families and friends at some points, so that not all the burden is on me alone. At this point, a big thank you to the many hard-working helpers!
MBS Insights: Where is your start-up right now? What are the next steps and challenges?

Maximilian Pütz: The first big milestone for the end of January is the hopefully successful conclusion of our crowdfunding campaign. At this link, anyone interested can support the project and receive cool goodies as a thank you, as well as the unique opportunity to be the first to enjoy uptea and to further shape our portfolio according to their preferences. We appreciate any interest and support here, of course!
Further steps following the campaign are then the launch of the online store and the start of direct sales of the products in grocery and drug stores. Depending on how the current situation develops with regard to the coronavirus pandemic, I would be pleased to offer the catering trade and hotels a healthy stimulant with uptea in the second half of the year. We are starting with two varieties and would then like to successively expand our portfolio with further flavors and tea varieties. We already have other exciting ideas in mind for the future, but the focus is currently on the startnext campaign and the associated marketing of our first two varieties.
MBS Insights: How did your studies at MBS influence and prepare you for starting your own business? Are there any competencies and skills that you learned at MBS that help you in this experience now and bring you further?
Maximilian Pütz: Yes, MBS has laid important foundations for my entrepreneurship in many places. A large number of courses imparted important knowledge that I can now apply in practice. In addition to Accounting, Business Economics and Law, the courses on Marketing and Entrepreneurship come to my mind spontaneously. Here, too, a big thank you to MBS and the excellent lecturers!
MBS Insights: What is your tip for current students who may also be thinking about starting their own business? What are your best practices?
Maximilian Pütz: The most important learning for me was definitely that at some point you just have to get going and not just plan and think forever. Of course, at some points you'll realize that you could have done something differently or better – but only those who do nothing don't make mistakes. By doing nothing, however, you don't get ahead and you shouldn't be too afraid of mistakes, because you can learn a lot and well from them. I would like to encourage every single person with a business idea and enough self-motivation for a start-up to take the step. Even if the company might not be successful in the end, it's a super exciting time where you learn so much – these experiences alone are worth it.
---


Have you secured your degree, gainded professional experience and are now looking to take a leap forward in your career, refine your leadership skills and expand your professional network?
The MBA in General Management at Munich Business School is the the perfect opportunity to do just that! See your yourself: MBA in General Management I Full-time