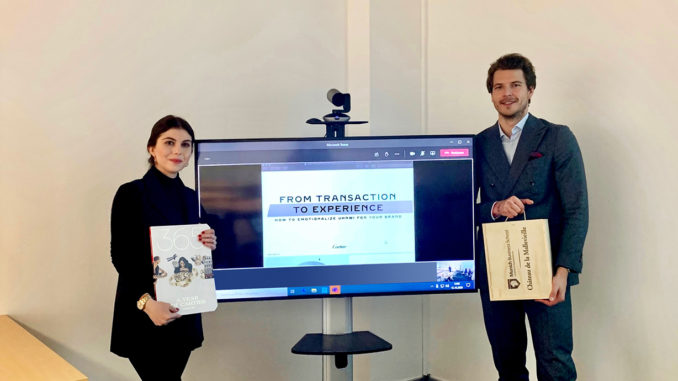 This year's Luxury Business Dialogue was initiated by Jonas A. Schober, Client Insights & Omnichannel Coordinator at Cartier Northern Europe and MBS alumnus, and Julia Riedmeier, MBS lecturer and module leader for Luxury Management. The Maison Cartier belongs to the Swiss luxury conglomerate Richemont and has stood for iconic jewelry and watch creations with unique savoir faire since 1847. In the hybrid guest lecture, Jonas A. Schober shared his insights on "From transaction to experience: How to emotionalize UHNWI for your brand" exclusively with the master's students of the course "Luxury Markets & Strategies". Core questions were: Where do UHNWIs (Ultra High Net Worth Individuals) live, how do they behave and buy? And what does this mean for creating the Cartier experience in and outside the boutique?
Student Helen Stierle was particularly interested in "how Cartier customers across different cities vary in what they want or expect from the experience in a Cartier store". Felix Schmitt added: "As a luxury brand, Cartier really needs to know who its customers are and how regional differences can influence expectations of its products and services. Customers in Munich might behave very differently from those in Hamburg. Cartier is aware of that and offers a very individual customer experience." Based on the fields of interest of the UHNWIs and the core of Cartier, it was also the Cartier philanthropy and women's initiatives that made the luxury brand so fascinating and symbolic for the students Regina Baumberger and Arsheen Aijazuddin: "This represents an additional value for the customer, far away from the commercial side."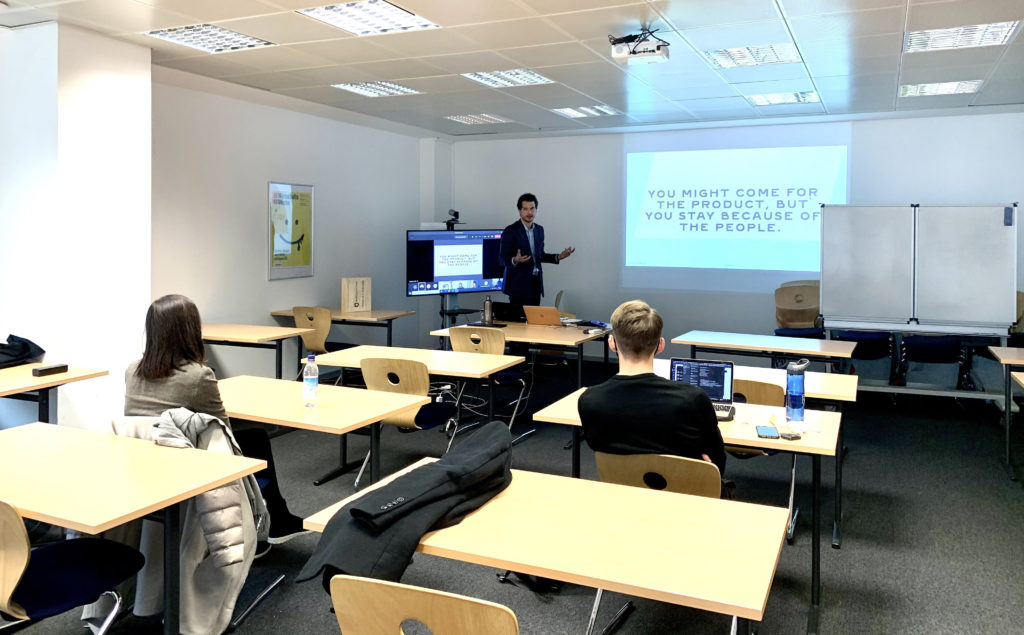 The students had various key takeaways. "Thanks to this interesting meeting, I learned more about the Maison Cartier. As a Frenchman, I am very interested in how the 'savoir être' and 'savoir faire' is seen and implemented," says Victor Daron. Yuqing Ma takes another aspect of luxury consumption from this guest lecture: "In these uncertain times, some people value luxury goods to feel stable." This is about the personal relationship with the brand and the client advisor on the one hand, and the iconic red Cartier box and the emotional, symbolic aura on the other.
The Luxury Business Dialogue is thus a breeding ground for networking, reflections and discussions. "It's great that there is such a possibility as the Luxury Business Dialogue. Because we rarely use the exchange with young talents. Julia Riedmeier and I are already thinking about new formats to intensify this exchange," says Jonas A. Schober. "The commitment and interest from the industry is essential and students also appreciate networking and exchanging ideas with luxury professionals. So many thanks to Jonas A. Schober for the interesting insights into the world of UHNWIs, the Maison Cartier and the philosophy of interpreting a traditional luxury brand in a contemporary way and thus making it attractive for young consumer generations. Very NEO Luxury!" adds Julia Riedmeier in conclusion.
The Luxury Business Dialogue is a lecture series organized by MBS lecturer for luxury management Julia Riedmeier. Selected luxury professionals share their knowledge and experience on a specific topic with MBS students as part of the Luxury Management concentration in the International Business master's program.