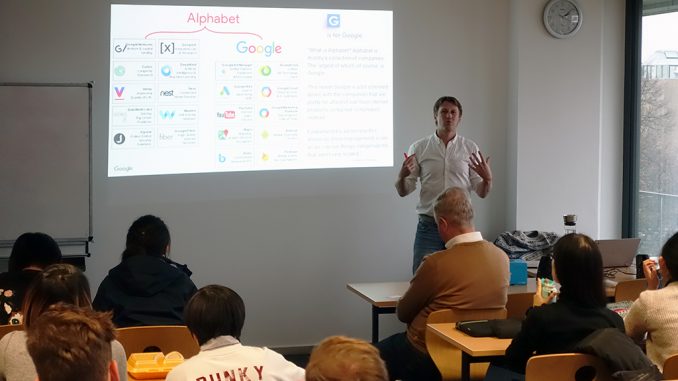 "We create radical new technologies to solve some of the world's biggest problems."
As guest of the MBS Connected Vehicle Lab, Robert Czerechowicz, Industry Manager Automotive at Google, gave a keynote lecture on the topic of "Google Culture & Work Environment" to the students of Munich Business School on November 19, 2018. Robert, who completed studies in marketing and international management, has worked for companies such as Porsche, BMW, and Kraft Foods (being responsible for the brand image of Milka during the FIS Ski World Cup event series, amongst others) before joining Google in 2012.
Robert started his presentation by conducting a quiz on the essential development stages of Google and its parent company Alphabet, and handed over much-appreciated giveaway articles for correct answers. At the same time, the students got to know an important element of Google's culture: gamification, the transfer of typical game elements and processes into non-game contexts with the aim of increasing motivation and changing participants' behavior.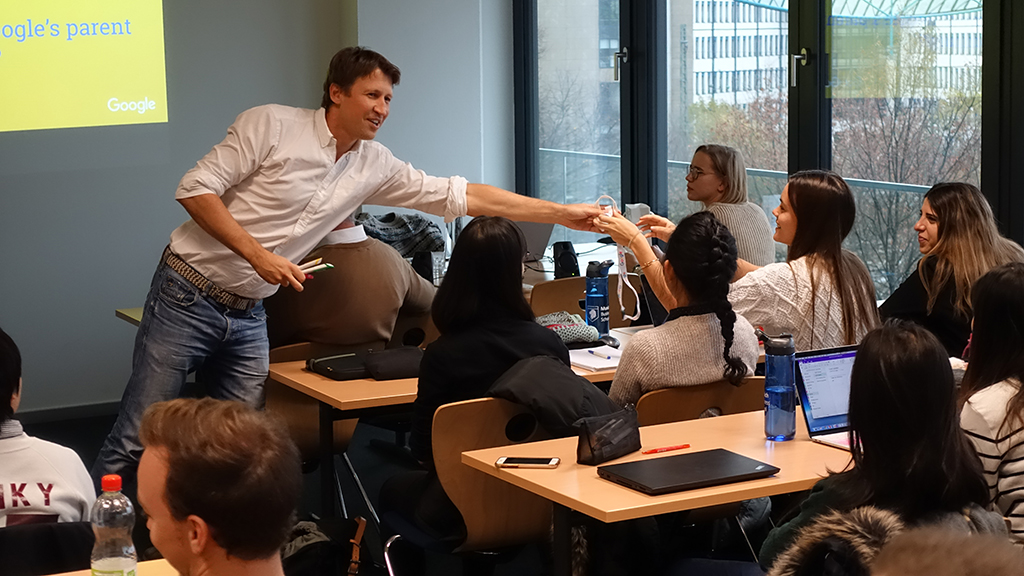 Subsequently, Robert vividly conveyed how working in a digital company differs from the previously known working culture in traditional companies. Google is focusing on a network culture, and a carefree life for its employees. From free and healthy food to parks, creative spaces, and rest zones to their own sports program – the company is always trying to relieve its employees of everyday concerns in order to allow them to fully concentrate on their work at Google.
This may sound astonishing in the first place, but it constitutes the basic condition for Google's success: a network company in which every employee is highly motivated, and can actively advance new ideas at eye level. There is also a special term for this special corporate culture: "Googleyness"
Reverting to numerous examples, Robert also illustrated the distinct customer and innovation orientation of the company: "We've all heard of the self-driving car and Google Glass. These are products by Google[x], the innovation laboratory founded by Google in 2010, which is located just a few kilometers from the Googleplex in Mountain View, California. Why is this lab so promising? Because the lab itself is considered an experiment – an attempt to reconfigure the process by which a corporate lab works."
In this case, it is a matter of focusing on areas that have a particularly large potential to be exploited with a multitude of technological solutions. It is about the big ideas, not the incremental ones. But the resources are allocated very carefully, and prototyping is a must because many intermediate steps on the road to success will fail. The willingness to learn by trial and error is one of the central patterns of the culture at Google.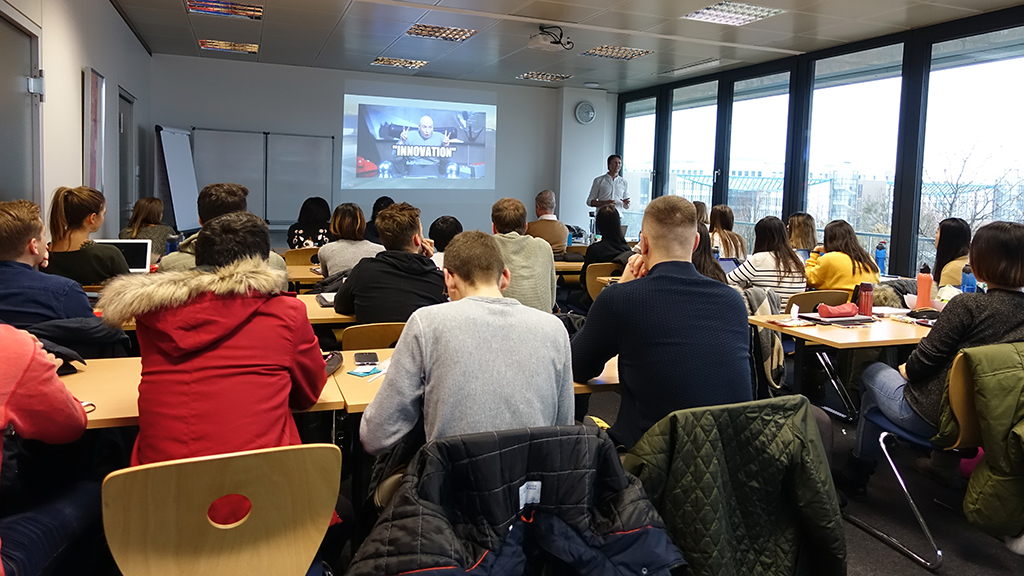 To end his lecture, Robert invited the students to visit the Munich-based Google Innovation Lab, sparking the enthusiasm of the students. MBS Professor Dr. Hans H. Jung then moderated the subsequent discussion round, which the students used to gather additional insights.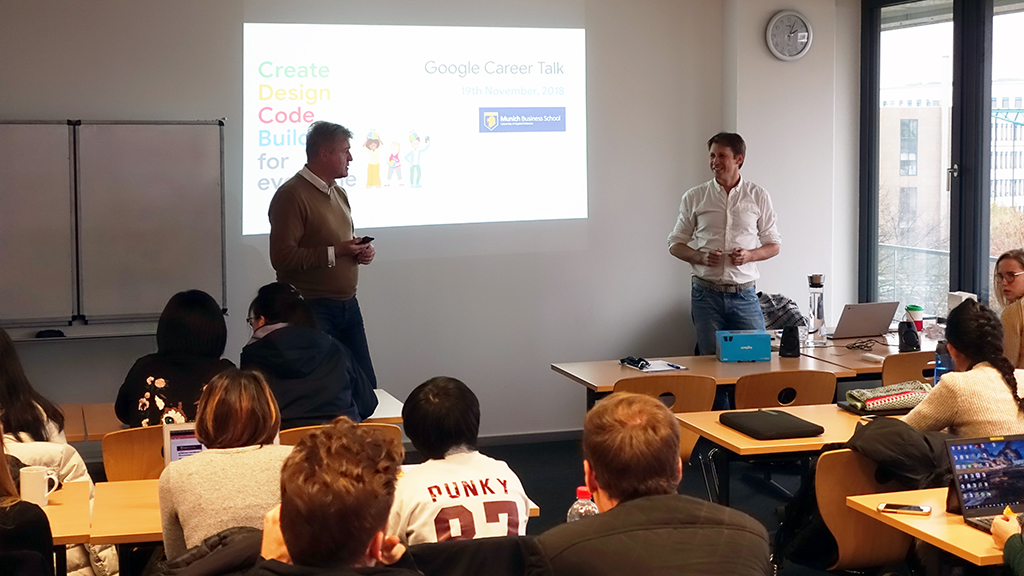 MBS Under the Sign of Transformation
Munich Business School has been working intensively on the subject of transformation for some time now: both the Master International Business and Bachelor International Business study programs feature courses in Digital Business, and in International Innovation and Digital Business, respectively. In 2015, Munich Business School launched the MBS Connected Vehicle Lab, a platform for science, research, industry, and services.
The lab serves the faculty, students, and experts from corporate practice to exchange information on the latest modes of learning and communication in the area of mobility of the future. At the end of last year, a comprehensive publication titled "Digital vernetzt: Transformation der Wertschöpfung" (approx. "Digitally connected: The Transformation of Value Creation") with contributions by over forty authors from science and practice was created under the auspices of MBS.