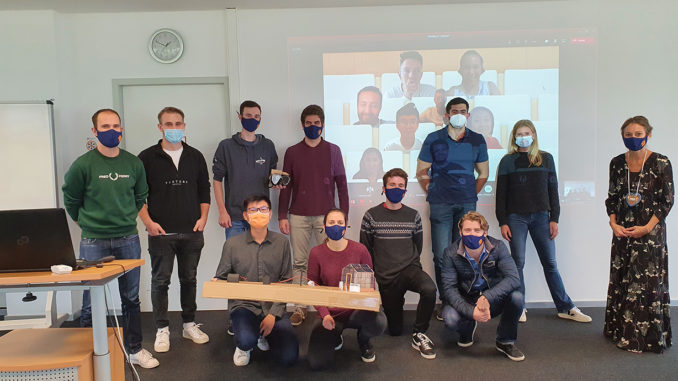 In the course "Ideation & Prototyping" with Prof. Dr. Anne Tryba the students of the Master's Program Innovation and Entrepreneurship as well as the students of the Master's Program International Business with focus on International Entrepreneurship learn to develop and pitch their own business ideas and prototypes.
The students first identify and analyze in groups a human-related problem, based on which they then develop a new business idea. They learn creativity and ideation techniques and apply design thinking and prototyping methods to further develop their business idea and create their own prototype. After testing the idea with potential customers and users and developing the business model using the Lean Canvas, the students pitch their business ideas and prototypes in front of an experienced jury. This semester, the jury consisted of three MBS alumni entrepreneurs: Michel Geolier, co-founder and CEO of Betterfront, Annette Barth, co-founder and CEO of ajuma, and Patrick Löffler, co-founder and CEO of givve.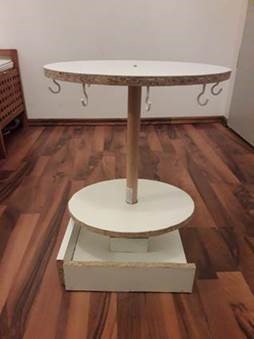 The student teams, which worked together in hybrid constellations – some of the students were on site at MBS, others were still abroad due to the COVID 19 pandemic – developed a total of six innovative business ideas and prototypes in different areas. Two teams designed applications for smartphones: Smart Move is designed to help disabled people meet the challenges of everyday life and SmartTravel functions as a travel planning tool with an integrated marketplace for hotel bookings, transport tickets, etc. Beyond smartphone apps, smart products seem to appeal to students. While the students behind Smart Shirt made it their business to produce sportswear with integrated measurement sensors for fitness tracking, another team designed a smart dive mask that can identify marine life during diving. But also non-smart products were used: To counteract the problem that only selected products can be shown in shop windows, a team developed a movable window display. And Power4All is the prototype for a solar and energy storage system, with the help of which two students want to supply the population of sub-Saharan Africa with electricity.
The IE master's will continue to work on their prototypes during the course and will develop a detailed business plan for their ideas in the coming semester.
We are curious to see where the journey will go and keep our fingers crossed for the further implementation of the ideas. Will we soon see one of the products in the stores?