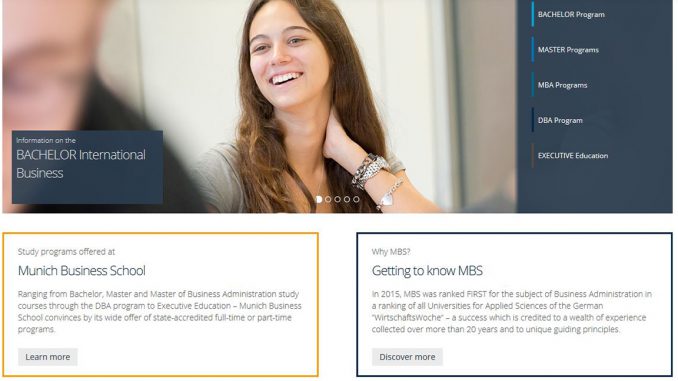 It is done: The new MBS website is online! After months of designing, coding and testing, the online presence of Munich Business School shines in a new splendor.
What's new:
New design: The new MBS website presents itself in a completely new design making it look and feel like a modern website is supposed to!
Enhanced usability: You will now find all desired information about MBS, the various study programs and everything else related to Munich Business School even easier!
Updated information: All information on the MBS study programs has been updated and complemented – for you to get an instant as well as comprehensive overview of everything you are looking for!
Responsive design: There now is a mobile version enabling you to enjoy the MBS website on your mobile device in a more satisfying manner – be it your iPad, your Android smartphone or any other!
MBS insights: On the fully integrated content platform MBS insights, you will find all kind of news, the latest blog articles, photo galleries and many more impressions that depict the MBS spirit!
By the way: All photos on the new MBS website show real MBS students, lecturers and staff personnel!
We want to thank everybody that has been involved in the process of creating the new MBS website. Our special thanks go out to
Munich-based internet agency Videri Concept who did the whole coding of the website
Claus Uhlendorf for shooting all the beautiful photos
And last but not least all the MBS students who took part in the photo shooting and testing process and provided a lot of help beyond that
Do not hesitate and get yourself an impression of the new MBS website. We hope you enjoy it! Click here!