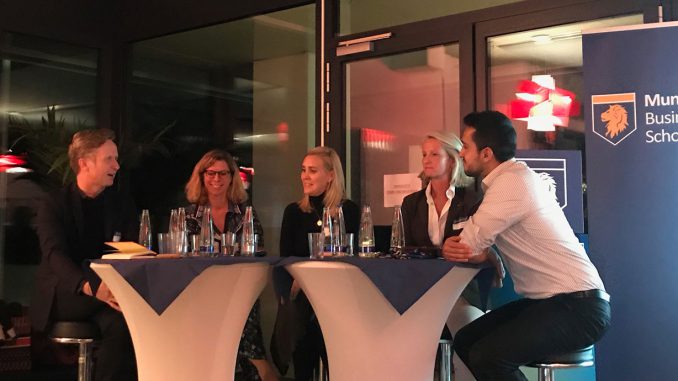 On Tuesday evening the event »Diversity Drives Innovation: How Diversity Drives Innovation« took place in the MBS Lounge. Four experts were invited to participate in a panel discussion to describe their experiences with the topic in their companies and to answer questions from the audience. The host, MBS Chancellor Nathalie von Seyfried, welcomed the panel participants and the audience and then introduced the four speakers.
Katharina Le Thierry
Katharina Le Thierry is Member of the Cewe Stiftungs Co. KGaA Board of Trustees and thereby in a non-executive board role. In addition, she is active as Partner of Lehel Partners Corporate Finance GmbH & Co. KG, a consulting firm focused on providing corporate finance and business development services. Having held international senior management including C-level positions at companies such as Henkel, LVMH, PUMA, and UVEX, Katharina commands vast leadership experience in very diverse environments, and is a designated consumer goods adept.
José Joaquín Alonso C, PhD
A native of Colombia, José Joaquín is Technical Lead of the NLU developing team for Samsung's voice assistant, Bixby, at Harman & Samsung in Munich, a highly international project consisting of members of 20 different nationalities.
Dirk Schmelzer, PhD
Dirk Schmelzer is Chief Financial Officer of the Scout24 Group, a leading operator of digital marketplaces for real estate and automobiles in Germany and selected European countries. Previously, he held various management positions at media and telecommunications companies, amongst them Telefónica, Tomorrow Focus, and NuCom Group. Dirk Schmelzer is an active member of the MBS Advisory Board.
Greta Winkelvoss M.A.
Greta is an MBS Master International Business alumna, and Research Associate to the Academic Director of the Bachelor International Business program at Munich Business School. In addition, she is a PhD student of University Regensburg at the Chair of Innovation and Technology Management. Previously Greta worked as a Marketing Manager at Sky Germany.
At the beginning, Greta Winkelvoss provided an overview of the current research regarding diversity and innovation. Katharina LeThierry used her extensive experience to highlight the changes and development regarding both diversity and innovation topics in business in the last 30 years. The development of diversity initiatives at Scout24 Group was highlighted by Dirk Schmelzer José Alonso shared his personal experiences and both the highlights and challenges that come with working on a very diverse team. The guests discussed passionately and came to the consensus that there is still much to be done. The evening ended with a cosy get-together.
We invite you to the MBS Business Breakfast »Future Skills« on Tuesday, 29 October 2019 at 8.00 a.m. to 10 a.m. at the MBS Lounge, Elsenheimerstraße 61, 80797 Munich, Germany.
In January, we will host an evening event on the topic of Leadership in a Digital Age with Prof. Dr. Ellen Schmid. Invitation follows.
Many thanks for the valuable contributions to Katharina Le Thierry, Dr.José Joaquín Alonso, Greta Winkelvoss and Dr. Dirk Schmelzer.