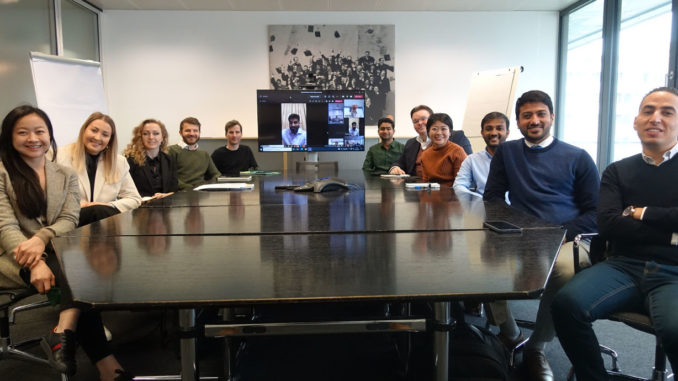 On Monday, March 7, 2022, a new MBA cohort began their studies at Munich Business School. The students from all over the world started their first week – the so-called Welcome Week – with great anticipation.
---
Participants from the USA, China, Germany, Russia or Morocco, different age groups, an internationality rate of 67% as well as academic and professional backgrounds in controlling, product development, engineering and natural sciences or project management – this is how diverse the new MBA class, which Munich Business School welcomed at the beginning of March, presents itself. Over the next 12 or 24 months, students will complete the MBA General Management program either full- or part-time, attending some modules together and with students from older cohorts. In this way, they create a strong network for the future and make friends for life. After two years of online or hybrid teaching, the university was particularly pleased to welcome the MBA candidates in person to the Munich campus. It is great to see the campus fill up with life and real interactions again!
The first study week is one of three central weeks in the MBA program at MBS. It is all about arriving, team building and networking and is therefore called Welcome Week. On Monday, the new candidates were welcomed by the team they will work closely with including the Academic Director of MBA Program Prof. Dr. Michael Rüdiger, MBS Chancellor Dr. Christine Menges and the MBA Program Coordinator Maciej Kapron. They were also greeted by various departments including the Careers and Alumni Relations office which will support them throughout their studies here at Munich Business School and beyond. The participants then took on a personal reflection workshop, discussing a number of topics and getting to know each other. After this, they had fun working in teams on a given business scenario in the area of marketing, crisis management and product launch within a start-up. At the end of this busy day, candidates had a little social event where they could get to know the Chancellor Dr. Christine Menges and the Dean Prof. Dr. Stefan Baldi as well as wider MBS community in a more informal setting.
Second day gave candidates an opportunity to experience what makes MBS so special. We are a diverse and multicultural community and so it is only natural that we include intercultural workshops as part of the Welcome Week. First, the candidates had a lecture on intercultural management from Prof. Dr. Michael Rüdiger where they found out about the importance of cultural awareness in a globalizing world and the impact of globalization on cultural compatibility. This was followed by thematic workshops focusing on China, India and Germany which combined serve as an excellent opportunity to see how different cultures can work together – something that will also be the case with our new international cohort. We also had an Alumni Talk and the first opportunity to network with Sachin Bansal and Stefan Wolf who successfully completed the MBA program at Munich Business School.
Wednesday focused on project management with Andreas Rieckmann, Project Director at blu Professionals GmbH, leading a bootcamp called "Surviving a Day as a Project Manager". Despite the volume of information, participants have truly enjoyed the opportunity to learn more about what project management entails, the methods and processes that help in successfully completing projects. Knowledge acquired in this workshop will certainly pay off later on in the program, when the candidates work on a real-life project with their peers. Business project that forms part of the curriculum will be a true test concerning the application of their skills and an opportunity to contribute to the success of a selection of global companies.
On Thursday, the last day of the Welcome Week, candidates have been taking part in a series of career development workshops led by MBS Career Center Manager Stephanie Stangl. These included an overview of the job market in Germany, opportunities that Munich Business School offers in terms of business and career coaching – complementary element of the MBA program and job application training which was particularly important for our internationals who are now well prepared for successfully applying for their dream job upon graduation. In the afternoon, candidates had an informative session with our alumnus Stefan Feichtinger, a Senior Partner Business Development Manager at LinkedIn. Participants were able to learn about the different ways in which they can make their LinkedIn profile stand out and how to use the platform to grow a strong business network.
Today on Friday, the MBA students formally began their studies with Personal Development module led by Kathrin Vallund. This will provide them with an opportunity for self-reflection, forming a very important foundation for the development of their personal leadership style that is at the core of everything we deliver throughout the MBA program at Munich Business School.
We wish the new candidates all the best and hope that they will use every single opportunity to grow and network, capitalizing on the knowledge gained in classroom and application of this knowledge to exciting projects during as well as in the aftermath of their studies!