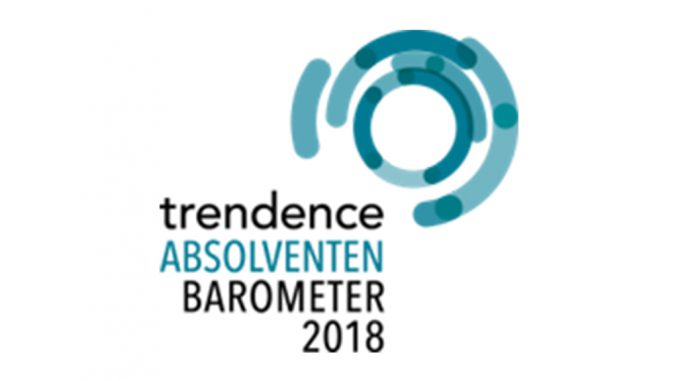 In the latest edition of the student survey trendence Graduate Barometer, Munich Business School (MBS) achieved a great result once again, confirming its convincing achievements of recent years. According to the "German Business Edition" of the trendence Graduate Barometer 2018, for which business students of German universities were surveyed, MBS is the best private university of applied sciences in the categories "internationality of studies" and "practical relevance of studies".
A total of more than 13,000 Bachelor and Master students from 107 German universities and universities of applied sciences offering business study programs took part in the student survey. Subsequently, their answers were evaluated by the independent experts of market research and consulting firm trendence.
Internationality and Practical Relevance of Studies: MBS Amongst the Top German Universities
Internationality and practical relevance have always been two of the basic pillars of Munich Business School's educational approach. According to the survey, the Bachelor and Master students of MBS share this view: Both the "exchange programs" (3.6 on a scale of 1 to 4) and the "lectures in a foreign language" (3.4) are excellently rated by them. This puts MBS in 7th place among all universities with business study programs in Germany, and in the shared top position among all private universities of applied sciences.
Munich Business School's strong international orientation is also reflected in the above-average qualifications of its students in this field: 54 percent of participating MBS students have already completed an internship abroad (Germany-wide: 18.1 percent) while 92 percent consider their English as fluent (Germany-wide: 69.3 percent). In addition, all MBS Bachelor and Master students complete at least one integrated semester abroad at an international partner university during their studies – an experience that less than a third of students at German universities are able to enjoy.
Munich Business School also cuts a good figure in the "practical relevance of studies" category: Both the "practical relevance of teaching content" (3.3 on a scale of 1 to 4) and the "practical semesters, internships" (3.2) receive good marks from the students. This means 12th place among all German universities that offer business studies – and once more, 1st place among all private universities of applied sciences.
Overall, MBS students give their university a grade of 2.3 (on a scale of 1 to 7); more than four out of five students would recommend Munich Business School to others.
"We are very happy about the great results of the trendence Graduate Barometer 2018, which provide us with particularly valuable information as they are based directly on the feedback of our students. We are pleased with the positive assessment, but we will also take a close look at the areas in which we can improve further," says Prof. Dr. Stefan Baldi, Dean of Munich Business School.
MBS Students Command a Great Set of Soft Skills
In addition to internationality and practical relevance, Munich Business School attaches great importance to the personal development of its students. The self-assessments of the MBS students surveyed prove that this concept is working: they consider themselves well prepared for the job market with regard to their soft skills – and in some cases are well above the German average.
Source: trendence Institut