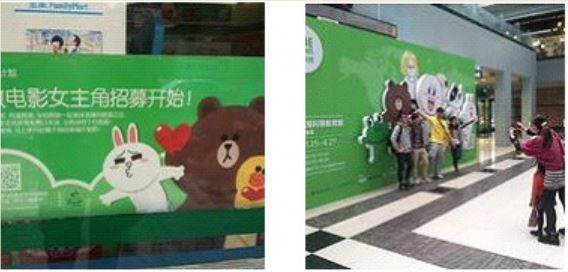 LINE, WeChat, Kakaotalk – over one billion users have already downloaded apps from at least one of these three Asian mobile service providers. During past months, NAVER, above all, pushed forward the dynamic expansion of LINE outside of South-East Asia, and also in Spain, Turkey, the USA and Latin America. LINE is an app developed in Japan by the Korean company NAVER. LINE intends to expand its user base worldwide in 2015 to one billion users. WeChat, developed by the Chinese company Tencent, has become an important sales driver and is already getting much attention in the USA, mainly among the American Chinese community.
Compared to services known in West, such as Facebook, Instagram, WhatsApp and Snapchat, LINE and WeChat are equipped with a whole array of future-oriented functionalities. Originally, both apps are instant messaging apps with functionalities resembling those of WhatsApp. After a few months, however, a "timeline" similar to that of Facebook was added. Whereas WhatsApp and Facebook seem to be stuck in the ruts with further service development, a large ecosystem of tailored apps was generated and/or purchased in a highly dynamic approach around LINE and WeChat, and integrated into the existing systems.
Today, LINE not only offers communication options via instant messaging, video chat or phone call. Particularly interesting is the communication via 'stickers', downloadable from a shop, some of them free of charge. The user has access not only to in-house developed LINE characters, but also for example to Disney, Star Wars, Marvel and even user-designed stickers. There are LINE games, an exclusive photo app, a LINE Card, LINE SnapMovie, and a proprietary payment function. Some countries even held flash sales, selling a limited number of products directly via an app. In addition, users can subscribe to "Accounts" of celebrities or soccer clubs such as Real Madrid and FC Barcelona. Brands use "Official Accounts" to directly send information and vouchers to subscribers. Planned future services will include call functions for taxi cabs and music streaming.
In Q3/2014, the LINE business model achieved turnovers of 192 million US dollars, although the app and basic functions such as instant messaging and phone calls are offered free of charge. It is the sticker shop, the shop for game items; the "Official Accounts" of companies and a huge choice of merchandising articles for the LINE characters that generate turnovers – revenues from advertisement hardly play any role.
WeChat follows the example of LINE in China and also offers a large variety of services around the app that are more or less integrated into it. Thus, LINE and WeChat replace a number of existing apps and/or integrate new, innovative functions on their own platforms. Compared to the dynamic development of both apps by the Korean and Chinese parent companies, Silicone Valley is in stop mode. LINE, above all, not only has the financial capacities but also the innovative power to become the first Asian app used on a large scale in the West – sooner or later replacing Facebook, WhatsApp and comparable apps.
By the way: In 2012/13, LINE was one of the business projects in the Master International Business study program at MBS.