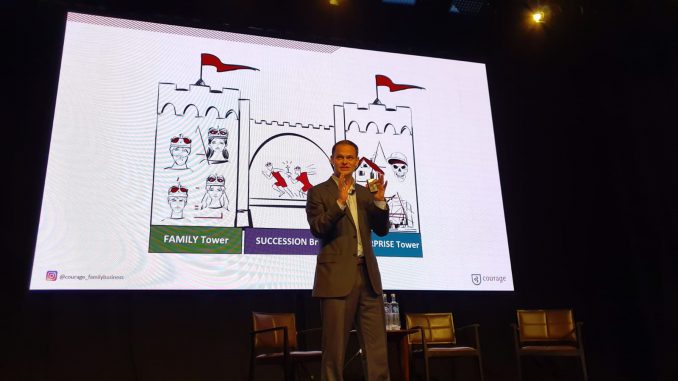 Dr. Marc-Michael H. Bergfeld, Professor of Global Family Business at Munich Business School, spoke at the 21st edition of the Family Business Australia's National Conference in Melbourne, Australia.
Family Business Australia is the country's leading association of family business owners, family offices, and all service providers and top managers serving these families. The annual conference this year, is their flagship conference and had the highest attendance ever this year with over 500 members of Family Businesses and the related industry attending from as far as Singapore (Stewardship Asia) and Papua New Guinea.
Professor Dr. Bergfeld facilitated the 3,5 hour Family Masterclass to educate family members in the area of "Future-Proofing the Family Business". The Masterclass was titled "Sustainable succession: How to prepare your family, your business and your portfolio for the transfer to the Next Generation, and future-proof the entire system for the long-term along the way."
During the class, in which the newest research of the Courage Center at Munich Business School as well as multiple case studies were discussed, the participants learned how to prepare their family members, their companies and their succession processes for continued prosperity, harmony and wealth.
Professor Dr. Bergfeld also conducted a keynote interview with Gaetan de Dietrich and Catherine de Dietrich, representing the 335 year old De Dietrich conglomerate. 12th generation family member, Gaetan de Dietrich and his mother, Catherine joined a conversation with Prof. Dr. Marc-Michael Bergfeld and traveled back in time and shared the adventure of entrepreneurship, innovation and growth that is De Dietrich with an enthusiastic audience.
At the conference, Family Business Australia also presented multiple awards to the country's family businesses, their Next Generation members, their advisors, as well as lifetime awards to outstanding leaders in family businesses. Further, some of the countries leading owners of family businesses presented: Costa Group, Ferguson Plarre, Brown Family Wine Group, Ray White, Yellow Brick Road.