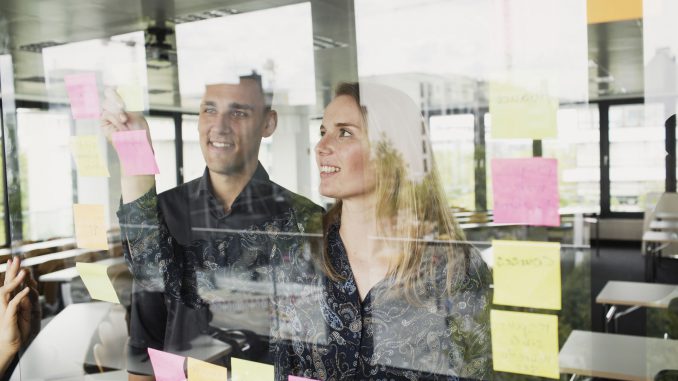 As every year in September, Munich Business School (MBS) welcomed new students from all over the world – from more than 40 nations, and from Albania to Vietnam – to its Bachelor, Master, and MBA programs.
A special highlight was the start of the semester for students in the Master Innovation and Entrepreneurship and Master International Marketing and Brand Management programs: both programs have been newly developed, will be offered for the first time at MBS this semester, and are characterized by a high international orientation: students from seven and nine different nations, respectively, will study in the two Master programs.
Master Innovation and Entrepreneurship
The Master Innovation and Entrepreneurship study program focuses on enabling students to work in innovation management or develop into successful entrepreneurs. The combination of innovation also in the context of existing enterprises as well as startup knowledge is one of the special aspects of the degree program. Established companies today work closely with startups, try to establish their own units for innovation or operate a startup incubator.
In addition to advanced general business knowledge, students learn in courses such as "Ideation and Prototyping" and "Scaling Startups and Innovation Projects" how to develop, test, and market innovative business ideas and models. The program not only focuses on the launch phase of innovation projects and companies but also develops knowledge for leadership, organization, marketing and management in the growth phase of new companies or the implementation of innovation projects. In two practical projects the students put what they have learned into practice.
The Academic Director of the Master Innovation and Entrepreneurship is Dr. Anne Tryba, Professor for Innovation and Entrepreneurship at Munich Business School. During her career, she worked in strategic consulting for several years, followed by a position as Senior Marketing and Transformation Manager at Telefónica Germany. In addition, she is a co-founder of premium fashion startup.
Professor Dr. Tryba holds a PhD in Management with a focus on Entrepreneurship from University of Luxembourg, and has been working in higher education for over five years in the areas of entrepreneurship and innovation, among others as a postdoctoral researcher at TUM Entrepreneurship Research Institute at Technical University of Munich. Dr. Tryba has been a professor at MBS since September 2019.
Master International Marketing and Brand Management
In the Master International Marketing and Brand Management, the students deepen their general business knowledge, and acquire specialized knowledge in the marketing and brand management areas. Amongst others, the program includes courses on topics such as "Integrated Brand Management in a Digitalized World", "Customer Insight for Marketing and Brand Management", and "Marketing of Innovations". The curriculum also includes two practical projects that prepare students ideally for their career entry and working life in the marketing industry.
Dr. Sophie Hieke, Professor of Marketing and Communication at MBS, is the head of the Master's program in International Marketing and Brand Management. The experienced marketing expert has extensive experience in consumer research, including her role as Principal Coordinator of the European Commission-funded project CLYMBOL ("Role of health claims and symbols in consumer behaviour").
Prof. Dr. Hieke holds a doctorate in statistics and consumer research from the Ludwig-Maximilians-Universität. She was also co-editor of the journal Public Health Nutrition until June 2019 and works as a reviewer for other renowned journals. She has been teaching at various universities in Germany, France and the USA since 2007 and at the Munich Business School since 2008.
Both new master programs are accredited by the Accreditation Council Foundation and the FIBAA.